Best Value Vegas Things to Do
Secret Garden and Dolphin Habitat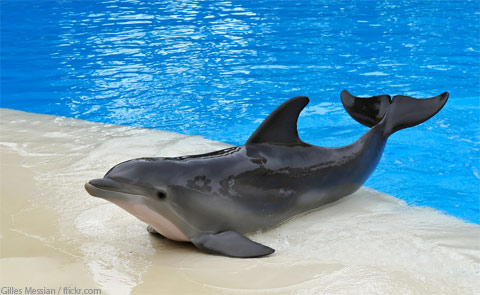 Things To Do On The Strip
Yep, all the most popular things to do with the best value in Vegas are on the Las Vegas Strip. Join all the other cheap tourists in Vegas at these attractions.
Stratosphere Tower: This is at the Las Vegas Stratosphere of course, and at the tallest building in Vegas, the tower is the main attraction because you can look out over Las Vegas from 800 feet above, not to mention all the rides. The Big Shot shoots you straight up 160 feet going 45 miles an hour, look out of Las Vegas if you're not too busy throwing up. Insanity extends and spins you over the edge, the X-Scream rocks back and forth and dangle over the edge, and Sky Jump, where you actually jump off the building, and it's a long way down. Stick around for happy hour at the C-Bar for all you can drink for just around 20 bucks.
Drai's After Hours: This lounge is located at the ever classy Bill's Gamblin' Hall. They were the original ultralounge, everyone else just copied then and went along with all the profits they made off of it. This is how they earned the title of one of the best value Las Vegas things to do. People don't pile in until the early morning, so a mid-day nap is a good idea. We won't judge.
Have a Happy Happy Hour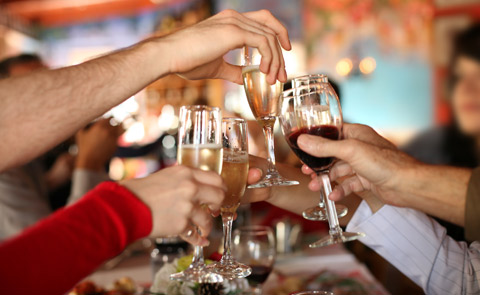 Things To Do Off The Strip
Rain at the Palms: Rain in the day and early evening is a 1200 seat theater. At night though, it converts into a raging nightclub. You'll find all the hipsters and heavy drinkers who don't mind how expensive a drink is, as long as it goes down smooth and kicks in fast. There are plenty of your favorite, and the most common, tunes for everyone to dance to, but make sure you're in Vegas over the weekend, because it's only open on Friday and Saturday nights.
Voodoo Lounge: The Hotel Rio Suites lounge attracts plenty of pretty people, but not the handsome lads in their 20s, unless they're there looking for their next cougar.
Bowling: Many hotels, like the South Point Vegas, have bowling alleys. Now that you're on vacation, you can't use the excuse that you're too busy for family bowling night. Bowling is one of the best value Las Vegas things to do anywhere, but Vegas has a lot of fancy lanes and there are tons of alleys all over Vegas, especially Off-Strip.
Some of the best things to do in Vegas are also the best value things to do in Las Vegas. We think it's really important to enjoy the little things in life. Well, maybe not necessarily little things, more like big things you only pay a little for, but you'll still have a really good time.
$ - $15 and under $$ - $16- $40 $$$ - $41- $75 $$$$- $Over $75
| Things To Do | | Sort by Price |
| --- | --- | --- |
| | | |
| | | |
| | | |
| | | |
| | | |
| | | |
| | | |
| | | |
| | | |
| | | |
The best value things to do in Vegas aren't just boring sight seeing and museums that are only free because that's the only way they can get people to go to them. The best value Vegas things to do come in all shapes and sizes, but all of them are affordable and fun Vegas things to do, as long as you're not completely boring and incapable of having fun.
The best value Vegas things to do on the Strip are more popular and touristy than things to do in other places in town. The attractions at hotels on the Vegas Strip draw people in because they are clearly the best, but they are also the most popular. Off the Strip, you have more standard activities like bowling, arcades and movie theatres, as well as a few Vegas specific destinations that lure people off the Strip.
The absolute best value things to do in Vegas are free, but these are usually things like sight seeing, people watching, or getting a show at the Bellagio Fountains. Going to lounges and clubs, yes it's possible to get into places in Vegas without paying, are a good way to spend a night. Bowling, popular Vegas attractions, and happy hours are a good way to spend the day and still get a good deal though. The best value things to do in Vegas aren't hard to find, you just have a do a little looking. Luckily, we've mapped out a few of the best values in town above, so you don't even have to do that much looking around!