Cheap Eats in Vegas
Magnolia's Veranda at The Four Queens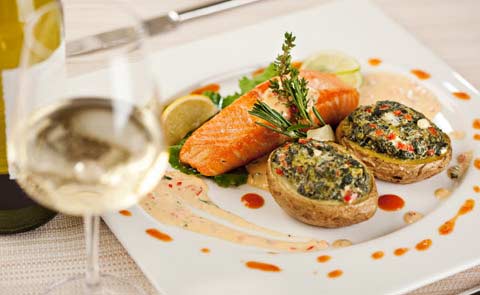 A Cheapo's Delight: Good Food for Less!
Don't get us wrong, we love pigging out at a buffet as much as the next person. But when you're not starving from 12 hours of straight gambling or trying to win a prize for biggest glutton in the group, several other cheap eats in Vegas can make a lot of sense.
The great thing about these cheap meals is that you're not necessarily giving up quality for quantity. Several Downtown Vegas joints offer the stereotypically advertised prime rib dinner for cheap, while Vegas coffee shops and Vegas pubs offer delicious niche alternatives. A number of casual dining joints that offer quick meals without the hassle of waiter service are a smart choice, while Chinatown Las Vegas and its many ethnic cuisines aren't far from the Strip either.
Las Vegas cheap meals may seem either trashy or well off the beaten path, but we have discovered that quality cheap eats are out there, whether you're in Downtown Vegas, the Strip, or somewhere slightly off-Strip. You just have to know where to look for your cheap meals in Vegas!
Earl's Sandwich at Planet Hollywood
Some of Our Favorites
Here are a few suggestions for Las Vegas cheap meals if you only have one or two meals in each respective type of restaurant.
Magnolia's Veranda: Inside the Four Queens near Fremont Street is this lovely 24 hour coffee shop that will cater to your cravings no matter what time of day. The central eating area also overlooks the casino, which is perfect for people watching or making sure your slot machine doesn't get sniped. (Honorable mention: Triple Seven Brewpub)
The Grand Cafe: Located in Boulder Station Vegas, this place has a menu large enough to accommodate the taste buds of a group of 20. Efficient service, good food and fair prices make the Grand Cafe a grand choice for cheap eats in Vegas. (Honorable Mention: Thai Style Noodle House)
Earl's Sandwich: A cheap eats Las Vegas favorite in Planet Hollywood, you will love these unique sandwiches. Make sure to try their cranberry sauce - it makes a world of difference. Open 24 hours! (Honorable Mention: Tacos El Gordo)
Las Vegas buffets seem to be all the rage when people come to Las Vegas, but we can ensure you that there are plenty of cheap eats in Vegas for when you don't feel like eating yourself to death. Whether you are in Downtown Vegas, Off-Strip, or even on the Las Vegas Strip, cheap eats in Vegas are a great way to save some money for other purposes during your vacation. Like drinks. We like drinks.
$ - $10 and under w/ tip $$ - $11- $25 $$$ - $26- $40 $$$$- Over $40
Knowing all of the various cheap eats in Vegas can be a valuable asset when you're trying to save a few bucks here and there. Instead of getting a bloated stomach and hardcore food coma after an expensive all-you-can-eat extravaganza, a few quality Las Vegas cheap meals can go a long way.
Downtown Vegas is known for offering shockingly cheap prime rib dinners and various other specialties. Finding some great grub downtown after a late night of drinking is no problem at all. While some are shady no-name joints, many others actually deliver on their promises. Look around the Fremont Street Experience for some of the most trusted options.
On the Strip, many of the big resorts offer casual dining options within the casino. Meals can be had for under $10 at many of these chain restaurants that seem to receive extra hype from just being in Las Vegas. Do they deserve? Well, that's another story...
Being mindful of cheap eats in Vegas isn't a hard task. Saving a few bucks at the dinner table with some Las Vegas cheap meals can provide the extra change you need to swing your luck at the other kinds of tables. Another way to save money for cheap eats in Vegas is to use our hotel special offers which include deals on hotels like Caesars Palace and Hard Rock Hotel and Casino!