Boulder Station Vegas
Watch out for falling boulders! And crushed dreams!
---
A Quick Look
Location: Off-Strip
Hotel Class:

Room Price:

Hotel Size:300 rooms
Casino Size:80,000 sq. ft.
Gaming:Yes
Nightlife:

Pool:

Buffet:
---
Book now for great deals!!

Other Hotels like Boulder Station Vegas
Boulder Station Vegas Deal Finder
* Room Rates shown above reflect the average nightly rate for a 2 night stay with the calendar date as the check-in date, our visitors should verify actual rates, promotions and deals directly with the hotel as we make no guarantees regarding rates, but only provide them as a convenience.
Book Now
The Skinny
Sometimes they have cheap games out here on the Boulder Highway, but Boulder Station Hotel and Casino Las Vegas isn't the best option for tourist fun. This Station is rougher around the edges than some other Station properties, and it generally has less appetizing food options. Maybe that's why we sort of like it.
Reviews
There are currently no reviews!
Be the first to write a review!
Write a review
Our user reviews are from real registered users.
Quick Facts
300+ Rooms
Check-in at 3pm
Check-out at 12pm
On-Site Restaurant
Near Restaurants
Parking
Check-In Age - 21+
Info
Location:
4111 Boulder Hwy
Las Vegas, Nevada 89121
View Map
Website:
www.boulderstation.com/
Room Quality:
The prevailing opinion of the rooms at Boulder Station Hotel Casino Las Vegas is that they are both clean and neat, and fine if that's all you want. Really, if there is a textbook somewhere with a standard hotel room in it, this is where they got the photo. The decor is neutrals like brown and a little red, room size is average. The bathrooms are standard hotel/motel with a tub/shower combo. The furnishings are dark and standard - a bed or beds, a dresser and a table with a couple chairs. CAUTION: Beware of outrageous mandatory "amenity fees" that will be tacked on to your room rate.
Service Quality:
For the most part, the staff at the Boulder Station Hotel and Casino Las Vegas is professional. Check-in is quick and we've dealt with nothing but friendly people at the Slot Club counter.
What You Get Bottles of in the Bathroom:
Boulder Station Hotel Vegas gives you shampoo, conditioner and lotion. That's all you need, right?
Clientele:
Locals locals and more locals, mostly blue collar and retirees. The tourists who do show up at this far-flung property have visited Vegas a number of times before and come more to get away from the action of the Strip or downtown.
How's the Pool?
It's small, so if you're a goldfish, you'll love the Boulder Station Hotel Vegas pool. But if you're human-size, you won't be doing many laps in this pool.
Resort Fee:
The Boulder Station Hotel Vegas resort fee is $12.99/night which covers Internet access, local and long-distance calling, faxes, a weekday newspaper, use of the fitness and business center, and self or valet parking.
Is it Worth It?
It's pretty cheap here, and you definitely get what you pay for. Which isn't much.
Hotel Amenities
Air-conditioning
ATM/Banking
Babysitting
Business Center
Business Services
Free Newspaper
Concierge Service
Conference room(s)
Dry Cleaning
Event Catering
Express Checkout
Free Fast Internet
Free Guest Parking
Security Guard
Multilingual Staff
Parking Garage
Restaurants
Room Service
Table Games:
Play blackjack, craps, roulette, baccarat, Let It Ride, Pai Gow or Three Card Poker under the big, ugly stained-glass murals. It's standard stuff at around 40-50 tables, and it's generally got lower minimums than the other Station Casinos.
Bet Minimums:
$3 will be about as low as they go for table games around these parts, and you may be able to find one table at that during slow times. Roulette has 50-cent chips, and they may have $3 craps with 10x odds.
Machines:
The locals like to keep up on the hot new slot machines, so they tend to show up out here pretty quick. If TV-show themes, Monopoly, the bastard children of "Wheel of Fortune" and those kind of machines are your cup of tea, you'll be in heaven.
Cocktails?
Give the waitress a tip and you can bet your sweet bippy she'll be back right quick. Like the rest of the service at Boulder Station Hotel and Casino Las Vegas, the cocktail machine is well-oiled.
Who Gets Comps?
We've never gotten more than a free drink. The slot club is the Boarding Pass, linked with the other Station Casinos, and you rack up points to redeem at any of them. Station is good to locals with mailing to lure them back in. For out-of-towners, not so good.
Number of TVs:
There are about 59 decent-sized screens and three giant ones in the joint. 150 seats in the race book have individual TVs.
Number of Seats:
About 250 seats total with only a few for the butts of sports fans, and the majority for race tushies. Right, like race fans need to sit around more than sports fans. They are all pretty average in comfort.
Number of Betting Windows:
About eight for sports and 11 for racing, all backed by slate boards for scores and odds.
Free Drinks?
Yes, the cocktail waitress will travel through the Boulder Station Hotel and Casino Las Vegas and deliver magical elixirs that make losing bets seem less important.
Snack Bar?
No, but there's a Burger King nearby and we heard that place has food, or some sort of facsimile. Plus, there are some candy bars in a vending machine.
Other Notes:
The race book is in the room next to the sports book, but they are open to each other. So, if you love sports and your spouse loves racing, you will be separate but can keep blowing each other kisses. Boulder Station Hotel Casino Las Vegas has an enormous race and sports book, but that doesn't necessarily mean it's worth a visit. The place can be kind of depressing when it's empty.
Number of Tables:
11. We can't think of anything to add since there is nothing funny about the number nine.
Comfort of Chairs:
Average chairs with leather backs and only marginal amounts of stains, a few of which are ours. They are pretty much below average, partially because they don't roll.
Closed Room or Open to Casino?
The room has a glass window but it's too low to keep out noise. But, the glass lets you check out the bright lights and people walking by on those occasions when you decide to fold early in the hand.
Game Spreads and Limits:
Omaha Hi at $4-$8 with a half-kill, $2-$4 Hold 'Em $2-$4, $4-$8 Hold Em with a half-kill. And quite a bit of no-limit game at $1-$2.
Beginner Games or Classes:
Boulder Station Hotel and Casino Las Vegas has a class at 2pm, followed by a feeding frenzy by the locals.
How Crowded is the Room?
The room is very popular and gets crowded on weekends, expect to wait up to an hour on weekend nights.
Comps?
Every hour of play equals $1 in comps, with a maximum of $12 for any 24 hours. That seems pretty stingy to us. Maybe if you play for 24 hours straight they'll let you have a $12 meal then crash under one of the poker tables.
How Good Are the Players?
Like most locals joints, the crowd here tends to be good at poker, but not good enough to go hunting dimwits on the Strip. Expect some silly loose action.
What Else Do I Need to Know?
Boulder Station Hotel and Casino Las Vegas offers some jumbo progressive jackpots.
Boulder Station Vegas Guest Rooms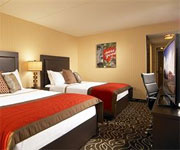 Standard
Boulder Station Hotel Vegas offers one king or two queen beds, but other than that, you basically get the same amenities every other room does. A TV, complimentary Internet access, and free local calls, not that it would matter, because all the locals will already be there anyways. The classic shower/tub combination, hair dryer and complimentary toiletries will make you feel right at home for you to pamper for a night out on the town and the blackout drapes/curtains will let you sleep deep into the day. These rooms are all nonrefundable, so make sure you know what you're getting yourself into before you make any commitments. Actually, that's a good thing to keep in mind the whole time you're in Vegas.
User Average Review
Overall:
Service:
Cleanliness:
Location:
Room Quality:
Based on 0 reviews
Rating Distribution
0.0% recommended it
Boulder Station Vegas Reviews
There are currently no reviews! Be the first to write a review!
Write a review