The Quad Vegas
Hi-yah! The Quad is just like the lair of Bruce Lee's villains!
---
A Quick Look
Location: The Strip
Hotel Class:

Room Price:

Hotel Size:2,640 rooms
Casino Size:75,000 sq. ft.
Gaming:Yes
Nightlife:

Pool:

Buffet:

Best Show:
---
Book now for great deals!!

Other Hotels like The Quad Vegas
The Quad Vegas Deal Finder
* Room Rates shown above reflect the average nightly rate for a 2 night stay with the calendar date as the check-in date, our visitors should verify actual rates, promotions and deals directly with the hotel as we make no guarantees regarding rates, but only provide them as a convenience.
Book Now
The Skinny
The mid-Strip location that The Quad Resort and Casino Las Vegas boasts is fantastic, and their affordable rooms are great for a cheap Las Vegas vacation. In fact, The Quad Vegas Hotel is one of the best cheap hotels on the Vegas Strip. Of course, you do get what you pay for when it comes to luxury.
Reviews
Most Recent Reviews
Our user reviews are from real registered users.
Quick Facts
Check-in at 4pm
Check-out at 11am
Check-In Age - 21+
2000+ Rooms
Near Attractions
High-Speed Internet
Pets Allowed
On-Site Restaurant
Parking
Near Restaurants
Info
Location:
3535 Las Vegas Blvd. South
Las Vegas, Nevada 89109
View Map
Website:
https://www.thequadlv.com/casinos/the-quad/hotel-casino/property-home.shtml?
Room Quality:
The rooms are clean, but small and quite spartan when it comes to the equipment. The decor in the non-renovated rooms is not overly tacky or disturbing (unlike the casino). The decor in the renovated rooms at The Quad Hotel and Casino Las Vegas is newer. You want to ask for a room in the first tower since it has the best elevator service. (Apparently, the first tower is only for heavy sleepers, though, since loud noise from the outdoor stage at Harrah's next door can go on until late into the night.) The Luv Tub rooms have big hot tubs for romantic flings, or for people with a few extra bucks to spend. The hotel has expanded many times and so its towers are scattered about. The location is hard to beat, since it's right in the heart of the Center Strip, so if you just want a place to lay your head, the IP just might be for you. They have wireless high-speed Internet throughout the property (for a fee).
Service Quality:
The Quad Resort and Casino Las Vegas is a place for people with moderate tastes, so don't wander in here if you're expecting Bellagio-quality stuff. Check-in can be a two-hour experience if you choose the wrong day and time.
What You Get Bottles of in the Bathroom:
Shampoo, conditioner and a shower cap. Like we said: spartan.
Clientele:
Middle-aged to elderly, and bargain hunting young adults. The Quad Resort and Casino Las Vegas is a low-roller casino and it draws a low-roller clientele. Expect to see lots of polyester.
How's the Pool?
Average. The Quad Las Vegas pool is rectangular and un-themed.
Resort Fee:
The Quad was never really a "resort," but you still have to pay a resort fee of $15 per night. You get internet access for one device and local calls. The resort fee is almost the same price as the room, how silly!
Is it Worth It?
For a place to rest your head in the middle of all the best Las Vegas action, The Quad is the place to be. For a luxury escape from reality, stay anywhere else.
Hotel Amenities
Air-conditioning
ATM/Banking
Ballroom(s)
Bar/Lounge
Business Services
Conference room(s)
Dry Cleaning
Event Catering
Fitness Center
Multilingual Staff
Pets Accepted
Restaurants
Room Service
Wedding Services
Spa
Table Games:
They deal all your favorites at The Quad Resort and Casino Las Vegas. Some people always play here and believe the tables are more generous. Beware the "Dealertainers" who will attempt to do more than just deal the games. Nah, just kidding. They're actually pretty class acts and they do some great impersonations. Have at it.
Bet Minimums:
$5 which puts it on the lower end for the Strip on weekend nights, Craps is $5 most of the time with 3x4x5x odds. So is roulette. Let It Ride, Three Card Poker and Pai Gow are all $5 to $10.
Machines:
From pennies up to at least $5. It's a low-roller joint and they'll give you points on your slot card even for lowly nickel play. There are few if any full-pay video poker machines.
Cocktails?
Good. They mix 'em strong enough that the tacky decor starts to look exotic.
Who Gets Comps?
They are now part of the Harrah's outfit, with the Total Rewards slot card.
Number of TVs:
They have 12 TVs in the race book that everyone can watch, and they have 15 in the sports bar. All are medium-sized or smaller.
Number of Seats:
There are over 200 seats in the massive and decent book. Seats have their own little TVs, but they only show sporting events. Well, anyway, we couldn't find "Green Acres."
Number of Betting Windows:
There are ten boards. The boards are plain old white slate, just like Mom used to write odds on.
Free Drinks?
No, you're pretty much on your own for drinks. Of course, with the deals you can get with The Quad Vegas promo codes you'll have a few extra bucks to get sloshed.
Snack Bar?
No, but the Burger Palace is right next door and it has good burgers.
Number of Tables:
Six tables with three or more working at busy times.
Comfort of Chairs:
Hey, come on. You're worried about the damn chairs? Maybe you should be more worried about that guy down at the end who's slow playing you with pocket queens. Then you'll stop fretting over the chairs.
Closed Room or Open to Casino?
The room is fairly open to the rest of the casino, and close to the main entrance.
Game Spreads and Limits:
Hold 'Em, Texas Hold 'Em. It's exclusively low limit, with the games starting at a totally reasonable $2-$4. They will deal no limit as well at $1-$2.
Beginner Games or Classes:
No classes. You're going to have to buy a book.
How Crowded is the Room?
Medium, not too bad, but they have a huge hotel to suck from the fill seats. So, we guess what we're saying is there is always a game, and there is rarely a wait.
Comps?
You can use your slot card to get rated and receive pretty good comps, at $2 an hour.
How Good Are the Players?
The Quad Resort and Casino Las Vegas attracts lots of bad tourists, so if you know how to play tight-aggressive or have solid fundamentals you can probably grind out a profit. Of course, if you have solid skills, you'll probably find a better place where more money's at stake.
What Else Do I Need to Know?
Prizes for high hands. They've got low-cost No-Limit tournaments going on most days.
The Quad Hotel Las Vegas Guest Rooms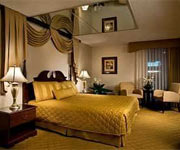 Deluxe Luv Tub
We aren't sure if this room is meant to be romantic or sleazy, but we like it. The king bed has a canopy and if you look at the ceiling you will be pleased to see yourself looking down at you from the huge mirror above your head. There isn't a shower but the elevated extra-big soaking tub makes up for that. There's also a balcony, which is nice if you need to get some fresh air. If you want to pay extra you can get wireless Internet, video games and pay movies.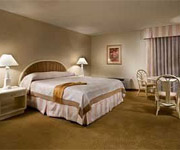 Deluxe Room
The deluxe rooms at The Quad have plush fabric headboards so that you don't bump your head while you're errr...sleeping. You can get one king bed or two queen beds. There's a table and two chairs for your early morning poker practice. The bathroom has a shower/tub combo, just like at home. For an extra charge you can enjoy technology instead of Sin City and get wireless Internet, video games and pay movies.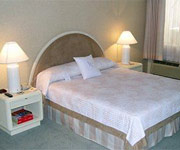 Capri Room
You can get one king bed or two queen beds in this room. It's still pretty close to the Strip but it's tucked away 100 yards behind the main tower in a motel-like 3 story building. You can get a refrigerator and Internet access for a surcharge. Don't miss out on great The Quad Vegas promo codes that knock the prices of these rooms down to pocket change.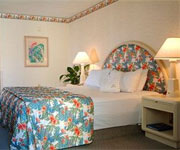 Classic Room
This is your classic hotel room with one king bed or two double beds. You get cable TV without extra cost, but you have to pay if you want video games, movies or Internet. There's a shower/tub combination and complimentary toiletries. Don't miss out on the electronic check-out here - it's worth it to not stand in the line. Smoking is permitted in these rooms.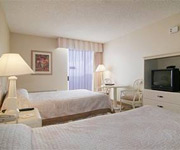 Deluxe Room Non-Smoking Pet Stay
If you don't smoke but you do have pets, this is the room for you. Get one king bed or two double beds, wireless Internet and pay movies for a charge, cable TV and a phone with voice mail. Hey, we didn't say this was the Ritz. The bathroom has a shower/tub combo and free basic toiletries. Oh yeah, and if you do smoke don't despair, you can request a smoking room that allows pets too. Just be aware that your pets aren't allowed in all parts of the hotel.
User Average Review
Overall:
Service:
Cleanliness:
Location:
Room Quality:
Based on 8 reviews
Rating Distribution
71.0% recommended it
The Quad Hotel Las Vegas Reviews