Travelodge Las Vegas
Wowzers! A non-gaming Strip motel that stays in business!
---
A Quick Look
Location: The Strip
Hotel Class:

Room Price:

Hotel Size:126 rooms
Casino Size:0 sq. ft.
Gaming:Yes
Nightlife: No
Pool:

Buffet:
---
Book Now

Travelodge Vegas Deals
Get the Gambler's Special at Travelodge Las Vegas!
WIN BIG when you gamble to get up to 30% your stay!
At the Travelodge Las Vegas you can get the winning special to get a discount off your stay! Book online and get more information on how you can WIN BIG when you stay in Sin-City!
Offer Expires: 67 days
Promo Code: ONLINE
Use Promo
Shows to check out during your stay at Travelodge Vegas
The Skinny
Travelodge Las Vegas Center Strip combines prime location with affordable rates. One of the few cheap non-gaming venues on the Strip, Travelodge Center Strip Las Vegas is also close to the University of Nevada, Las Vegas campus and Crystals at City Center. Cheap rates and convenient location, plus fresher air sans cigarettes and quieter premises to boot? Music to our frugal ears.
Reviews
There are currently no reviews!
Be the first to write a review!
Write a review
Our user reviews are from real registered users.
Quick Facts
Near Attractions
Check-in at 3pm
100+ Rooms
Check-out at 12pm
High-Speed Internet
Near Restaurants
Parking
Check-In Age - 18+
Info
Location:
3735 Las Vegas Blvd S
Las Vegas, Nevada 89109
View Map
Room Quality:
There is definitely nothing fancy about the rooms at Travelodge Las Vegas Center Strip. Things are compact, and the bathroom is a no-frills shower/tub combination. Furniture looks like your typical mundane Travelodge/run-of-the-mill motel selection, but how much time are you really going to spend admiring the decor of your lodging while in Vegas anyhow? Free coffee, newspapers, and the all-important high speed Internet are a nice bonus.
Service Quality:
There's a 24-hour front desk, and they do their job.
What You Get Bottles of in the Bathroom:
Just the essential soap and shampoo.
Clientele:
Travelodge Las Vegas Center Strip is a motel, and so is obviously going to attract frugal-minded folk like us. We see a lot of young guns trying to party in Vegas on the cheap, stumbling back into their Travelodge room after spending all night out at the nearby MGM Grand or Planet Hollywood.
How's the Pool?
The pool is ordinary in looks, but fitting in size for a place like Travelodge Center Strip Las Vegas. There are some nice palm trees dotting the sides, if that does anything for you.
Resort Fee:
Travelodge Las Vegas Center Strip is just about the last place that would (or could) charge resort fees. And would you look at that, complimentary Internet access is still provided!
Is it Worth It?
When you're trying to save money on a weekend when all the more prominent hotels have sky high rates, definitely.
Hotel Amenities
Air-conditioning
Business Services
Free Fast Internet
Complimentary Breakfast
Free Guest Parking
Travelodge Las Vegas Center Strip Guest Rooms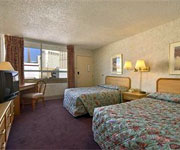 Standard Room
This 260-square-foot room comes with either one king or two queen beds. Comfortably furnished with a writing desk and chair, free coffee, alarm clock, TV with cable, and complimentary wireless Internet access. Bathrooms feature a bath/shower combination, complete with basic toiletries and a hair dryer. Smoking and non-smoking options. Frequent Travelodge Las Vegas Center Strip deals are available as well. We frequently like to save money so these promos are our bread and butter!
User Average Review
Overall:
Service:
Cleanliness:
Location:
Room Quality:
Based on 0 reviews
Rating Distribution
0.0% recommended it
Travelodge Las Vegas Center Strip Reviews
There are currently no reviews! Be the first to write a review!
Write a review