Monte Carlo Vegas
Tres Fantastique! Now I shall not have to jet off to Europe for my continental class.
---
A Quick Look
Location: The Strip
Hotel Class:

Room Price:

Hotel Size:3,002 rooms
Casino Size:102,000 sq. ft.
Gaming:Yes
Nightlife:

Pool:

Buffet:
---
Book now for great deals!!

Other Hotels like Monte Carlo Vegas
Monte Carlo Vegas Deal Finder
* Room Rates shown above reflect the average nightly rate for a 2 night stay with the calendar date as the check-in date, our visitors should verify actual rates, promotions and deals directly with the hotel as we make no guarantees regarding rates, but only provide them as a convenience.
Book Now
The Skinny
Centrally located on the Strip, the Monte Carlo Resort and Casino Las Vegas feels upscale and ranks high on my value scale. It sits on the Strip so just about everyone passes through, but if you're a hotel that has it all including a cool pool-side DJs then the Monte Carlo may have your name all over it!
Reviews
There are currently no reviews!
Be the first to write a review!
Write a review
Our user reviews are from real registered users.
Quick Facts
Near Attractions
Check-in at 3pm
3000+ Rooms
Check-out at 11am
High-Speed Internet
On-Site Restaurant
Near Restaurants
Parking
Check-In Age - 21+
Info
Location:
3770 Las Vegas Blvd. South
Las Vegas, Nevada 89109
View Map
Website:
https://www.montecarlo.com/
Room Quality:
Monte Carlo Resort and Casino Las Vegas is slightly above average-sized and slightly better than average trappings. Overall, it feels nice, with quality beds and nice cherry furniture. There is a nice television, which we guess is supposed to give the room a turn-of-the-century Europe feel. As does the high-speed Internet, which you pay extra for. There is an iron and ironing board for your house chore pleasure. The views facing Las Vegas Blvd. are great. The bathrooms are okay with marble counter tops, a sink, tub/shower and a toilet. We're almost positive there's a toilet in there. If there isn't, we made a housekeeper very unhappy. If you really want to fancy it up, try "Hotel32", which is what they call a boutique hotel on the 32nd floor. Makes sense, right? It's swankier, has big suites, butler service and limos, happy hours and wireless Internet for a hefty premium.
Service Quality:
Fair. Monte Carlo Hotel Las Vegas is a full-service hotel that's competing for the customers who want a nice hotel, but not a ritzy one. The spa is very good. Check-in is quick considering the size, and you shoudn't have more than a half-hour wait, even during the busiest times.
What You Get Bottles of in the Bathroom:
Shampoo, conditioner and lotion. Also, a bar of glycerine soap for your precious baby face. You fat cats in the suites can fix your busted buttons with the glorious sewing kits, because you get that sweetest of freebies at Monte Carlo Resort and Casino Las Vegas.
Clientele:
Monte Carlo Hotel Las Vegas is solid middle class all the way. You'll never see so many Camrys and Buicks as in their parking structure.
How's the Pool?
It's nice without being spectacular. There are four pools in total and a 400' lazy river to float along. Plus you can get what they call Pool Side Food. It's not actually prepared poolside and does not include fish that swim alongside you. That would be pretty cool, though.
Resort Fee:
Monte Carlo Resort and Casino Las Vegas charges a $22.40 per night for resort fee with includes local phone calls, Internet, incoming and outgoing faxes, daily newspapers, use of the fitness center, printing for boarding pass, coffee in-room, and two bottles of water.
Is it Worth It?
This is a middle of the line resort hotel on the Strip, you'll get your money's worth for the cleanliness and convenience alone.
Hotel Amenities
Spa
Sauna
Fitness Center
Bar/Lounge
Restaurants
Room Service
Parking Garage
Free Guest Parking
Car Service
Conference room(s)
Event Catering
Express Checkout
Doorperson
ATM/Banking
Dry Cleaning
Ballroom(s)
Air-conditioning
Shoe Shine
Security Guard
Multilingual Staff
Concierge Service
Wedding Services
Business Services
Table Games:
Good double deck blackjack makes this a better than average place to lose your money. They also have average craps, Let it Ride, Pai Gow, and even baccarat, although it's not the real high-limit baccarat. But, if you're a high-rolling baccarat player, what the heck are you doing reading our lousy little pages? The casino gets high marks for being one large, pretty, easy to navigate room.
Bet Minimums:
$10 and up. This may make it the best deal on the South Strip. The craps has the now standard 3x4x5x odds, and the cheapest single-deck BJ has lousy 6:5 odds.
Machines:
2,000+ machines from pennies to $100. They have all the latest and greatest games.
Cocktails?
Fair cocktail service. The clientele is mostly a quiet, middle-aged, fairly well off crowd without serious drinking problems. You won't see people getting too drunk or too crazy.
Who Gets Comps?
The unified M Life slot club serves for a whole truckload of properties and pays pretty decently. At the tables, it's like anywhere else on the Strip. M Life is meant to make you very loyal to the MGM casinos.
Number of TVs:
About 18. One biggie, which is usually showing horse racing.
Number of Seats:
About 35 for sports, 50 for race, and about 25 lounge-style in between. They aren't reserved, nor do they have individual TVs. It won't physically harm you to sit on them, but it won't make you feel like a million dollars, either.
Number of Betting Windows:
About eight, with electronic signboards at the Monte Carlo Resort and Casino Las Vegas.
Free Drinks?
Horse bettors and high rollers get the royal treatment, but don't think you're going to get a drink just standing around looking like you know the score.
Snack Bar?
No, but there's a bar in the back. Find Monte Carlo Hotel promo codes for your rooms to save money for the restaurants and bars here.
Other Notes:
The 25 lounge-style seats that grace the back and center of this room are the most comfortable ones in here.
Number of Tables:
Nine, and they all have four legs. So that's what, about, um, 36 legs. These aren't the only legs you'll see throughout the Monte Carlo Resort and Casino Las Vegas though.
Comfort of Chairs:
Good chairs. They've got all their legs and they don't wobble, so they have that over our kitchen chairs right there.
Closed Room or Open to Casino?
Closed off and plenty quiet. Not library quiet, but good enough to keep your attention focused on the game. It is a little cramped.
Game Spreads and Limits:
Hold-em $2-$4, $4-$8. There is also a No-limit starting at $1/$2 with a $300 min buy-in, and then going up to $2-$5 occasionally.
Beginner Games or Classes:
Monte Carlo Las Vegas offers classes at 10am, so you better rise and shine, eat a good breakfast, and pay attention if you want to keep your dollars in this joint.
How Crowded is the Room?
Thursdays through Sundays, Monte Carlo Las Vegas stays busy. The room manager assured us the wait rarely stretches past 15 minutes.
Comps?
Free drinks while playing. Play four hours a day and they'll give you a $6 coupon good for food, but they won't let you eat it at the table, because they know what a slob you are. Also, five hours a day should get you the discount room rate.
How Good Are the Players?
Monte Carlo Las Vegas has some good players. Better than the Luxor or Excalibur, but not as good as at The Orleans or Bellagio.
What Else Do I Need to Know?
This is a nice-looking room with nice dark-wood paneling. Hi-hand progressive jackpot, get a 4-of-a-kind or better to qualify. The Monte Carlo offers daily tournaments plus a few sit-n-gos.
Monte Carlo Vegas Guest Rooms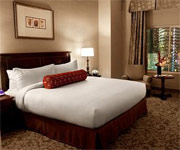 Deluxe rooms
This 400-square-foot guestroom has one king bed or two queen beds and a dining table for room service or take out from one of the Monte Carlo restaurants, or our favorite meal: breakfast leftovers from dinner we were too drunk to eat last night. The 40-inch LCD TV comes with premium cable channels and pay movies and your wired high-speed Internet access is included in the resort fee, so get your moneys worth with that.
From the 23rd floor up, the Deluxe Strip View/Deluxe High View rooms have the best views in the Monte Carlo, looking over the Las Vegas Strip, resort, or various other city views. They are the same rooms, but with a little bonus we like to call a million dollar view. Which you technically pay nowhere near a million dollars for. Quite a steal, right?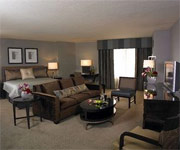 Monaco Suite
With 700 square feet of space and a king-sized bed, you'll have plenty of room to do whatever you want. Eat, sleep, party, dance, we don't care, but you should do it in this room. In addition to all the standard room amenities, you get a sitting room for entertaining. Huddle around the coffee table playing games, or whatever it is those things are used for, or just use this area to let all the people you meet out in Vegas crash with you.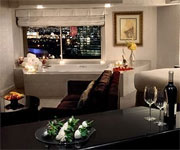 Spa Suite
Yeah, most sitting areas have couches and tables and boring things like that, but not in the Spa suite. Relax in the 2-person jetted tub in this sitting area and enjoy a view of the mountains, desert, or Las Vegas Strip. Enjoy a personal retreat above the city bustle in 700-square-feet of luxury hotel from floor to ceiling. A 40-inch TV with surround-sound and wet bar with refrigerator will be perfect for entertaining a large crowd or a small one. If you ever decide to get out of your spa tub, step into a plush bathrobes, but please change into real clothes if you decide to leave the room.
User Average Review
Overall:
Service:
Cleanliness:
Location:
Room Quality:
Based on 0 reviews
Rating Distribution
0.0% recommended it
Monte Carlo Vegas Reviews
There are currently no reviews! Be the first to write a review!
Write a review