Bill's Gamblin' Hall (Closed)
Jumpin' Jehosephat! This place is kinda cool and quaint for the Strip...too bad it's closed.
---
A Quick Look
Location: The Strip
Hotel Class:

Room Price:

Hotel Size:198 rooms
Casino Size:20,000 sq. ft.
Gaming:Yes
Nightlife:

Pool:

Buffet:
---
Book now for great deals!!

Other Hotels like Bill's (Closed)
Bill's (Closed) Deal Finder
* Room Rates shown above reflect the average nightly rate for a 2 night stay with the calendar date as the check-in date, our visitors should verify actual rates, promotions and deals directly with the hotel as we make no guarantees regarding rates, but only provide them as a convenience.
Book Now
The Skinny
Bill's Gamblin' Hall & Saloon Las Vegas has been spared the rake because nobody will dare to build a new hotel on the Strip for years to come. So, this little joint right in the heart of it all will stay. And it's kept most of its cool soul intact. Is it elegant? No. But it's old-school, dark woods and a refreshing change from the behemoths around it. CLOSED SINCE FEB 4th, RE OPENING sometime in 2014.
Reviews
Most Recent Reviews
Our user reviews are from real registered users.
Quick Facts
Check-in at 3pm
Near Attractions
100+ Rooms
Check-out at 11am
High-Speed Internet
On-Site Restaurant
Near Restaurants
Check-In Age - 21+
Parking
Info
Location:
3595 Las Vegas Blvd. South
Las Vegas, Nevada 89109
View Map
Website:
www.billslasvegas.com
Room Quality:
Bill's Gamblin' Hall & Saloon Las Vegas is good for the price. The rooms are big, with Victorian furniture and great views of the center Strip. TVs are nice big plasmas. This is a small hotel, and the casino is a bit smoky, but the rooms are cool. The bathrooms are small, but not uncomfortably so, and they have a weird shape. The Flamingo Hotel-facing rooms are quieter, but the view ain't as hot as the ones facing Flamingo Road. The tubs have a window you can open onto the world. Use those for whatever you want.
Service Quality:
Bill's Gamblin' Hall Las Vegas is fine as long as you don't need pampering. The hotel is small so it's a short walk to the elevators and the staff is attentive to your needs. Also, with only 198 rooms, there is never much of a line for check-in. Room service can be cheap since you can order the specials from the coffee shop. They also provide free shuttles to the Gold Coast and Orleans.
What You Get Bottles of in the Bathroom:
Shampoo, conditioner and lotion. Bill's Gamblin' Hall & Saloon Las Vegas is the holy trinity of bath bottles. We're not sure but we think the shampoo must be Jesus.
Clientele:
The whole gamut. We see lots of young people attracted by the low table limits, and we see lots of older folks who know a good deal when they see one. Bill's Gamblin' Hall & Saloon Las Vegas has a lot of loyal repeat customers, too.
How's the Pool?
No pool at Bill's Gamblin' Hall Las Vegas. They do let you into the Flamingo next door with your key, though. And that's a pretty good pool.
Resort Fee:
Resort fees on the Strip are pretty standard, but Bill's Gamblin' Hall and Saloon Las Vegas Strip isn't a resort, so they can't justify charging a resort fee. Since the hotel is now temporarily closed from February 4th until early 2014, Casino Boy will let you know if anything changes when the Bill's gets its new look and name.
Is it Worth It?
This is a pretty good value through and through. It's smaller, though, so you don't get as high of a chance requesting certain rooms and views.
Hotel Amenities
Air-conditioning
ATM/Banking
Bar/Lounge
Business Services
Concierge Service
Dry Cleaning
Free Guest Parking
Multilingual Staff
Conference room(s)
Restaurants
Room Service
Security Guard
Table Games:
Blackjack, craps, roulette, Let It Ride, Pai Gow, 3-Card Poker. This is a small casino, so the less popular games only get one table each. It's also a bit smoky and can look a little dog-eared. Not scary run-down, just like it's been around awhile. Like grandma and grandpa. Oh, one of the craps tables has an abomination called Rapid Craps, which has no chips, just terminals that you interact with. Ugh.
Bet Minimums:
You might find more $10 games than $5. That's a little rich for our blood, especially considering the crappy rules. Roulette is $3, which is sort of low. For the low limits, expect the unplayable 6:5 single-deck garbage. Craps is 3x4x5x odds.
Machines:
Slots from those dreaded penny-players on up. A lousy selection of video poker, with zippo full-pay. You'll find a decent number of nickels (and dollars for you high-rollers). Plenty of pennies, but they don't take pennies, they take dollars and let you bet pennies (lots of pennies).
Cocktails?
Good service. Bill's Gamblin' Hall & Saloon Las Vegas is a decent choice if you like your cocktails fast. The increasingly lovely cocktail waitresses come around fairly often.
Who Gets Comps?
If you play a lot here on the slots, you will get some decent mail offers and they'll comp you well while you're staying there. The slot club is a generic Bill's Club.
Number of TVs:
About 30 with some plasmas and one big screen for the horse bettors.
Number of Seats:
64. None of which will make your butt sigh and say, "Now this is heaven!" Although, the 40 for the horses are less comfortable than the 24 sports loungers.
Number of Betting Windows:
Bill's Gamblin' Hall & Saloon Las Vegas has about 10 windows, with electronic signboards.
Free Drinks?
A cocktail waitress does make it through the sports book every now and then. Cool!
Snack Bar?
A tiny hot dog stand feeds the hungry masses.
Number of Tables:
Three tables, right by the hot dog cart in the sports book.
Comfort of Chairs:
Bill's Gamblin' Hall Las Vegas has pretty average Harrah's chairs. Really nothing your rear end will be thrilled with.
Closed Room or Open to Casino?
Closed room? Are you kidding? It's not even in a room. It's just some space in the casino. It could disappear overnight.
Game Spreads and Limits:
A $2-$6 spread limit and $1-$1 no-limit game. So, it's low limit at least.
Beginner Games or Classes:
They don't have any poker lessons, but there are free craps lessons every day of the week at 10:30am. Yeah, that's not the most ideal time, but it's free, so you can't complain.
How Crowded is the Room?
Not crowded at all. Maybe that's because it's pretty petite and, oh, there are six bigger and better poker rooms within walking distance.
Comps?
One buck an hour is pretty standard for comps.
How Good Are the Players?
Poor play and a few ringers trying to grind the fish down. The location right on the Strip draws a lot of people with little to no experience.
What Else Do I Need to Know?
This room is pretty bad. It's just three tables, they aren't full very often, and the noise from the slots and Strip are overwhelming.
Bill's Gamblin' Hall & Saloon (Closed) Guest Rooms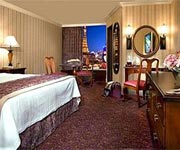 Classic
One king or two queen beds with partial views of the Las Vegas Strip, and from some rooms you get a front row view of the Bellagio Fountain. The Victorian-style decor makes you feel like you've stepped back in time, but you still get the modern pleasures of a updated bathroom and 42" cable/satellite plasma TV with complimentary HBO and pay movies.
User Average Review
Overall:
Service:
Cleanliness:
Location:
Room Quality:
Based on 1 review
Rating Distribution
100.0% recommended it
Bill's Gamblin' Hall & Saloon (Closed) Reviews