Gold Coast Casino
Gee whiz, it's just gold plating! Don't try to steal anything!
---
A Quick Look
Location: Off-Strip
Hotel Class:

Room Price:

Hotel Size:750 rooms
Casino Size:71,000 sq. ft.
Gaming:Yes
Nightlife: No
Pool:

Buffet:
---
Book now for great deals!!

Other Hotels like Gold Coast Hotel
Gold Coast Hotel Deal Finder
* Room Rates shown above reflect the average nightly rate for a 2 night stay with the calendar date as the check-in date, our visitors should verify actual rates, promotions and deals directly with the hotel as we make no guarantees regarding rates, but only provide them as a convenience.
Book Now
The Skinny
Gold Coast Hotel and Casino Las Vegas is a generic off-strip casino, at least in appearance. They don't do much with flair here, but they do a lot of things just a little better. Food at Gold Coast Vegas Hotel is cheap and generally decent, and games are also usually a fair deal. The rooms are nicer than you'd expect, but still not fancy.
Reviews
Most Recent Reviews
Our user reviews are from real registered users.
Quick Facts
Near Attractions
Check-in at 2pm
500+ Rooms
On-Site Restaurant
Parking
Info
Location:
4000 W. Flamingo Rd.
Las Vegas, Nevada 89103
View Map
Website:
https://www.goldcoastcasino.com/
Room Quality:
Smallish, clean rooms with nice furnishings and a fairly modern look that includes a flat-screen TVs. The furniture at Gold Coast Hotel Las Vegas is basic, a small table with a couple chairs and a dresser. The window is small because the bathroom is up against the outside wall. The bathrooms are decent with a tiny room for the toilet and tub. Premium rooms have sliding doors on the bathroom that make them more comfortable, and better furnishings that are dark woods and new mattresses (they are worth the upgrade). The cool part is that the tub has a little window that opens to the outside world so you can keep your eye on your car while scrubbing. Being off the Strip, a lot of the Gold Coast Vegas Hotel's rooms don't have spectacular views, but then who needs a nice view when one just plans to pass out drunk on the floor? The walk from the elevator to your room can be incredibly long. Hairdryers, irons and coffeemakers are standard.
Service Quality:
Good. Everyone out here tends to be pretty friendly. Check-in at Gold Coast Las Vegas is quick once you find the front desk in the twisty casino, but it's a long ways from the hotel tower. Room service is probably not worth staying in your room for. Also, this is a blue-collar resort, so don't go in there demanding free high-speed access for your fancy little portable computers. It is available if you want to pay for it, though.
What You Get Bottles of in the Bathroom:
At the Gold Coast Vegas Hotel they know the key to a traveler's heart is bottles of stuff, so you get lotion, shampoo and the extremely important separate conditioner.
Clientele:
Locals and pragmatic tourists. The shuttle service to the Strip tends to attract an older crowd, who seem used to riding around on the bus for some reason. The shuttle also makes Gold Coast Hotel Las Vegas a realistic place to stay without a car.
How's the Pool?
Dinky. There is a jacuzzi in case you want to boil some crabs or yourself. The fitness room is quite nice.
Resort Fee:
3 bucks per night for local phone calls, the use of the pool, spa tub and fitness center, free Strip shuttle service, in-room coffee and self parking. Not a bad deal for Vegas.
Is it Worth It?
Gold Coast Hotel and Casino Las Vegas is a cheap place to stay that's pretty close to all the action of the Strip and Downtown so it's worth it if you're looking for a good casino and cheap rooms.
Hotel Amenities
Air-conditioning
Airport Transportation
ATM/Banking
Ballroom(s)
Bar/Lounge
Business Services
Concierge Service
Dry Cleaning
Event Catering
Fitness Center
Free Guest Parking
Multilingual Staff
Restaurants
Room Service
Security Guard
Shoe Shine
Wedding Services
Table Games:
Blackjack, Craps, Pai Gow, Baccarat, Roulette and BINGO! Yep, there's a giant bingo game at Gold Coast Hotel Las Vegas and you best get out of the way of the horde of older women charging through the casino toward it. Bingo's about the only thing that makes the Gold Coast unique as a gambling destination. The casino is very smoky and some of the people look like they were born and will die here.
Bet Minimums:
$5 minimums most of the time for blackjack, with a few double-deck games scattered here and there. Craps is $5 minimum with 3x4x5x odds. Other card games are $5 except Baccarat and Pai Gow which can be $10. The crazy roulette players get $1 chips with a $3 minimum, and a ball that goes round and round on a wheel that also goes round and round.
Machines:
Pretty good selection of slots and video poker, but nothing worth composing sonnets over. There are full-pay video poker machines at the quarter and higher level, and there is a wide variety of nickel slots.
Cocktails?
Sure, they'll load you up with cocktails. Just smile friendly-like while you tip the waitress so she remembers your face. Hey we said friendly-like, not creepy-like!
Who Gets Comps?
$25 and up table players get noticed and get food if they politely ask the pit boss. The $50 bettors get the occasional free room. The B-Connected program connects all Boyd properties and is pretty average for slot play.
Number of TVs:
About 38. Of those, 36 are medium-sized plasma screens and two more are really big. Unless there's a significant sporting event going on, all the big screens tend to show horse racing action.
Number of Seats:
About 120, all of which are decidedly uncomfortable chairs. Each seat is at a desk, though and has an individual TVs. 24 additional lounge/desk type chairs face the sports screens.
Number of Betting Windows:
Nine for race, six for sports. The sports boards are electronic, but not the race results.
Free Drinks?
If you're lucky, a dazed cocktail waitress might wander through and offer you something, but don't count on it.
Snack Bar?
Visit the hot dog stand for a mediocre dog. Or go to the Red Zone sports bar on the weekends for burgers, wings, onion rings and the like.
Other Notes:
They have 30 interactive betting terminals, so you can pretend you're at home gambling on the Internet.
Gold Coast Hotel and Casino Guest Rooms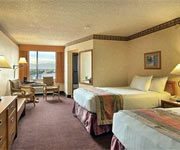 Standard Room
The standard rooms at Gold Coast Hotel and Casino Las Vegas have your choice of one king or two double beds. They have a32-inch LCD TV with cable, a video-game console and movies you can pay for.You can call all your local friends for free but if you want Internet there's a surcharge. There are free basic toiletries in the bathrooms but don't go crazy, after a day at the casinos you might need to buy more. It's pretty much the same experience as any other cheap Las Vegas rooms.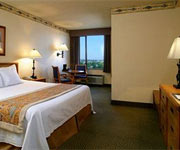 One Bedroom Suite
The one bedroom suite at Gold Coast Hotel and Casino Las Vegas has one king bed, a 32-inch LCD cable TV, a video-game console and pay movies. You can also pay for Internet here. You get free local calls and toiletries, not intended to be used at the same time - but hey whatever floats your boat, right?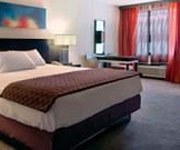 Premium Room
The premium rooms at Gold Coast Hotel Las Vegas are the cream of the crop and are 360 square feet. Still small, but bigger than your other options. Choose either one king bed or two double beds and enjoy plush-top mattresses. There's a table and two chairs so enjoy a meal but don't invite any company over. You get the standard 32-inch flat-screen LCD TV with cable and satellite channels. You can pay for Internet, movies and video games. The bathrooms are totally swanky - well, as swanky as it gets at Gold Coast Hotel and Casino Las Vegas, it's still not the Wynn by any means - and have quartz counters and a porcelain shower.
User Average Review
Overall:
Service:
Cleanliness:
Location:
Room Quality:
Based on 1 review
Rating Distribution
100.0% recommended it
Gold Coast Hotel and Casino Reviews