Tropicana Hotel
Holy Mangos! I suddenly crave drinks with little umbrellas in them!
---
A Quick Look
Location: The Strip
Hotel Class:

Room Price:

Hotel Size:1,375 rooms
Casino Size:60,000 sq. ft.
Gaming:Yes
Nightlife:

Pool:

Buffet:
---
Book now for great deals!!

Other Hotels like Tropicana Las Vegas
Tropicana Las Vegas Deal Finder
* Room Rates shown above reflect the average nightly rate for a 2 night stay with the calendar date as the check-in date, our visitors should verify actual rates, promotions and deals directly with the hotel as we make no guarantees regarding rates, but only provide them as a convenience.
Book Now
The Skinny
The Tropicana Resort in Las Vegas just got a major face-lift. It has been upgraded to look like the Mirage did 15 years ago, only maybe a little uglier. The rooms are nice now and represent a good value. The pool is partially restored to its former glory. The restaurants are still lagging, there are still very rundown chunks of the joint, but at least they no longer have all those hucksters selling timeshares and tchotchkes in the halls.
Reviews
Most Recent Reviews
Our user reviews are from real registered users.
Quick Facts
Check-in at 3pm
1000+ Rooms
Check-out at 11am
On-Site Restaurant
High-Speed Internet
Parking
Near Restaurants
Info
Location:
3801 Las Vegas Blvd. South
Las Vegas, Nevada 89109
View Map
Website:
https://tropicanalv.com/
Room Quality:
The Tropicana Resort in Las Vegas has some quite nice mid-priced rooms with a South Beach theme. They are a good size, have large, nice flat-screen TVs with HD programming, nice light colors, and iPod docks. The carpets are tan and burnt orange, and the bedding is white and fluffy. The bathrooms are pretty standard, though.
Service Quality:
Good. They have gotten rid of the time share and magnet sales kiosks, making it feel more like a resort. Still, this is a mid-priced resort and the service commensurates that.
What You Get Bottles of in the Bathroom:
You get plain shampoo, conditioner, bath gel, and lotion, regardless of what part of the hotel you're staying in. So, nobody will be able to sniff you and tell if you are low-rolling or living it up.
Clientele:
Not as popular with the jet set as it once was, it mostly draws an older clientele these days or families with kids looking for a tropical pool on a budget.
How's the Pool?
This place is pretty happening but what place wouldn't be after a $180 million renovation? There is a long meandering tropical lagoon pool with a small waterfall. The decor is lots of white and wood and it looks like it's trying to be a classy Hollywood theme. There is swim-up blackjack. There are many chaise lounges and a few upscale bungalows in the form of teepees around their pool club, Nikki Beach. That pool club, by the way, is worth checking out now that they've poured a lot of dough into it.
Resort Fee:
The Tropicana Hotel and Casino Las Vegas has a resort fee of $19.99. You get internet, fitness center access, half off well cocktails, and beer and wine at the Tropicana Lounge from 5pm-8pm, 2 bottles of water, local and toll-free calls, faxes and copies, and boarding pass printing.
Is it Worth It?
If you are one of those people who likes to pretend Vegas has a beach then yeah, it's worth it.
Hotel Amenities
Air-conditioning
Fitness Center
Jacuzzi
Spa
Room Service
Bar/Lounge
Multilingual Staff
Security Guard
Express Checkout
Free Guest Parking
Concierge Service
Doorperson
Parking Garage
Wedding Services
Restaurants
Ballroom(s)
Table Games:
Blackjack, craps, roulette, Let It Ride, Pai Gow, Three Card Poker. The games are pretty good for this area. The casino is sort of small compared to its neighbors, and it can get cramped.
Bet Minimums:
$10 at blackjack and craps and some of the oddball card games. The single-deck pays 6:5, so skip it at all bet levels. There are 3x4x5x odds at craps, which is standard. Roulette has $1 chips and a $5 minimum.
Machines:
Slots from a nickel on up to $10 in the high-roller area. There is a good selection of video poker, with full-pay in most denominations. You have to seek them out though, because they have lots of poor-paying machines, too. The Tropicana Hotel and Casino Las Vegas has lots of the new video reel games, but if those confuse you like they do us, you'll also find plenty of traditional reel slots to play.
Cocktails?
Fair. As we have found in our arduous research, it is a chore to get drunk while playing slots or tables at the Tropicana Hotel and Casino Las Vegas.
Who Gets Comps?
They are pretty good for the neighborhood. If you play $20 and up for a few hours at the tables, be sure to ask to be rated beforehand. Of course, you better be nice and make sure the pit boss sees you playing. The slot club is called the Trop Plus club.
Number of TVs:
There are about 14 screens positioned high on the walls and wrapping around the seating. Two of the screens are very large. There are also about five more screens in the little lounge area off to the side.
Number of Seats:
There are just under 100 seats in the main room, each with its own betting terminal and screen built into the desk. The chairs are just okay for comfort. They actually look more comfy than they are. There is also a small lounge area off to the side with 17 leather lounge seats.
Number of Betting Windows:
Seven in the main area, two in the lounge and two upstairs. The betting counter is slightly curved to match the room and the overhead screen. There are electronic odds boards on either end of the TVs.
Free Drinks?
Yes, if you wager. They won't just serve you for hanging around. The Ambhar lounge is nearby, so if you want a drink, walk over there.
Snack Bar?
No.
Tropicana Las Vegas Guest Rooms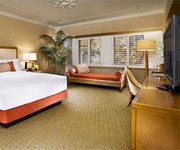 Deluxe Room
The Deluxe Room at Tropicana Hotel and Casino Las Vegas has one king or two queen beds with cushy bedding and cotton linens. If you can pull your eyes away from the candy at the pool, this room also offers views of the city and mountains. Bring your fave Vegas tunes and let 'em rip with an iPod docking station or watch a pay-movie on the 42-inch flat-screen television. The Trop offers free local calls for any odd-ball who doesn't have a cell and the in-suite bathroom has a shower/tub combination so you can make yourself a bubble bath and soak your worries away at The Trop Las Vegas!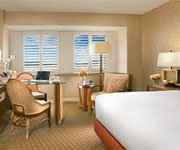 City View Room
With great views of the Strip you can watch the drunks stumble from the comfort of your own room, or at least see where they are going until you join up! The Tropicana Resort in Las Vegas has free wireless Internet and 42-inch flat-screen televisions in each room plus an iPod docking station to enjoy your very own tunes. With up to 450 square feet and either one king or two queen beds topped with Serta Mattresses, the City View Rooms at The Trop Las Vegas are the perfect rooms to pass-out, uh we mean, get a good rest after a long night on the Strip.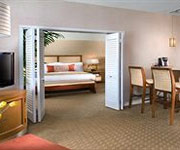 Club Suite
The Trop Las Vegas Club Suite is as posh as it gets at the Tropicana, which isn't saying much. With views of the gardens and easy access to the pool, the Club Suite is perfect for the Vegas sun-bather. These two bedroom, 750-square-foot suites have a king bed in each room with comfy Serta mattresses and a Floridian-inspired island decor. There is plenty of space to hang with a desk and lounge chair, 42-inch flat-screen television, and mini-fridge.
User Average Review
Overall:
Service:
Cleanliness:
Location:
Room Quality:
Based on 3 reviews
Rating Distribution
100.0% recommended it
Tropicana Las Vegas Reviews