Suncoast Casino
Viva el sol! This place sure is familiar feeling. But not familiar if you're used to Las Vegas really.
---
A Quick Look
Location: Off-Strip
Hotel Class:

Room Price:

Hotel Size:388 rooms
Casino Size:80,000 sq. ft.
Gaming:Yes
Nightlife: No
Pool:

Buffet:
---
Book now for great deals!!

Other Hotels like Suncoast Casino
Suncoast Casino Deal Finder
* Room Rates shown above reflect the average nightly rate for a 2 night stay with the calendar date as the check-in date, our visitors should verify actual rates, promotions and deals directly with the hotel as we make no guarantees regarding rates, but only provide them as a convenience.
Book Now
The Skinny
The Suncoast Hotel Las Vegas rooms are big and the prices are fair. What's not to love? Well, the fact that Suncoast Hotel and Casino Las Vegas is about half an hour from what most people consider Las Vegas. If you have a car and hankering for driving through suburbs, enjoy!
Reviews
There are currently no reviews!
Be the first to write a review!
Write a review
Our user reviews are from real registered users.
Quick Facts
Check-in at 3pm
Check-out at 12pm
300+ Rooms
High-Speed Internet
On-Site Restaurant
Parking
Check-In Age - 21+
Info
Location:
9090 Alta Drive
Las Vegas, Nevada 89145
View Map
Website:
www.suncoastcasino.com
Room Quality:
Far as we can tell, the only drawback to these rooms is the hotel's location, which is about 20-25 minutes from the Las Vegas Strip or Downtown. The Suncoast Hotel and Casino Las Vegas rooms themselves are a little slice of heaven at a whopping 550 square feet. That is, coincidentally, almost the exact same size as the rooms next door at the considerably more hoity-toity Marriott. Most rooms have a European/Victorian feel with patterned carpets and French furniture. The beds are either a king or a pair of queens and there is a separate sitting area in all rooms. The furniture is standard hotel fare. No matter, for the price you're paying these are fantastic rooms. The windows are big but you won't see much of the Vegas Strip from way out here. Bathrooms are a nice size and well laid out. They are not fancy, just sensible with two sinks and a marble counter outside the room where the can and tub/shower are. Hairdryers and irons are standard for every room. Whee!
Service Quality:
Very good. The Suncoast Las Vegas Hotel is very manageable at less than 400 rooms and there are rarely long lines to check in. Room service and housekeeping are prompt and friendly. You may have a long walk to your room if you're at the end of a hall, but otherwise you're just an elevator ride from the action downstairs.
What You Get Bottles of in the Bathroom:
We hope you like goop! Shampoo, conditioner, lotion and bath gel. The Suncoast Hotel Las Vegas wants you squeaky clean and fresh by the time you hit the casino.
Clientele:
Locals, locals and more locals, along with some conventioneers and an older clientele. Suncoast Hotel Las Vegas is really catering to that section of the baby-boomers who will be retiring soon and bankrupting the Social Security system, provided the slots here don't bankrupt them first.
How's the Pool?
Since they aren't trying to get young hotties or families, it's a functional pool, not a wild one, despite the Mediterranean flairs. No slides, or lagoons or any of that good stuff. And unfortunately you have to keep your top on. There is a hot tub, though.
Resort Fee:
Suncoast Hotel Las Vegas charges $9.99 a night for 1MB of WiFi for up to three devices, local and 800 calls, scheduled airport shuttle, use of a 24 hour fitness center, in room coffee, in room safe and in room fridge. Did they seriously include the safe in fridge as part of the resort fee? Psh...Does the resort fee include pillows and sheets too?
Is it Worth It?
If you didn't come to Vegas for the Strip or nightlife, then this place might be worth it. If you're a local, you've probably already been here.
Hotel Amenities
Air-conditioning
ATM/Banking
Ballroom(s)
Bar/Lounge
Airport Transportation
Free Newspaper
Free Guest Parking
Event Catering
Dry Cleaning
Doorperson
Concierge Service
Conference room(s)
Fitness Center
Multilingual Staff
Parking Garage
Security Guard
Shoe Shine
Wedding Services
Jacuzzi
Restaurants
Room Service
Table Games:
They've got mostly blackjack, including the awful 6:5 variety, craps, roulette, Let it Ride mini-baccarat and the game from the mystic orient-Pai Gow. We say "Mystic Orient" because we have never figured this game out. This place is serious about Bingo with a 600-seat hall and games going virtually from dawn until the wee hours of the night.
Bet Minimums:
Five dollars most of the time at both blackjack and craps, although we've seen craps tables go as low as $3 with 5x odds. The cheapest BJ is from a shoe, but there are a lot more hand dealt double deck games going at most times. Pai Gow and Baccarat can be had for $10 most of the time, and roulette is a $2 minimum with 50-cent chips.
Machines:
Slots from a nickel on up to $25. A good selection of video poker, with some full-pay at the quarter and higher level. The mix is mostly quarter VP, and overall there seem to be more VP machines than slots, but that is typical of a place trying to lure the locals in. The slot areas are surprisingly roomy and you'll be hard pressed to find a better mix of brand spanking new games.
Cocktails?
Iffy service. Like most locals places, the emphasis at Suncoast Las Vegas Hotel and Casino is not on getting you so loaded that you end up barfing on their pretty carpets. That type of service is reserved for Downtown Vegas. Steady tips will keep the cocktail waitresses coming back, though. So if you're determined to drink away your losses, you can.
Who Gets Comps?
The $25 and higher bettor at the tables should ask to be comped. A few hours might get you a buffet or coffee shop, and it will probably get you onto their mail list. At the machines, the Suncoast has the same B-Connected club as other Coast casinos.
Number of TVs:
33 of 'em. 32 of those are decent-sized, and one of them is a monster. The adjacent bar has additional TVs.
Number of Seats:
150 seats for racing and sports combined. They're covered in vinyl and average in comfort. Only 20 of them for the sports bettor. The race ones have individual monitors.
Number of Betting Windows:
17. Most are for race bettors, though. The boards for race results are white slate jobs, but sports fans see their scores in fancy electric lights. Oo la la!
Free Drinks?
If you can flag down a cocktail waitress you might get a free drink. We think they avoid the area so they don't have to give them out though.
Snack Bar?
No, but the Bagel Corner is nearby, and there are always plenty of bar drinks for the gulping. Plus, there is often a cheap hot dog cart in the sports book.
Other Notes:
This is a pretty average off-strip sports and race book. Really not much to speak of, except the great Coast property teasers.
Number of Tables:
10 tables to serve you, and take a rake.
Comfort of Chairs:
The chairs are the basic poker room chairs, meaning not much cushion on a metal frame.
Closed Room or Open to Casino?
The room is a little cove off the casino, but it is not closed off. It looks like they could clear out the poker rooms and make a nickel slot area out of it in a few hours time.
Game Spreads and Limits:
Welcome to Texas Hold'em world, where they deal it in $2-$4, $4-$8 limit and $1-$2 to $2-$5 no limit varieties. They say they also deal Omaha, but don't come out here expecting it.
Beginner Games or Classes:
Suncoast Casino Hotel Las Vegas doesn't offer any beginner classes. None of the players that come here are cut throat or really good anyways though.
How Crowded is the Room?
This room is not crowded and doesn't get crowded, except maybe if a tournament is going on. Otherwise, only about three to five tables are going.
Comps?
Suncoast Casino Las Vegas seems to have created the most confusing comp policy in town. $1.25 an hour for four hours, 50 cents an hour after that, with a $9 cap.
How Good Are the Players?
There are no tourists, just locals in the room. They aren't exactly tight, but they are passive and tend to just play along with bets.
What Else Do I Need to Know?
This is an uninspired and noisy room, and not worth coming out here for. One nice thing about the room is the $4 max rake. They have a couple low-stakes tourneys most days and a high-hand jackpot.
Suncoast Casino Guest Rooms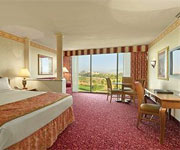 Standard
Depending on how many people you're piling in the room, choose between a king or 2 queen beds. In the separate sitting area you can do work at the desk, but Internet is not included in your $5 resort fee, so you'll have to pay up for that if you want it. The bathroom comes fully equipped with a phone, hair dryer, and complimentary toiletries.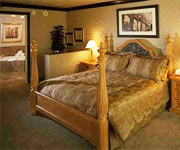 One Bedroom Suite
The one bedroom suite is like a little apartment with a king bed in the master bedroom. There is a whole floor of these suites on the 10ths floor, all about 1,050 square feet with floor-to-ceiling windows. Have your own dinner party at the six-person dining table. You can even be on the phone all night while you're walking around cooking dinner and cleaning up on the fancy cordless phone. Store all your leftovers in the refrigerator before you go out for the night, and make your own coffee with the coffeemaker in the morning. The large bathroom will accommodate all of your guests with the separate tub and shower.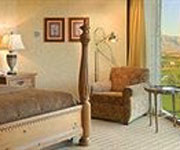 Golf Course View Room
The burgundy and gold decor and view of the golf course will make you feel all kinds of fancy in this room. Either one king bed or two queen beds and 550 square feet of space to lounge around in. Drink in the golf course through the floor-to-ceiling windows and if you drink too much, you'll be enjoying plenty of time in the expanded bathroom with a tub/shower combination and a double sink granite vanity.
User Average Review
Overall:
Service:
Cleanliness:
Location:
Room Quality:
Based on 0 reviews
Rating Distribution
0.0% recommended it
Suncoast Casino Reviews
There are currently no reviews! Be the first to write a review!
Write a review