Las Vegas Tuscany
Mama Mia! Those crazy Italians are blaming me for this mockery of their lovely country!
---
A Quick Look
Location: Off-Strip
Hotel Class:

Room Price:

Hotel Size:716 rooms
Casino Size:30,000 sq. ft.
Gaming:Yes
Nightlife:

Pool:

Buffet:
---
Book now for great deals!!

Other Hotels like Las Vegas Tuscany
Las Vegas Tuscany Deal Finder
* Room Rates shown above reflect the average nightly rate for a 2 night stay with the calendar date as the check-in date, our visitors should verify actual rates, promotions and deals directly with the hotel as we make no guarantees regarding rates, but only provide them as a convenience.
Book Now
The Skinny
Everything at the Tuscany Suites and Casino Las Vegas is "nice," in a dull sense of the word. It reminds us of an upper-middle class suburban neighborhood. That's not exactly our cup of tea when we go to a town to live it up crazy-style, but if you're after a sedate environment, the Tuscany Suites and Casino Las Vegas may be just right.
Reviews
Most Recent Reviews
Our user reviews are from real registered users.
Quick Facts
Check-in at 3pm
500+ Rooms
Check-out at 11am
High-Speed Internet
On-Site Restaurant
Parking
Check-In Age - 21+
Info
Location:
255 E Flamingo Rd
Las Vegas, Nevada 89109
View Map
Website:
https://www.tuscanylv.com/
Room Quality:
The Tuscany Casino Hotel Las Vegas is known for big rooms as far as Las Vegas hotel rooms usually go. They are more than 50% bigger than most at 600 square feet. Rooms come with a king-sized or two measly double beds, sitting areas and dining tables, mediocre televisions, coffee makers, refrigerators, in-room safes and hairdryers to keep your new perm looking just right. The bathrooms are large with the new luxury standard of a separate tub and shower, although the tubs are nothing special. We guess that's because people get so bored of the scenery when they shower and soak in the same place. Personally, we thought bathrooms were for getting in and out of as quick as possible. That's all the good news. The bad news is that it's all sorts of mediocre, not decadently luxurious. It feels like a long-term stay hotel and the property layout makes it look like an apartment complex that got converted to a hotel with lots of small buildings scattered about with concrete walkways and some landscaping. There is a chance your room could be a long walk from the casino.
Service Quality:
Good. The Tuscany Hotel and Casino Las Vegas has room service and concierge, plus a limited amount of business facilities. Check-in can be a hassle during peak hours and then you still have to wander around to find your room.
What You Get Bottles of in the Bathroom:
Shampoo, conditioner and lotion. This is pretty nice stuff, but not likely to trick you into thinking you're in Italy, you're still at the Tuscany Vegas Hotel complete with random palm trees and orange spray-tan locals.
Clientele:
Middle-aged, middle-America folks in the hotel, mixed with some blue-collar locals in the casino. This is not a place where you feel like dressing up.
How's the Pool?
It's okay. The pool is fairly large and has a wandering lagoon shape. There is a big, bubbling Jacuzzi. The landscaping is nice, although the presence of palm trees in a Tuscan village is a bit confusing. The concrete pad is small and empty loungers might be scarce during the best pool times at Tuscany Suites and Casino Las Vegas.
Resort Fee:
The resort fee at Tuscany Hotel and Casino Las Vegas is $14 per night. Includes access to the pool and fitness center, coupon book and live entertainment.
Is it Worth It?
Yeah it's a good deal for large and decent rooms near The Strip, if a good deal is all you're looking for.
Hotel Amenities
Air-conditioning
Ballroom(s)
Bar/Lounge
Concierge Service
Conference room(s)
Doorperson
Dry Cleaning
Event Catering
Express Checkout
Fitness Center
Free Fast Internet
Free Guest Parking
Jacuzzi
Multilingual Staff
Restaurants
Room Service
Security Guard
Table Games:
Blackjack, craps, roulette. The pit is fairly small and we have nothing to recommend that's closer to where you're staying, or where you want to be. The craps table always appears to be a bit dead.
Bet Minimums:
Blackjack and card games have a $5 minimum, while craps can be $3 with decent 5x odds. The double-zero roulette is usually $1 per chip and $4 minimum per spin.
Machines:
Loads of machines, none of which pay out coins. Rather, they print out tickets you redeem at the cashier. There are a ton of penny machines here and a good selection of nickels and quarters. There are some full-pay video poker machines at the quarter level. All in all not too shabby for Las Vegas video poker.
Cocktails?
There's pretty good cocktail service at Tuscany Suites and Casino Las Vegas. The floor is laid out sort of weird and there is a chance of being tucked away in a corner where a cocktail waitress might not find you as easily, so be sure to be extremely noisy.
Who Gets Comps?
It's a pretty good club for the slot and VP player. There are many decent promotions like double points and rooms. Oh, and don't forget this slot club is FREE to join (actually, they all are, and they all make a big deal about how they're free - but if you're like us, you wouldn't belong to any club that would have you as a member...even a free slot club.)
Number of TVs:
Three small plasma TVs in the sports book area and a bunch more in the Tailgate Lounge next door.
Number of Seats:
Three small round tables with a total of five seats. And don't try sitting at the bar unless you plan on buying drinks or playing video poker, even if it's not busy.
Number of Betting Windows:
Two, with electronic boards behind them. The book appears to close pretty early, so don't come here if you woke up in the middle of the night with a wager so crazy it just might work.
Free Drinks?
Not that we could see. It's way off in a corner, off the cocktail waitress's path.
Snack Bar?
The Tailgate lounge at Tuscany Hotel and Casino Las Vegas is next door and has a menu of bar food and plenty of liquor for everyone. The sports-book is an outpost of Leroy's, so not actually operated by the Tuscany Suites and Casino Las Vegas.
Other Notes:
This place is a pretty lame Leroy's outpost. It's small, and off in a corner, but at least there is a bar with it now. We wouldn't bother wagering here, and wouldn't watch a game here either, since it just ain't that comfortable for just sitting and watching.
Number of Tables:
Seven tables with zero to two going most of the time.
Comfort of Chairs:
About average. It's a small room, so you need to worry about claustrophobia more than your bum.
Closed Room or Open to Casino?
It's in its own room, but not technically closed.
Game Spreads and Limits:
It's Texas Hold 'Em only at Tuscany Suites and Casino Las Vegas. They have $3-$6 games and might get a $1-$2 no limit game going on the weekends.
Beginner Games or Classes:
Nope. They expect you to come prepared here.
How Crowded is the Room?
The poker room is not very crowded at all, unless they have a tourney going. The Tuscany Hotel and Casino Las Vegas is a bit off The Strip and the casino doesn't draw from the other more established rooms.
Comps?
Standard comps for food by hour of play.
How Good Are the Players?
Generally, the players are weak. The tournaments might get a handful of decent players, but the ring games are easy to beat and generally loose.
What Else Do I Need to Know?
This is a pretty dead room. They offer a schedule of cheap NL tournaments on weekdays, including one at 4am for the true action junkies.
Las Vegas Tuscany Guest Rooms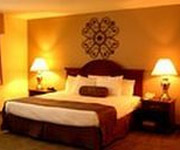 Tuscany Vegas Hotel Suite
The suites at Tuscany Casino Hotel Las Vegas are pretty awesome. With 600 square feet of space, your drunk buddies don't have to make it to their beds, they can just pass-out on the floor. There's plenty of space and the carpet's comfy too. The suites come with either a king bed and sleeper sofa or two double beds, a large sitting area with a chair, dining/drinking games area, and phone with voice-mail in case you drop your cell in a toilet. Don't retrieve it, nobody likes a smelly celly. The suites also have a microwave, mini-fridge, wet bar, coffee/tea maker, and the infamous separate tub and shower. That just sounds awkward.
User Average Review
Overall:
Service:
Cleanliness:
Location:
Room Quality:
Based on 1 review
Rating Distribution
100.0% recommended it
Las Vegas Tuscany Reviews