Arizona Charlie's Boulder Highway
Howdy, pardners! This place sure is a heck of a lot like an apartment complex with a casino.
---
A Quick Look
Location: Off-Strip
Hotel Class:

Room Price:

Hotel Size:301 rooms
Casino Size:30,000 sq. ft.
Gaming:Yes
Nightlife: No
Pool:

Buffet:
---
Book now for great deals!!

Other Hotels like AZ Charlie's Boulder
AZ Charlie's Boulder Deal Finder
* Room Rates shown above reflect the average nightly rate for a 2 night stay with the calendar date as the check-in date, our visitors should verify actual rates, promotions and deals directly with the hotel as we make no guarantees regarding rates, but only provide them as a convenience.
Book Now
The Skinny
Arizona Charlie's Boulder Hotel is the younger sibling of the sort-of-dumpy original Arizona Charlie's on Decatur Ave, but it's not young anymore. The hotel rooms at Arizona Charlie's Boulder Hotel Las Vegas are cheap, some are called suites. The casino is decent but shows wear. They have some reasonable games, though, for pretty reasonable prices.
Reviews
There are currently no reviews!
Be the first to write a review!
Write a review
Our user reviews are from real registered users.
Quick Facts
Check-in at 3pm
300+ Rooms
Check-out at 11am
High-Speed Internet
On-Site Restaurant
Parking
Info
Location:
4575 Boulder Hwy.
Las Vegas, Nevada 89121
View Map
Website:
https://www.arizonacharliesboulder.com/
Room Quality:
Most of the rooms at Arizona Charlie's Boulder Hotel and Casino are "suites" but don't get your hopes up for something dazzling. This place was originally going to be a long-term stay hotel, so the rooms are larger and have separate living rooms and bedrooms, but they're not fancy and are actually a little cramped. The bedroom barely holds a king bed. The bathrooms are tiny. Furniture is minimal - there are two TVs in the "suites" - one in each room. Staying at Arizona Charlie's Boulder Hotel Las Vegas is like staying in a very large Super 8 room, meaning they are clean, and a notch above an average Motel 6. The rooms are in a series of buildings, none of which is directly attached to the casino, so be prepared to walk. Views are pretty bad in almost every room, so don't hope for a spectacular Strip panorama.
Service Quality:
Fair to good. We've found the dealers here to be quite friendly, same with the general staff. Don't expect a full-service resort, but expect a smile and thank you.
What You Get Bottles of in the Bathroom:
They've got shampoo and lotion in bottles for your using or pilfering convenience.
Clientele:
Arizona Charlie's Boulder Hotel Las Vegas usually has a mix of blue-collar locals, ambitious video poker players and tourists looking for cheaper lodging than the Strip. There are few kids around and most of the adults are in their forties or older.
How's the Pool?
The pool at Arizona Charlie's Boulder Hotel and Casino is small and undistinguished, but you will often have it to yourself. There are Jacuzzis, too.
Resort Fee:
There's no resort fee at Arizona Charlie's Boulder Hotel, which is awesome if you're trying to save money, but also means you can't expect to receive the same Vegas resort pampering you'll find at other Vegas hotels.
Is it Worth It?
Arizona Charlie's is all about cheap digs and yeah, if you would rather avoid the craziness of the Strip and save a few bucks while you're at it, this is the place to stay. But if cheap digs in the middle of the best Vegas action are what you're into, try somewhere else.
Hotel Amenities
Air-conditioning
Bar/Lounge
Free Guest Parking
Multilingual Staff
Restaurants
Table Games:
Blackjack, some double-deck games and some out of shoes with decent rules. Craps, Pai Gow Poker, roulette. They also have bingo. Lordy, is it getting stinky stale smokey in this place, and a little run down.
Bet Minimums:
We see craps at $3 or higher, and you get groovy 10x odds. They have fair limits across the board. Usually $3 blackjack, $5 Let It Ride and roulette with 50-cent chips are available.
Machines:
Loads of video poker, a small number of which is actually full pay, even down to some nickels. There are loads of video slots and other favorites, mostly in nickel and quarter flavors.
Cocktails?
Fair, but the Arizona Charlie's Boulder Hotel casino is built around the lounge and you can always grab a drink there for cheap or free (depending on how sweet you are to the bartender).
Who Gets Comps?
The Ace Play Club is a fair slot club. That means VP action may pay off in rooms and other comps. The club is good for both AZ Charlie's. You get twice as much in comps as you do in cash, should you choose them. Remember, always tell the pit bosses that you're friends of ours. They have no idea who we are, but they might think you're crazy and give you something just to get you to leave them alone.
Number of TVs:
Arizona Charlie's Hotel Las Vegas sports book has about 30, all flat screens, with two large ones.
Number of Seats:
There are about 39 seats at the Arizona Charlie's Boulder Casino Hotel, Suites and RV Park sports book. The 15 sport seats are to be wider and cushier than a regular sports book seat. The 24 race seats have individual TVs and aren't as comfortable.
Number of Betting Windows:
There are about five windows with slate boards behind them for tracking scores and odds.
Free Drinks?
If you can flag down a cocktail waitress, sure.
Snack Bar?
No. There is a bar a hundred feet away, and fast food about the same distance.
Other Notes:
Like the rest of the casino, it's got the generic feel of a Ramada lobby.
Arizona Charlie's Boulder Highway Guest Rooms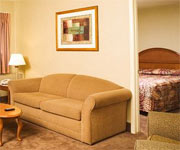 Deluxe Suite
The deluxe suites at Arizona Charlie's Boulder are between 375 and 400 square feet and include a separate living room/dining area. Each suite has a TV, shower, and wireless Internet access that you can pay for.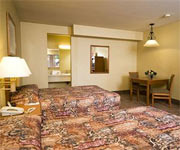 Standard Room
Standard rooms at Arizona Charlie's Boulder Hotel have TVs with cable channels and pay-per-view movies. You can also get Internet if you're willing to pay the surcharge. The standard rooms are a little more luxurious than the deluxe suites, not only do you get a shower, but there's also a bathtub attached. Not to mention the complimentary toiletries you'll get there.
User Average Review
Overall:
Service:
Cleanliness:
Location:
Room Quality:
Based on 0 reviews
Rating Distribution
0.0% recommended it
Arizona Charlie's Boulder Highway Reviews
There are currently no reviews! Be the first to write a review!
Write a review