Fremont Hotel Las Vegas
Shazam! This place is perfect for watching the Fremont Street Experience...and, uh, that's about it.
---
A Quick Look
Location: Downtown
Hotel Class:

Room Price:

Hotel Size:447 rooms
Casino Size:32,000 sq. ft.
Gaming:Yes
Nightlife:

Pool:

Buffet:
---
Book now for great deals!!

Other Hotels like Fremont Las Vegas
Fremont Las Vegas Deal Finder
* Room Rates shown above reflect the average nightly rate for a 2 night stay with the calendar date as the check-in date, our visitors should verify actual rates, promotions and deals directly with the hotel as we make no guarantees regarding rates, but only provide them as a convenience.
Book Now
The Skinny
The Fremont Hotel and Casino Las Vegas is under the big light canopy on its namesake street. It's an older, small but well-kept property with small, modern rooms and a small casino. The place is nondescript enough that the only thing people usually remember are the veteran cocktail waitresses who are super quick with a strong drink.
Reviews
Most Recent Reviews
Our user reviews are from real registered users.
Quick Facts
Near Attractions
Check-in at 3pm
300+ Rooms
Check-out at 12pm
High-Speed Internet
On-Site Restaurant
Parking
Info
Location:
200 Fremont St.
Las Vegas, Nevada 89101
View Map
Website:
https://www.fremontcasino.com
Room Quality:
The rooms are smaller than most, even for Downtown Vegas. Fremont Hotel and Casino Las Vegas decor is clean and tasteful, done up in browns. Thank God they didn't decide to go with "homeless bum moderne." There are nice bedspreads and firm, comfortable kings or two doubles. Walls are sort of green, there is a dresser, medium flat-screen TV and one reading chair. The bathrooms are so tiny the towel rack is in the shower stall. Rooms facing Fremont have the more interesting view, but on the lower floors they can be noisy at night. Ironing boards and hair dryers are provided to make you feel like you should do some chores while you're there.
Service Quality:
Fremont Hotel Las Vegas is more than happy to turn your traveler's checks and paychecks into cash. Isn't that sweet? Overall the service is fair. Employees are friendly and helpful, there is room service and bellboys, but the hotel just isn't packed with amenities. Check-in and check-out are quick and easy.
What You Get Bottles of in the Bathroom:
Shampoo, conditioner and lotion; enough to keep you clean, but not enough to make you feel guilty for removing them when you leave.
Clientele:
An older Downtown Vegas crowd. That means that while they are older, they love to get rowdy and gamble until 3am. The Downtown Boyd properties are popular with people from the 50th State, so you'll see some Hawaiian food on the menus, and laid-back Hawaiian folks in the casino. Don't let it fool you, these veteran casino-goers will take your money faster than you can say "hang ten."
How's the Pool?
Pool? What pool? You're gonna have to make your own pool because Fremont Hotel and Casino Las Vegas has none. Otherwise, you have privileges at the rinky dink pool at sister property The California. So, if you want to trudge down Fremont Street in your swim trunks go right ahead.
Resort Fee:
Thankfully no resort fees at the decidedly non-resort Fremont Hotel downtown Las Vegas.
Is it Worth It?
To be honest, you can find better experiences for the same price.
Hotel Amenities
Air-conditioning
Bar/Lounge
ATM/Banking
Express Checkout
Free Guest Parking
Restaurants
Room Service
Dry Cleaning
Conference room(s)
Table Games:
Blackjack, Craps, Three Card Poker, Let It Ride, Pai Gow Poker are all available for your gambling (and losing) pleasure. Actually, the Fremont Hotel Las Vegas dealers are friendly and the casino is clean and fun, especially if you're a rowdy man or woman over 40.
Bet Minimums:
The Fremont Las Vegas tables are typically $5, but we've seen $3 craps during slow times. Pai Gow was $10 recently. Roulette can be found with $1 chips, but you have to make at least five bets per spin of the wheel. The games are generally good, but the craps has lousy 2x odds. Single-deck blackjack is garbage 6:5 odds.
Machines:
Everything you could ever want from a penny to $25. They have a decent selection of new machines, especially among the quarters. The video poker selection is fair, but not as good as at the El Cortez.
Cocktails?
Good cocktail service, even at the nickel machines. The Fremont Hotel and Casino Las Vegas cocktail waitresses are happy to serve you, but sometimes they have too many people to serve.
Who Gets Comps?
Get a slot card, put some action on it and ask them very nicely for some grub. They also mail out offers fairly regularly if you give them some play. The Fremont Hotel Las Vegas slot card is part of B-Connected, which is linked with all other Boyd properties, including Main Street Station and the California as well.
Number of TVs:
The Fremont Las Vegas features a whopping 34 televisions. Half show sports, the other half ponies. None are big, unless you're tiny.
Number of Seats:
About 34. Hey, one for each TV. Go up and claim yours! They're all unreserved, which is very democratic, but they're only average in terms of comfort, which makes sitting in them not really much of a treat.
Number of Betting Windows:
Six, backed up by electronic signboards.
Free Drinks?
Race bettors at the Fremont Hotel and Casino Las Vegas can get a little liquid courage, but we ain't guaranteeing nothin'.
Snack Bar?
No, but there's a bar right next door that serves slushy margaritas.
Other Notes:
Like all Boyd properties, you get the Boyd line when you wager here.
Fremont Hotel Las Vegas Guest Rooms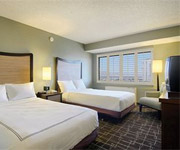 Standard Room
Choose between two queens or one king in the standard Fremont Hotel Las Vegas offering. A small 288 square feet, with just your basic amenities: cabel TV, iron/ironing board, pay movies, and wireless high speed internet for a surcharge. You know, for those of you so upset with how small the room is you want to pay good money to escape into the world wide web for a few hours instead of just checking out the wonders of Vegas right outside your door step.
User Average Review
Overall:
Service:
Cleanliness:
Location:
Room Quality:
Based on 1 review
Rating Distribution
100.0% recommended it
Fremont Hotel Las Vegas Reviews