South Point Vegas
It's like, Oh my God! Can't you just, like, smell the orange blossoms and liquor?
---
A Quick Look
Location: Off-Strip
Hotel Class:

Room Price:

Hotel Size:2,163 rooms
Casino Size:80,000 sq. ft.
Gaming:Yes
Nightlife:

Pool:

Buffet:
---
Book now for great deals!!

Other Hotels like South Point Hotel
South Point Hotel Deal Finder
* Room Rates shown above reflect the average nightly rate for a 2 night stay with the calendar date as the check-in date, our visitors should verify actual rates, promotions and deals directly with the hotel as we make no guarantees regarding rates, but only provide them as a convenience.
Book Now
The Skinny
The South Point Hotel, Casino and Spa Las Vegas started life being as drearily dull as possible, but it has spruced up, added some desirable restaurants and improved the gaming floor. It's still for a quiet crowd and it aims squarely for the middle. It's sort of like the Toyota Camry of casinos.
Reviews
Most Recent Reviews
Our user reviews are from real registered users.
Quick Facts
Near Attractions
Check-in at 3pm
2000+ Rooms
Check-out at 12pm
High-Speed Internet
On-Site Restaurant
Parking
Check-In Age - 21+
Info
Location:
9777 Las Vegas Blvd South
Las Vegas, Nevada 89183
View Map
Website:
www.southpointcasino.com
Room Quality:
The rooms at South Point Hotel, Casino and Spa Las Vegas are slightly better than average sized rooms with nice furnishings in a sort of depressing mix of yellows and browns. The only real highlight is the humongous plasma screen on the wall that broadcasts mostly unspectacular local channels. In the regular rooms for us regular folk you have your choice of a king with a love-seat by the window, or two queens with a reading chair (or watching TV chair--your choice). The bathrooms are okay, but below the standard set by the newer hotels, and have a tub/shower combo. Internet is available for a ludicrous daily fee. There is a coffee machine in each room, and thankfully, they don't charge you to use that.
Service Quality:
Fair. The plan for South Point Hotel Las Vegas is for a much larger hotel and much larger casino, eventually, but that hasn't happened yet. In the meantime, expect average service without the pampering the much more expensive places like the Bellagio up the road offer. For Las Vegas hotel deals on more iconic Vegas hotels, check out the promo codes that Casino Boy has put together!
What You Get Bottles of in the Bathroom:
Shampoo, conditioner and a tiny bottle of mouthwash. We don't think it's got alcohol in it, though. We stole several off the maid's cart and never got drunk but man did we smell minty fresh.
Clientele:
South Point Hotel, Casino and Spa Las Vegas is geared toward the middle-age middle-class crowd. They aren't going to try to shock you with loud nightclubs or coddle you with overpriced restaurants.
How's the Pool?
South Point Hotel and Casino Vegas has an above average, large lagoon-shaped pool. The main pool is long and good for swimming, even if it is shallow. There is also a wading pool if you have kiddies or don't want to get your shorts wet. A pool-side deli serves snacks.
Resort Fee:
$14 resort fee per room at South Point.
Is it Worth It?
It's worth it if you actually want to play poker, if not, try the Tropicana.
Hotel Amenities
Air-conditioning
Airport Transportation
ATM/Banking
Ballroom(s)
Bar/Lounge
Business Services
Business Center
Concierge Service
Conference room(s)
Event Catering
Fitness Center
Jacuzzi
Multilingual Staff
Restaurants
Spa
Parking Garage
Room Service
Security Guard
Sauna
Wedding Services
Table Games:
All the usual suspects are here, including blackjack, roulette, craps, Pai Gow, Three Card Poker and Baccarat. Nothing revolutionary, but they do pitch a good double deck blackjack game at South Point Hotel, Casino and Spa Las Vegas. Craps has lousy 2x odds.
Bet Minimums:
Five bucks for the cheapest (but not best) blackjack, and the same for craps. Roulette has dollar chips. Look for $5 usually at Pai Gow, as well as the oddball games.
Machines:
A ton of slots, about 40 of them for every table, and it's almost all new stuff, mostly video and all tickets, not coins. The video poker selection is very good, and there is some full pay at the quarter and higher level.
Cocktails?
South Point Hotel and Casino Vegas definitely has good cocktail service. It is not at the level of the best Downtown Vegas service where they can get you drunk fifteen minutes in, but it is better than the Vegas Strip standard.
Who Gets Comps?
Comps will accrue for all slot play, but not in any fast manner. At the tables, if you're playing $20 a hand, are polite (that excludes us) and make sure they track you, you can score a buffet or coffee shop easily enough.
Number of TVs:
60 TVs with two really big ones--one for race and one for sports. Pretty bad-ass.
Number of Seats:
175 seats for racing and about 132 more for sports. The race seats all have individual TVs. The chairs for racing are totally average, except the better lounge-style seating in the bar and the better chairs in the sports book area.
Number of Betting Windows:
There are 18 windows. 10 are for race and eight are for sports with electronic signboards behind them.
Free Drinks?
You bet the bettors at South Point Hotel, Casino and Spa Las Vegas get free drinks. Grab the cocktail waitresses when they go by. Don't literally grab them, though. Trust us, security will be on you like nobody's business.
Snack Bar?
Yes, the Del Mar Deli is right next door and it serves slightly overpriced finger foods.
Other Notes:
The sports book has been expanded and we haven't seen it in its final form yet. The good news is the wagering on sports is pretty fair.
Number of Tables:
22 tables in the finally real poker room at South Point Hotel and Casino Las Vegas. This is a large and friendly room, not pretentious or fancy, but solid for the low-limit player. The desk in the center is large and useful for managing the room.
Comfort of Chairs:
Average quality chairs - but with rollers, average tables. If you have a tender bum, the soft peach leather covering of the seats should help. Plus, the seats roll, so you never ever have to get out of them. Need to take a piss? No problem! Just wheel yourself to the bathroom and go.
Closed Room or Open to Casino?
The room at South Point Las Vegas Hotel, Casino and Spa is very large and spacious and fairly removed from the rest of the casino but it is not closed. There is one side that has a half-height fence, so we wouldn't call it closed. It is not noisy, though.
Game Spreads and Limits:
Lots and lots of Hold Em. Thank you, TV, for ruining the other games. They have $2-$4 and occasionally $4-$8 limit. The no-limit games are usually $1-$2.
Beginner Games or Classes:
Every morning, if someone's interested, they'll teach.
How Crowded is the Room?
The room is not crowded. It might sound like it, but there is rarely a wait.
Comps?
Earn $1.25 an hour while you play. Earn bupkus while you sit outside the room asking passers by for gas money. There are some high hand bonuses.
How Good Are the Players?
A fairly accomplished group of players. You can expect the talent to be better now that they have expanded.
What Else Do I Need to Know?
The low-max rake is a pretty good deal. There are multiple tournaments every day which are a decent deal.
South Point Hotel, Casino and Spa Guest Rooms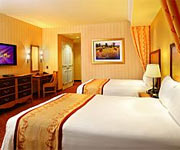 Deluxe Room
The Deluxe Room at South Point Hotel, Casino and Spa Las Vegas is available with one king bed or two queens. We like one king so we can cuddle. Don't judge. The beds have super comfy bedding and we always love the black-out drapes. It's like the sun never comes up in Vegas, or maybe we just slept all day and didn't notice. Our favorite amenity is the huge 42-inch LED TV and the phone in the bathroom. Who doesn't like to prank call friends while peeing? It's also air-conditioned and you can smoke. Take our little test and smoke a cig while making the pee-pee, and call Mom all at the same time and see if she notices. Better if attempted after a few drinks.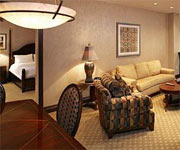 One Bedroom Suite
This 1,000-square-foot suite is on the verge of being really cool. If you want to impress the ladies without spending a crap-ton, the one bedroom suite is a good call. It comes with one king bed, a 42-inch LED TV, black-out drapes, four-chair dining set, view of the mountains (yes Vegas has mountains), oval tub and separate shower, bathrobes, slippers, and our favorite - a TV in the bathroom. So you can watch TV while praying to the porcelain God. Such a great idea. You may as well just live in the bathroom, it's mostly marble.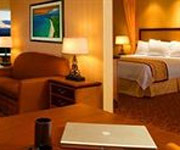 Professional Suite
The Professional Suite comes with one king bed, super comfy plush-top mattress, and down comforter. Although it's not as big as the One Bedroom Suite, it's still good size at 865-square-feet. Plenty of room to entertain the ladies or wallow in your loneliness, whatever the case may be. The room comes with black-out drapes, wireless high-speed Internet, a desk with leather swivel-chair, MP3 docking station, coffee maker and awesome bathroom. Marble vanity, bathrobes, slippers, and a bathroom phone make this the best room in the place.
User Average Review
Overall:
Service:
Cleanliness:
Location:
Room Quality:
Based on 2 reviews
Rating Distribution
100.0% recommended it
South Point Hotel, Casino and Spa Reviews