Las Vegas Hooters Hotel
Hoooooot! Check Out the Owl Rewards Club!
---
A Quick Look
Location: The Strip
Hotel Class:

Room Price:

Hotel Size:696 rooms
Casino Size:30,000 sq. ft.
Gaming:Yes
Nightlife:

Pool:

Buffet:
---
Book now for great deals!!

Other Hotels like Vegas Hooters Hotel
Vegas Hooters Hotel Deal Finder
* Room Rates shown above reflect the average nightly rate for a 2 night stay with the calendar date as the check-in date, our visitors should verify actual rates, promotions and deals directly with the hotel as we make no guarantees regarding rates, but only provide them as a convenience.
Book Now
The Skinny
Great room rates (including a military discount offer for our troops, which is awesome to see), good food and drinks (they always seem to have a great deal on Budweiser's), nice pool, Ladies Nights (just like the song) and regular entertainment that keeps the place hopping! It's all good at Hooters Hotel Las Vegas!
Reviews
Most Recent Reviews
Our user reviews are from real registered users.
Quick Facts
Check-in at 4pm
500+ Rooms
Check-out at 12pm
Check-In Age - 21+
High-Speed Internet
On-Site Restaurant
Near Restaurants
Parking
Near Attractions
Info
Location:
115 E. Tropicana
Las Vegas, Nevada 89109
View Map
Website:
www.hooterscasinohotel.com
Room Quality:
Enter the tropical paradise of your room at Hooters Casino Hotel Las Vegas and you'll think you're right in the middle of a Jimmy Buffett song. The motif is light colors and island fruit. It's done on the cheap, and the rooms are small. Tub/shower combo, single sink and low water pressure. You'll get a king or two doubles with flowery spreads, a reading chair and some bar stools around a bar table. Some pictures on the wall will make you think you're watching a very long Corona Beer ad. Want a dirt cheap Vegas room? Check out the "Bungalow" rooms out back. They are motel style, sparsely furnished and as cheap as a room near the Vegas Strip is going to get.
Service Quality:
Service at Hooters Casino Hotel Las Vegas is pretty good, for the price. Despite the big name, this is a small casino and a small hotel. Expect about the same amenities you would get at a Holiday Inn which, for the price, isn't a bad thing.
What You Get Bottles of in the Bathroom:
Just some shampoo, separate conditioner and lotion - nothing crazy, but enough to keep you clean on the casino floors (for a while, anyways).
Clientele:
The Hooters girls are friendly and beautiful, as you have come to expect. Great for the guys, just OK for the ladies visiting good old Las Vegas. They have the Men of X male revue show, but there are also the shows Thunder From Down Under and Chippendales to choose from, so it's up to you where you like to enjoy your eye candy.
How's the Pool?
The pool at Hooters Las Vegas Casino Hotel is small, but decent. Look for a couple of small pools and a large hot tub. There is a bar out here playing loud music. There aren't enough loungers, and there are tons of bar stools.
Resort Fee:
The resort fee at Hooters Casino Hotel Las Vegas is $12.95 per night. Yep, they raised it! With this, you get pool access, fitness center access, an in-room safe and two bottles of water. It might sound silly, but if you do Hooters right the beers will dehydrate you in just the right ways and then those bottles of water will be priceless.
Is it Worth It?
Hell yeah it's worth it! Great for fans of big...owls.
Hotel Amenities
Air-conditioning
ATM/Banking
Bar/Lounge
Business Services
Concierge Service
Conference room(s)
Dry Cleaning
Event Catering
Express Checkout
Car Service
Fitness Center
Multilingual Staff
Restaurants
Parking Garage
Free Fast Internet
Table Games:
Hooters Casino Hotel Las Vegas has the standard games. Blackjack, Craps, Pai Gow, Roulette, Let It Ride and a couple oddballs. Some of the games will often only have one table of a particular game working because of the size of the casino. Some are dealt by Hooters girls, and some are not. We don't sit at those.
Bet Minimums:
As low as three bucks at the blackjack tables, but look for mostly $10 on big weekends and other busy times. Craps is as low as $5 and has awesome 10x odds. Look out for 6:5 blackjack. Boo!
Machines:
Hooters Hotel Las Vegas has loads of machines from a penny to $5. There are a few full-pay video poker machines. Keep your eye out for them, and not the orange shorts.
Cocktails?
Decent service - the main bar is conveniently located in the middle of the casino (a big plus, especially if you're on a hot streak at the tables) and drink waits aren't too bad.
Who Gets Comps?
The Owl Club ain't too bad with comps. Play a lot of slots and you'll get some mailings for free room offers. Play the tables at the $25 and up level and you might get some attention.
Number of TVs:
Nine TVs fill a sports book space at Hooters Casino Hotel Las Vegas and a few more are in the bar called Pete and Shorty.
Number of Seats:
Nine in the dedicated sports book area. A few at the bar and around, totaling about 40. This is a place to have a beer and watch a game but if your main interest is settling in and watching sports, then skip it. You're supposed to be social here. We're not so good at that.
Number of Betting Windows:
Two windows with slate boards behind, we think. Actually, we aren't sure because this Hooters girl walked by and we lost track while counting.
Free Drinks?
It's a bar and a sports book, but they seem to keep them separated in this sense.
Snack Bar?
No food nearby but you can run to the gift shop for a bag of chips. Maybe even Funyuns.
Other Notes:
The sports book at Hooters Las Vegas Casino Hotel is owned by Leroy's - small and efficient, but not a highlight of this Vegas hotel.
Number of Tables:
Three tables are all they've got. Sometimes there are two more tables just outside the poker room for tourneys. Really, this place is tiny, so how could you expect more? The tables are very bright.
Comfort of Chairs:
Just about average chairs. The tables have some nice features, like drink holders, but the chairs don't stand out.
Closed Room or Open to Casino?
Not really a closed room, just an area off to the side with a wooden floor and those three tables crammed in. It is next to the sports-book and can be pretty dang noisy.
Game Spreads and Limits:
Hold 'Em is the only game spread, and even then only when someone shows up to play. They will have a $1/$2 NL game with a $200 max or $2-$4 limit when it's going.
Beginner Games or Classes:
We wouldn't even want them to teach us to play so - No!
How Crowded is the Room?
Not much wait, except for when you wait for other players to show up. There is no intercom, so you need to be close to the room to hear when your seat comes up.
Comps?
Earn $1 an hour in comps while you play. Poker room rate for four hours of play a day.
How Good Are the Players?
Mostly pretty terrible. Lots of newbies and the sorts of players whose main experience is wild, loose home games.
What Else Do I Need to Know?
The good news is that there is low rake for this area of Vegas. So, at least they aren't scooping all your dough from the pots. The room doesn't open until afternoon, so don't bother getting up early.
Las Vegas Hooters Hotel Guest Rooms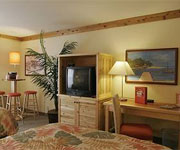 Standard Room
Decked out in corny Florida-island motif, the standard room at Hooters Las Vegas Casino Hotel is cheap for a reason (you can get a "pool bungalow" which just means you have a door to the pool). Available with one king bed or two doubles, these rooms are kinda lame. There is cable TV and wireless Internet, black-out drapes (to hide the nasty Island theme while sleeping), air-conditioning, a desk, ironing board, voice-mail, and free toiletries. Not really worth stealing. You will smell like you're staying at Hooters but who cares? You're at Hooters and can spend your days trying to talk to orange-clad Hooters girls.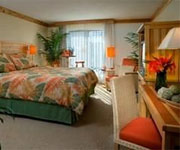 Bay View Tower Room
I don't know what they mean by "Bay View". News flash: there's no bay in Vegas, unless you are talking about Mandalay Bay. These rooms at Hooters Las Vegas Hotel are pretty much the same as the Standard Room except they have "soothing tones". I don't know what's so soothing about mustard yellow and puke green but hey, whatever floats your boat. These rooms also come with cable TV, pay movies, wireless Internet, black-out drapes, air-conditioning, a desk, ironing board, voice-mail, and free toiletries.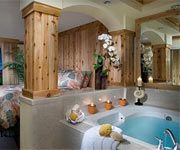 Jacuzzi Suite
The Jacuzzi Suite is located in the Ocean View Tower at Hooters Las Vegas Casino Hotel. Those crazies over at Hooters had one too many Budweisers. Ocean View? We're in Nevada. This suite does have a pretty cool feature if you want to creep out your friends. You can actually take a bath in the middle of the room, the jacuzzi tub is in an open area with a view of the bed. So pour yourself a glass of red, put on your eye-mask, and take a bubble bath in front of all your buddies. That's not awkward at all. This room comes with the same amenities as the others, cable TV, wireless Internet, pay movies, black-out drapes, air-conditioning, ironing board, voice-mail, and free toiletries.
User Average Review
Overall:
Service:
Cleanliness:
Location:
Room Quality:
Based on 1 review
Rating Distribution
100.0% recommended it
Las Vegas Hooters Hotel Reviews