California Las Vegas Casino
Kowabunga! Surf's up, bra, at Hawaii's favorite casino.
---
A Quick Look
Location: Downtown
Hotel Class:

Room Price:

Hotel Size:781 rooms
Casino Size:60,000 sq. ft.
Gaming:Yes
Nightlife: No
Pool:

Buffet:
---
Book now for great deals!!

Other Hotels like California Hotel
California Hotel Deal Finder
* Room Rates shown above reflect the average nightly rate for a 2 night stay with the calendar date as the check-in date, our visitors should verify actual rates, promotions and deals directly with the hotel as we make no guarantees regarding rates, but only provide them as a convenience.
Book Now
The Skinny
Hawaii's favorite casino has lots to offer the islander, like oxtail soup, and Spam as a side with almost everything in the coffee shop. But the main reason the Hawaiians love the California Hotel and Casino Las Vegas is the owner's cheap junkets from the Islands that include room and board. The Cal is a small joint a block off Fremont Street, and usually pretty busy. It has a nice, unpretentious, old Vegas feel to it.
Reviews
There are currently no reviews!
Be the first to write a review!
Write a review
Our user reviews are from real registered users.
Quick Facts
Check-in at 3pm
800+ Rooms
Near Attractions
Check-out at 12pm
On-Site Restaurant
Near Restaurants
High-Speed Internet
Check-In Age - 21+
Parking
Info
Location:
12 E Ogden St
Las Vegas, Nevada 89101
View Map
Website:
www.thecal.com/
Room Quality:
Small, standard rooms are equipped with as much furniture as will fit in them. This is a king or two queens, a table and chairs, a dresser, armoire, a fridge and a flat-screen TV. The decor is tastefully neutral and modern considering the Hawaii theme. The California Hotel Las Vegas rooms are up-to-date. The bathrooms are small but fine. This is pretty typical for downtown, where most people don't spend a lot of time relaxing in the room because the casino is calling out to them. No matter where you are in the hotel, the views are not good since you either look toward Main Street Station or toward the Las Vegas Valley.
Service Quality:
It's a small hotel with fair amenities. They are happy to provide you with an iron, or fax service. Room service is quick. Watch out, they may try to get a bellhop to take you up to your room whether you want him to or not.
What You Get Bottles of in the Bathroom:
California Hotel and Casino Las Vegas gives you shampoo and lotion. Everything you will need to wash the stinky smoky smell you pick up in the casino off of you.
Clientele:
Hawaiians and lots of them. California Hotel Las Vegas really caters to the Hawaiian crowd, but that doesn't mean you aren't invited to join the fun. It's generally a more slots-oriented group.
How's the Pool?
Rinky-dink. It's a tiny 20x40 foot roof-top job that isn't much bigger than your average backyard pool.
Resort Fee:
California Las Vegas Hotel doesn't charge a resort fee, so slip on that flowered shirt and relax in peace.
Is it Worth It?
You can get a pretty good price here and still have a decent nights sleep.
Hotel Amenities
Bar/Lounge
Dry Cleaning
Restaurants
Table Games:
Blackjack, mini-baccarat, craps, roulette, Three-Card, Let It Ride and Pai Gow. They've got it all at California Hotel and Casino Las Vegas, and the tables usually have room. In fact, even when busy the casino always seems to have room for one more, so if you really need to find a place to play, come back here.
Bet Minimums:
Blackjack is $3 minimum most of the time, but can go higher. Craps is too, with lousy 2x odds. Mini-bac, LIR, the poker games and Pai Gow are at the lowest a $5 minimum. Roulette is played with $1 chips and a $5 minimum.
Machines:
California Las Vegas Hotel has a good selection of video poker and slots. This is really where this casino's action is, and the machines are humming around the clock. They've got everything from a nickel to $5 a pull. Video poker is fair, with a few full-pay machines. In keeping with the Hawaiian theme, there have been Don Ho and Spam-themed slot machines.
Cocktails?
Fair cocktail service, but California Hotel and Casino Las Vegas also has four well-placed bars in the small casino that will keep you from getting too thirsty.
Who Gets Comps?
You can score some food for a while at $25 a hand. Slots are a trickier beast and you've got to rack up a lot of points before they feed you or give you a free room. The slot club, B-Connected, is linked to other Boyd properties, including the Fremont and Main Street Station.
Number of TVs:
About 18 TVs, with all being medium or small screens. The four largest are still just medium-sized, but this is a small book.
Number of Seats:
Somewhere in the neighborhood of 28 unreserved, mediocre chairs. Actually, they feel like school desks, so if you have bad memories...
Number of Betting Windows:
Just three, but don't worry, it doesn't get too crowded. Check the line on the electronic boards.
Free Drinks?
Nope, California Hotel Vegas doesn't give things out for free.
Snack Bar?
California Hotel and Casino Las Vegas doesn't have a snack bar? Well no, but there's a bar pretty close and it has frozen daquiris. Those can be a meal in themselves. Trust us, we've had many for breakfast.
Other Notes:
Race and sports book is a bit of a misnomer. They only make sports bets, no racing. We suspect the California Hotel Las Vegas owner might have had a bad experience with a horse at one point in his life.
California Hotel and Casino Guest Rooms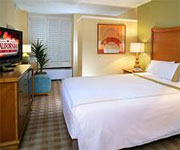 Standard
California Hotel Las Vegas has offers one pretty standard room type. You get one option, a king bed or 2 queens. Other than that, every room comes with a desk, TV with cable channels, an in-room safe, refrigerator, hair dryer, iron/ironing board and of course air conditioning.
User Average Review
Overall:
Service:
Cleanliness:
Location:
Room Quality:
Based on 0 reviews
Rating Distribution
0.0% recommended it
California Hotel and Casino Reviews
There are currently no reviews! Be the first to write a review!
Write a review