Golden Gate Vegas
Hey-Ohh! Bay-area style, minus the rain...and style.
---
A Quick Look
Location: Downtown
Hotel Class:

Room Price:

Hotel Size:106 rooms
Casino Size:25,000 sq. ft.
Gaming:Yes
Nightlife: No
Pool:

Buffet:
---
Book now for great deals!!

Other Hotels like Golden Gate
Golden Gate Deal Finder
* Room Rates shown above reflect the average nightly rate for a 2 night stay with the calendar date as the check-in date, our visitors should verify actual rates, promotions and deals directly with the hotel as we make no guarantees regarding rates, but only provide them as a convenience.
Book Now
The Skinny
Some call it quaint, others call it cramped and old. We like the old-fashioned charm, the good games and the deli. You say tomato, we say, "Another Heineken, please." Plus, there's a renovation (that seems to be all the rage) that will add a brand new suite tower and an exterior face lift, scheduled for completion in summer 2012.
Reviews
Most Recent Reviews
Our user reviews are from real registered users.
Quick Facts
Near Attractions
Check-in at 3pm
100+ Rooms
Check-out at 12pm
High-Speed Internet
On-Site Restaurant
Near Restaurants
Check-In Age - 21+
Info
Location:
1 Fremont St
Las Vegas, Nevada 89101
View Map
Website:
https://goldengatecasino.com/
Room Quality:
The Golden Gate Las Vegas hotel rooms are freshly renovated, modern looking with nice beds, clean and priced fairly. They are also very, very small, meaning they work for sleeping, but not for Greco-Roman wrestling. Yes, this was a disappointment for us, too. Bathrooms are similarly dinky, with a tub/shower combo (or just shower in some) and single sink. No irons or safes, but they do have coffee makers and a complimentary newspaper. The Golden Gate Hotel and Casino Las Vegas only has a few floors, and they are all below the Fremont Street Experience, so if you're a light sleeper, ask for something on the backside of the joint.
Service Quality:
Not so hot. This is a teensy-tiny casino, and the pit bosses and security guards at Golden Gate Hotel Downtown Las Vegas have a reputation for scowls. Don't expect fresh towels delivered right away, or someone to give you a pedicure. You might get that at luxury Strip hotels, but come on - this is Downtown Vegas, they expect you to be rough and ready.
What You Get Bottles of in the Bathroom:
Just soap and cheap shampoo, and if you don't like it, boo hoo.
Clientele:
A typical downtown crowd. People who don't need to impress anybody on the Strip, and are looking for comfortable surroundings in which to lose a few bucks. These people are serious about gambling and not about bringing pictures of their hotel rooms back to their neighbors.
How's the Pool?
No pool, but we heard Golden Gate Hotel Las Vegas is built on an aquifer if you want to dig.
Resort Fee:
The Era of no resort fees in Downtown is over. As of August 19, 2013 Golden Gate Hotel and Casino Las Vegas will have a $20 resort fee. You get wi-fi, $10 off the D showroom tickets and local and toll-free phone calls.
Is it Worth It?
If you don't mind the smallness, there's a certain niche that Golden Gate fulfills that is worth your money.
Hotel Amenities
Air-conditioning
ATM/Banking
Bar/Lounge
Business Services
Restaurants
Security Guard
Table Games:
Blackjack, craps, Let It Ride, Caribbean Stud and Roulette. They have pretty good double-deck blackjack games, and good, fun craps. They also have stages in the pit for go-go dancers. Although, they tend to dance just weekend nights.
Bet Minimums:
$5 and up at the blackjack tables. It'll go higher when it's really busy, but one of the nice things about Downtown Las Vegas is it never gets as crowded as the Vegas Strip. Craps is usually $3 (sometimes $5), with awesome 10x odds for $5 bets (and crappy 2x odds for $3). The Let It Ride and other games are $5 at Golden Gate Las Vegas Hotel.
Machines:
Regular old slot machines and video poker. You have about as much chance of winning on these machines as you do anywhere else Downtown. The selection at Golden Gate Hotel Las Vegas is limited by their size, so don't expect obscure games. Their video poker selection is poor. Don't worry, there is better video poker in Vegas to be found.
Cocktails?
Good. The Golden Gate Hotel and Casino Las Vegas doesn't need a whole lot of waitresses in this place, and the few who are there cover the ground well enough. The place is small enough to allow you to flag a waitress down from across the casino.
Who Gets Comps?
$10 bettors playing several hours can hook themselves up with a meal, $25 for a while may score you a room at Golden Gate Hotel Las Vegas or at least some good mailings for future comps. In this place, if you throw around green chips they will certainly notice you and befriend you. The slot club, Club 1906, serves the slot player among us and gives slot play rebate at 0.20%.
Number of TVs:
A total of zero TVs. This is bad, but better than a negative number, which would mean they come to your house and take yours.
Number of Seats:
There are no seats since the sports book is just a kiosk crammed into a corner near Fremont Street.
Number of Betting Windows:
There is approximately one automated kiosk for betting at Golden Gate Hotel and Casino Las Vegas. No human interaction.
Free Drinks?
You can probably snag a cocktail waitress and convince her to bring you a drink, but then you have to stand there looking dopey until she comes back with it.
Snack Bar?
The snack bar is not nearby, but Golden Gate Hotel and Casino Las Vegas is small enough that you can run over to it, grab a two-dollar shrimp cocktail and only miss a couple of pitches.
Other Notes:
This Leroy's outpost is one of the crummiest books in town and is now just an automated kiosk. The kiosk isn't even always working correctly.
Golden Gate Hotel and Casino Guest Rooms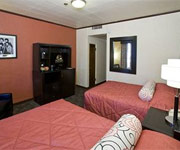 Standard Room
Choose between a queen bed or two double beds in the standard room at Golden Gate Hotel Las Vegas. Rooms come with high-definition TV and cable, wired and wireless Internet (for a surcharge), clock radio, and an iron/ironing board on request. Bath amenities include hair dryer and complimentary toiletries.
User Average Review
Overall:
Service:
Cleanliness:
Location:
Room Quality:
Based on 2 reviews
Rating Distribution
100.0% recommended it
Golden Gate Hotel and Casino Reviews