Pure Las Vegas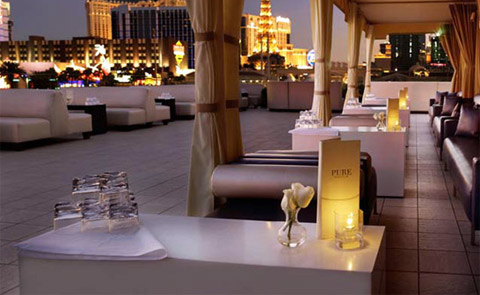 Tipsy? ...or smashed? Stay at one of our favorite nearby hotels!
Ehh, I don't know how pure I want to be when I'm in Sin City, but maybe it's worth a shot!!
---
A Quick Look
Type: Nightclub
Dress: Dressy
Price:

Casino Boy's Rating:
---
---

The Skinny
It has yet to be decided if Pure at Caesars Palace Las Vegas is really all that pure or not, but why would you want a Vegas nightclub to live up to that name anyways? Pure's all white venue will create the impression of purity for you, but this is Vegas after all. Don't expect a completely virtuous evening.
Quick Facts
Pure Nightclub Las Vegas is an all white venue run by Angel Management Group.
Located in Caesar's Palace, Pure Las Vegas offers table service and bottle service, which can be cheaper than buying single drinks at a time - once you drink enough.
Pure has a rooftop deck with a separate DJ and bar. This is one of the reasons many people come here, but it's only open when the club is crowded enough.
Info
Location:
Caesars Palace Vegas
3570 Las Vegas Blvd
Las Vegas, NV 89109
View Map
Phone:
702.212.8804
Website:
https://www.purethenightclub.com/
Hours of Operation:
Tue., Thu.-Sun. 10pm- 4am
Features:
When you come to Pure Las Vegas, you're required to check your coat in at the front door. You then walk in to the all white setting and even further up to the rooftop bar, where you can see all of Vegas and enjoy a separate bar and DJ from the rest of the club.
Why We Go:
Pure nightclub Las Vegas is a destination for drinking and dancing on the Strip. Whether you want to do that on the rooftop bar or in front of the Pussycat Dolls, Pure offers those and more.
A Ladies Advantage: If you're a girl at Pure Nightclub Las Vegas, you get pulled out of even the regular line to bypass everyone else. So guys, unless your girl decides to wait for you, you might be making friends with some new bros before you get in the club.
The Pussycat Lounge: At Pure Vegas club, the Pussycat Dolls are regular performers and even have a room dedicated to them. When they aren't there, the room is still used when the club gets crowded enough, but if they are, don't miss your chance to see them up close and personal.
VIP Treament: Pure at Caesars Palace, like any other nightclub, values their VIPs very highly, so if that's not you, don't expect to be treated like a princess. If you're not shelling out the big bucks, and we mean big, then they make no effort to impress you.
Inside Knowledge:
If you're not on the guest list and don't plan on paying for VIP treatment, get there early to bypass the line. This line is usually more of a jumble of people standing closer than you've ever been to any stranger, but get used to it, because you'll be with them for the next 30-45 minutes, and then just as close to people on the dance floor some nights.
Do's and Don'ts:
Do Check Out The Rooftop: When Pure at Caesars Palace gets crowded enough to open the rooftop bar, the view of the Strip is breathtaking to say the least. There is a whole separate bar and DJ up here, as well as more VIP tables. If you're planning on sitting VIP anyways, request a table on the rooftop in advance.
Do Find a Good Promoter: The staff at Pure Las Vegas, and any Vegas nightclub, prefers letting in the girls. Most girls can get in free anyways, but many promoters for Pure at Caesars Palace will get groups of girls or guys on the guest list to bypass the lines that usually stand around for 45 minutes before getting in.
Don't Stop Here to Relieve Yourself: Planning on holding it until you get to the Pure Nightclub Las Vegas might not be the best idea. The bathrooms are located all the way on the other side of the dance floor, so you have to make your way across and then wait in line, so by the time you get there, it may be too late.
Don't Count on Your ID: The Bouncers here are known to question IDs from states they are not familiar with. Especially if you have changed your hair or gained a few since then. They especially don't trust the IDs that come from many states on the East Coast and the manager usually backs up their bouncers. Even if you're planning on spending a lot of money at Pure Nightclub Las Vegas, they try to keep the fakes out, even when they aren't fake.
Is it Worth It?
It's no better or worse of a value than any other club in Vegas. It's popular and you'll have a good time if you try hard enough.
Pure Las Vegas Amenities
Accepts Reservations
Bachelor/Bachelorette Parties
Bottle Service
Coat Check
Dance Floor
Facilities for the Disabled
Full Bar
Outdoor Seating
Rooftop
Smoking Allowed
Wheelchair Access
User Average Review
Overall:
Ambience:
Music:
Crowd:
Price:
Based on reviews
Rating Distribution
100.0% recommended it
Pure Las Vegas Reviews
Nightclub Hotel
Casino Boy's favorite nearby hotels ...in case you need a place to crash.

Hotel Name
Details

Region:

Strip

Address:

3555 Las Vegas Blvd. South Las Vegas, NV 89109

Region:

Strip

Address:

3570 Las Vegas Blvd. South, Las Vegas Las Vegas, NV 89109

Region:

Strip

Address:

3400 Las Vegas Blvd Las Vegas, NV 89109

Region:

Strip

Address:

3535 Las Vegas Blvd. South Las Vegas, NV 89109