Shadow Bar Las Vegas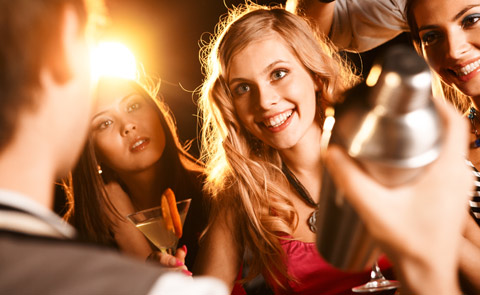 Tipsy? ...or smashed? Stay at one of our favorite nearby hotels!
Well at least I don't have to tip these girls to see them dance, but they do leave more to the imagination...
---
A Quick Look
Type: Lounge
Dress: Don't be the only one in here looking frumpty dumpty. They don't have a set dress code, but they do have something against that jerk who puts no effort into looking decent.
Price:

Casino Boy's Rating:
---
---

The Skinny
At Shadow Bar Las Vegas, unfortunately some of the most beautiful ladies in the club are behind the wall, leaving only their silhouettes to our imagination. Oh those sweet, sweet silhouettes...
Reviews
There are currently no reviews!
Be the first to write a review!
Write a review
Our user reviews are from real registered users.
Quick Facts
Shadow Bar Las Vegas is a contemporary yet sensual bar in Caesars Palace Hotel and Casino.
What's sexier than seeing a couple of silhouettes dance? Well... Nothing at Shadow Bar Vegas at least. Very sexy.
The entertainment at Shadow Bar Caesars Palace Las Vegas doesn't stop at the girls behind the screens. The flair bartenders are competing for attention, and never disappoint.
Info
Location:
Caesars Palace Vegas
3570 S. Las Vegas Blvd.
Las Vegas, NV 89109
View Map
Phone:
702.731.7110
Website:
https://www.caesarspalace.com/casinos/caesars-palace/casino-misc/shadow-a-bar-at-caesars-palace-detail.html
Hours of Operation:
Mon.-Thu.4pm-2am & Fri.-Sat.2pm-3am & Sun.2pm-2am
Features:
This modernly decorated lounge produces nothing short of the a sexy atmosphere around. If you leave Shadow Bar Las Vegas and aren't in the mood to get lucky afterwards, you're doing something very wrong.
Why We Go:
Shadow Bar nightlife in Vegas is different than many other places you could go in Vegas, and there's live entertainment in every direction!
Flair Bartenders: Flipping, spinning and throwing alcohol sounds messy, but the bartenders at Shadow Bar nightlife in Vegas know how to keep it under control, even when they're doing back-flips themselves!
Sexy Dancers: Well, we think they're sexy. At least they look sexy behind that screen! And the way they dance makes everyone attending Shadow Bar nightlife in Vegas feel sexy and mysterious.
Wild Drinks: Of course in this atmosphere, with bartenders spinning and throwing bottles and girls dancing behind a screen, there are surely some fun drinks to be made. Maybe try to get "Blue Bawls" or "Liquid Latex?" Both sound equally appealing, right? They pretty much are!
Inside Knowledge:
Shadow Bar Caesars Palace Las Vegas was inspired by upscale bars in at least a dozen cities on three different continents, casting a shadow from "Bangkok to Brooklyn."
Do's and Don'ts:
Do Feel Sexy: There is nothing short of a sexy vibe in Shadow Bar nightlife in Vegas. If you haven't been feeling sexy all day, put on your favorite 'fit and have a few cocktails in this hot atmosphere. You won't leave feeling worse than you came, even if it's only from the martinis.
Do Chill Out: Shadow Bar Las Vegas is the perfect place to sit and stay. There isn't a rowdy crowd dancing up a storm around you, so you can enjoy the silhouettes and vodka and the company of whoever you're with.
Don't Trash Talk the Dancers: Just because you can't see them, doesn't mean they can't hear you. Don't be mean or crude, because she can probably kick you through that screen.
Don't Stop Here: You've already seen a lot of girls dancing, but that didn't really count did it? Head on over to the nearby Olympic Garden Strip Club for more afterwards!
Is it Worth It?
Yes. Simply put, yes.
Shadow Bar Las Vegas Amenities
Full Bar
Live Entertainment
User Average Review
Overall:
Ambience:
Music:
Crowd:
Price:
Based on reviews
Rating Distribution
0.0% recommended it
Shadow Bar Las Vegas Reviews
There are currently no reviews! Be the first to write a review!
Write a review
Nightclub Hotel
Casino Boy's favorite nearby hotels ...in case you need a place to crash.

Hotel Name
Details

1 Promo Region:

Strip

Address:

3735 Las Vegas Blvd S Las Vegas, NV 89109

Region:

Strip

Address:

3799 Las Vegas Blvd. South Las Vegas, NV 89109

Region:

Strip

Address:

3131 Las Vegas Blvd. South Las Vegas, NV 89109

Region:

Strip

Address:

2880 Las Vegas Blvd. South Las Vegas, NV 89109

Region:

Strip

Address:

3730 Las Vegas Blvd S Las Vegas, NV 89158