Serendipity 3 Las Vegas
They say serendipity is the art of making an unsought finding, but uh... we seek out chocolate often. So...
---
A Quick Look
Cuisine: Deli, Cafe & Coffee
Hours: Sun.-Thu.8am- 11pm & Fri.-Sat.8am- 12am
Price:
---
---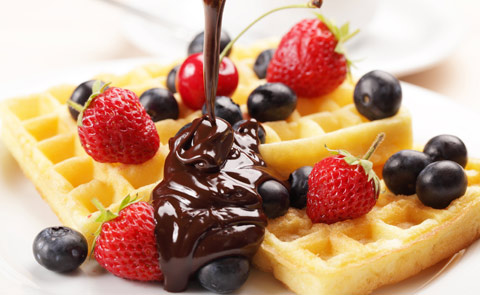 Like Deli, Cafe & Coffee Cuisine?
Check out more of our Deli, Cafe & Coffee restaurant faves!
The Skinny
If you're looking for a casual and trendy place to bring the whole family, Serendipity 3 Las Vegas should be your pit stop. Bring the whole family in. They say that "fun and funky is the name of the game" but we think the name of the game is more like "I'm hungry, give me chocolate, Serendipity 3!"
Reviews
Most Recent Reviews
Write a review
Our user reviews are from real registered users.
Quick Facts
Serendipity 3 Restaurant Las Vegas is located in Caesars Palace Hotel and Casino.
Serendipity 3 Vegas restaurant is known for their frozen hot chocolate, but a bunch of other desserts as well like cakes and sundaes.
On top of all that sugar, Serendipity 3 Vegas Restaurant has a full menu of American cuisine; from hot dogs to steak to salmon, you'll find something on the menu to strike your fancy, even if you're a vegetarian!
Restaurant Website:
https://www.caesarspalace.com/casinos/caesars-palace/restaurants-dining/serendipity-3-detail.html
Restaurant Menu:
https://www.caesarspalace.com/images/non_image_assets/Serendipity_Menu_10_04_10.pdf
Info
Location:
Caesars Palace Vegas
3570 Las Vegas Blvd
Las Vegas, NV 89109
View Map
Phone:
702.731.7373
Hours of Operation:
Sun.-Thu.8am- 11pm & Fri.-Sat.8am- 12am
The Environment:
Serendipity 3 Vegas restaurant is decorated in a very pink and cutesy way. Whimsical, if you will. It kind of reminds you of a child's playhouse, and the menu, other than the obscene gesture a hot dog is making, doesn't fall short of that fantasy too.
Why We Dine:
Serendipity 3 Caesars Palace Las Vegas restaurant is mainly known for their sweet treats, but they have a full menu of food for those with a sweet tooth and one for those without.
Ice Cream Heaven: They call it frozen hot chocolate here at the Serendipity 3 Vegas Restaurant, but basically, it's ice cream. And it's chocolate ice cream. If you have your girl with you, you're obviously coming here. If not, it wouldn't hurt to come to Serendipity 3 Las Vegas anyways, because chocolate ice cream is delicious.
Cutesy Food Names: With menu item names like "All Hail Caesar Salad," "Safe at Home Kobe Sliders" and the ever classy "Don't Be Afraid of my Alfredo," Serendipity 3 Restaurant Las Vegas takes the Caesars Palace award for Best Named Foods.
Fun On the Run Menu: Now, you don't have to wait around for a full on meal. If you want to grab something quick without waiting in line for forever, Serendipity 3 Las Vegas has a fun on the run menu, which is mainly for the ice cream and other things that don't take forever to prepare. If that's all you're here for, then why wait?
Inside Knowledge:
If you check into Caesars Palace and Serendipity 3 Las Vegas on Foursquare, you get a coupon for a free frozen hot chocolate with a $10 purchase.
We Recommend:
Frozen Hot Chocolate: Yep, it's the main attraction here. But don't think that you have to come in and wait half an hour for a table just to get a sip of this slightly over-priced concoction, you can get it at the to-go window as well!
Sweet Potato Fries: This is a little snack that even the vegetarians can enjoy, and many, many do! Or a basket for the table to share or an order for yourself, they rarely disappoint!
Is it Worth It?
A lot of people like it, but it's more expensive than getting a cup of Ben & Jerry's from the grocery store. And there are a lot more people than you'd normally eat with.
Serendipity 3 Las Vegas Restaurant Amenities
Brunch
Full Bar
Homemade Desserts
Kid Friendly
Wheelchair Access
Premier Location
User Average Review
Overall:
Menu:
Ambience:
Location:
Service:
Based on review
Rating Distribution
100.0% recommended it
Serendipity 3 Las Vegas Reviews
Restaurant Hotel
Other Deli, Cafe & Coffee Restaurants You May Like