Lemongrass Vegas
Oh boy! I spent all my money gambling but I can still afford Thai food! Well... Some of it.
---
A Quick Look
Cuisine: Asian
Hours: Daily 11am - 2am
Price:
---
---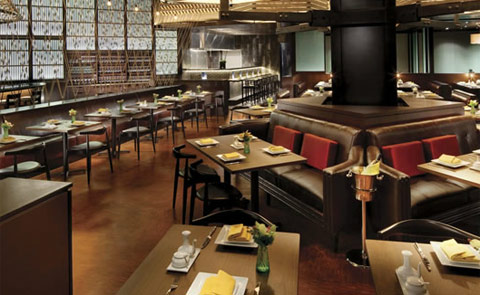 Like Asian Cuisine?
Check out more of our Asian restaurant faves!
The Skinny
This Thai restaurant resides on the casino floor. It's very modern and sort of austere. The food is traditional Thai, although they say it is a modern interpretation. We assume that means you can eat it with forks and get it with a Budweiser.
Reviews
There are currently no reviews!
Be the first to write a review!
Write a review
Quick Facts
Lemongrass Restaurant at Aria Las Vegas has Thai cuisine, as well as some common Chinese dishes for the ones in your party who aren't willing to try something new.
Lemongrass Las Vegas Thai cuisine is casual dining in the Aria Resort and Casino. This means that it's cheaper than most of the places in the Aria, or on the Vegas Strip, but don't expect to feel like you're getting the deal of a lifetime.
Lemongrass Las Vegas Restaurant is open until 2am. There's no need for an early dinner in Vegas when you can have an early breakfast before passing out for the night.
Restaurant Website:
https://www.arialasvegas.com/dining/casual-dining.aspx
Restaurant Menu:
https://www.arialasvegas.com/files/dining/Lemongrass-Menu.pdf
Info
Location:
ARIA Las Vegas
3737 Las Vegas Blvd S
Las Vegas, NV 89109
View Map
Phone:
877.230.2742
Hours of Operation:
Daily 11am - 2am
The Environment:
Lemongrass Restaurant at Aria Las Vegas is a Thai restaurant set back from the main hustle and bustle of the casino floor and slot machines. The somewhat hidden entrance makes it a little less crowded than most of the casual dining in the Aria. Lemongrass Las Vegas Restaurant is tastefully decorated because, let's face it, the Aria wouldn't have it any other way. The attentive service is just one more thing that makes eating Lemongrass Vegas Thai Food a pleasant experience.
Why We Dine:
Lemongrass Las Vegas Thai cuisine is one of the most casual restaurants in the Aria that is still classy and welcoming. The service and the food are above par compared to many places you could go, and the prices are low enough to keep you from heading for the hills.
Menu Variety: Lemongrass Las Vegas Restaurant is a Thai restaurant, but also has Chinese and Singapore dishes all over the menu. The prices vary as well. You can spend anywhere from $15 for a meal to over $100, so you're sure to find something you like that also fits your budget.
Great Service: Lemongrass Las Vegas Thai cuisine is known for their good but pricey food. What keeps people coming back is the outstanding service they receive, which justifies paying a little bit more. The restaurant is upscale without feeling uncomfortable, because from the moment you walk in to the time you leave, you are welcomed and attended to by everyone that walks by, but don't worry, they know how to do it in a not creepy way.
Open Late: If you're walking around the Aria at 1 in the morning, looking for something to munch on before heading back to your room for the night, Lemongrass Las Vegas Restaurant is probably one of the only things open here, and one of the most affordable places open at that time of night too. Even if you've had one - or a few - too many that night, you won't be mindlessly spending all your money on a late night snack.
Inside Knowledge:
Like we said, Lemongrass Las Vegas Thai cuisine service is second to none and welcomes everyone. If this is your first time having Thai, they will gladly recommend dishes you like based on other Asian dishes you like. They will work around allergies, as well as going out of their way to provide vegetarian and vegan options. Ask for your waiter's services, they don't mind earning their tips.
We Recommend:
Something With Shrimp: The shrimp here is known to be fresh-tasting and cooked to perfection. It may sound pretty fishy that a place that doesn't specialize in seafood and isn't on the coast has great fish, but Lemongrass Las Vegas Restaurant uses all fresh ingredients.
Drinking Water: You probably need to hydrate anyways, but drinks at Lemongrass Las Vegas Restaurant, that don't even have alcohol, cost anywhere from $4-$15 a piece. You could spend that $15 on a coconut milk, an entree or an alcoholic drink at the bar later. Any three of these options can run you about the same cost, so be prepared.
Is it Worth It?
The food alone isn't worth what you pay, but combined with the service and the location, you're getting a better deal than many other places offer.
Lemongrass Vegas Restaurant Amenities
Full Bar
Fresh Food
Late Dining
Wheelchair Access
Take-Out Available
User Average Review
Overall:
Menu:
Ambience:
Location:
Service:
Based on reviews
Rating Distribution
0.0% recommended it
Lemongrass Vegas Reviews
There are currently no reviews! Be the first to write a review!
Write a review
Restaurant Hotel
Other Asian Restaurants You May Like