Sage Las Vegas
Yep! I'm a sage of Vegas, and I'm tellin' you, this place is worth the money!
---
A Quick Look
Cuisine: American
Hours: Mon.-Sat. 5pm- 11pm
Price:
---
---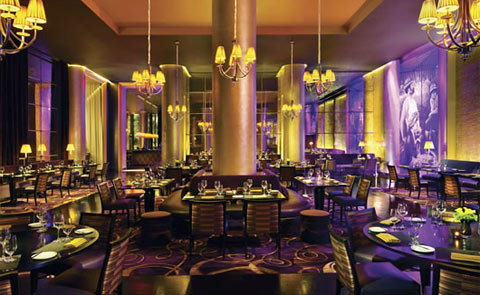 Like American Cuisine?
Check out more of our American restaurant faves!
The Skinny
Sage at Aria Hotel Las Vegas was named the 2010 "Restaurant Not to Miss" by Esquire, and since then, nobody that could afford it has missed it. This is fine dining with cuisine that is beautiful, a little exotic and interesting. Interestingly enough, the exotic here is all created by an American chef, Shawn McClain.
Reviews
There are currently no reviews!
Be the first to write a review!
Write a review
Quick Facts
Sage at Aria Hotel Las Vegas is a fine dining restaurant in the Aria Resort and Casino.
Sage Las Vegas serves a menu of new American cuisine with strong Mediterranean influences and fresh, organic ingredients.
Sage Las Vegas has one of the largest Absinthe menus, and serve it up with a show you won't forget.
Restaurant Website:
https://www.arialasvegas.com/dining/sage.aspx
Restaurant Menu:
https://www.arialasvegas.com/files/dining/Sage-Dinner-Menu.pdf
Info
Location:
ARIA Las Vegas
3732 Las Vegas Blvd S
Las Vegas, NV 89109
View Map
Phone:
877.230.2742
Hours of Operation:
Mon.-Sat. 5pm- 11pm
Additional Info:
The dress code is business casual.
The Environment:
From the time you lay eyes on the Aria from the Vegas Strip, you are nothing short of impressed. You expect everything inside to be just as beautiful. And, to say the least, Sage Las Vegas is beautiful. And so is the food.
Why We Dine:
Sage at Aria Hotel Las Vegas is one of those restaurants you treat yourself to when you're on vacation, and it's one of the restaurants that make that vacation stand out among the rest. From the dining experience to the bill, this is a dinner you will never forget.
Romantic Yet Modern: If you're going to Vegas for a romantic occasion, or even just want a nice dinner in between all the clubbing you'll be doing, Sage is a romantic restaurant that is expensive, but welcoming. The plush decor and dim lighting is just enough to be tasteful without being stuffy and stuck up. Even if you're not used to fine dining, the staff at Sage Las Vegas will be more than happy to take your money and make you feel at home.
Tasting Menus: There are two different tasting menus available at Sage at Aria Hotel Las Vegas. The first is a s three course meal for early diners (served 5pm-7pm), and the next a four course meal. Both are offered, for an additional charge, with beer or wine pairing options. This chef knows what he's doing and has put together a tasting menu that won't let you down.
The Wagyu Beef Tartare: Sage Las Vegas serves the beef tartare as an entree, a small bite on the lounge menu, or in either tasting menu. The beef tartare has made it on every menu because everyone wants it every time they come. People don't complain when they get this dish. They don't even complain when they get the outstanding bill for this dish. And that is saying something.
Inside Knowledge:
If you're planning on going to Sage at Aria Las Vegas with a large party, the staff prefers everyone gets the tasting menu or none at all. Some of the staff is more accommodating than others, especially depending on the restaurant's capacity at the time, but it's hard for them to bring out a four course meal to one person and just one plate the entire time to everyone else. Keep this in mind before choosing who you invite, or just try to sweet talk your waiter when you get there.
We Recommend:
(Recently Legalized) Absinthe Menu: The whole point of going to Vegas is to do a lot of things that are barely legal. There is a reason that Absinthe was illegal for a while, so knowing that will make you feel bad to the bone, but drinking it will make you feel oh-so-good! Sage at Aria Las Vegas sells the most Absinthe of any restaurant in the world, and have 10 different absinthes from all over. You're sure to find one you like, even if you have to try them all!
Making Reservations: Even though Sage fine dining American cuisine Vegas is an expensive choice, they are a very popular Vegas restaurant. Many people come to the Aria with Sage Las Vegas on their minds from the time they start planning their trip. It's not just a restaurant that many people wander into when they suddenly get hungry. Make a reservation if you already know you want to eat here, and you may want to consider opening a separate credit card account just for the occasion as well.
Is it Worth It?
The dining experience you'll get here makes this more than just a meal, so you might not mind spending more than just a little money
Sage Las Vegas Restaurant Amenities
Famous Chef
Chef's Specials
Healthy Options
Open for Holiday Dining
Homemade Desserts
Pre-Theater
Premier Location
Private Room
Private Parties
Prix Fixe Menu
Romantic Dining
Specialty Beers on Tap
Valet Parking
Wine Bar
Wheelchair Access
Organic Ingredients
Organic Food
User Average Review
Overall:
Menu:
Ambience:
Location:
Service:
Based on reviews
Rating Distribution
0.0% recommended it
Sage Las Vegas Reviews
There are currently no reviews! Be the first to write a review!
Write a review
Restaurant Hotel
Other American Restaurants You May Like