Upscale Vegas Restaurants
Top of the World Restaurant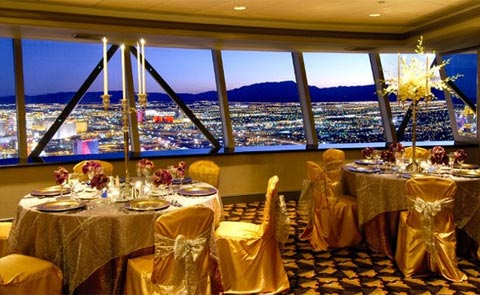 At the Bellagio
Of all the upscale restaurants in Vegas, you probably can't go much better than the ones in the beautiful Bellagio. There's no better way to charm a ladythan at a Las Vegas fine dining experience with a view of the Bellagio Fountain shows.
Picasso: They've got lots of wine and are located in the conservatory among lots of flowers. Those two alone are enough reason to come here, but the European food and fancy Picasso paintings on the walls make this a well rounded meal.
Michael Mina: This popular Vegas seafood restaurant is open for dinner only and is basically Las Vegas Fine Dining at it's finest. Most people stick to the Prix-Fixe meals for about $120 a head, but if you bring a date that doesn't eat meat, then you're in luck, because those dinners aren't nearly as pricey. Yes, there are benefits to dating a vegetarian!
Le Cirque: You don't have to go all the way over to Paris to get your French fixings. They've got lots of sommeliers to help you pick out wines to go with the unique foods they serve up at ridiculously high prices. Las Vegas fine dining doesn't get any more playful than this.
Joël Robuchon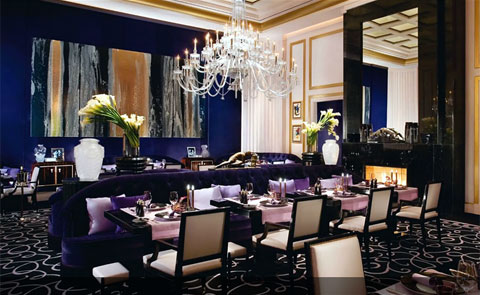 Cultured Cuisine
Las Vegas brings the best from all over the world into one city. They've recreated New York, Paris, Italy, and give you foods from even more places than that. When you can't travel to every country in the world, go to the Vegas upscale restaurants to still experience all the worldly cuisines.
Zefferino: Here is one of the best Vegas upscale restaurants that serves up some gourmet Italian seafood. Like everything else in the Venetian Hotel, it's not super affordable, although if you're looking for fine dining in Vegas, you won't get cheap anyways. Even the meals on special will set you back a pretty penny. Yikes!
Eiffel Tower Restaurant: Yep, this is just like eating in Paris , and you'll easily spend as much as you would actually going to Paris on one meal. Actually, it's not that expensive, but it's easily just about the most expensive restaurant in town. Make sure you dress proper, and don't just put on a beret and think you're in the dress code. Make reservations in advance, and why dine in any of the Vegas upscale restaurants unless you're there for sunset?
You might be dining at one of the Vegas upscale restaurants to celebrate your winnings, enjoying a special occasion or just trying to dazzle the girl you met at the club last night. And while there's a good chance that she'll love just about any of the upscale restaurants in Vegas, some will impress her a little more than others. Believe it or not, the cheapest of Cheapos - Casino Boy - actually knows where to find the best upscale restaurants in Las Vegas. (And no, he didn't run out on the check - not every time, anyways.) Ya' know, we wish someone would impress us like that every once in a while and give us the chance to chow down at one of these upscale restaurants in Vegas. Maybe if we didn't say things like "chow down" someone might?
$ - $10 and under w/ tip $$ - $11- $25 $$$ - $26- $40 $$$$- Over $40
Upscale restaurants in Vegas aren't as rare as they are in many places. People come here on vacation to get the luxury treatment, and these restaurants give you that to say the least. Don't think that just because they are charging high prices you're going to get a fancy fine dining Vegas meal though. Some places just charge a lot because they think they can, even though the food doesn't fit the price.
Whether you're looking for an exclusive upscale restaurant in a fancy Vegas hotel or a more casual fine dining Vegas experience, there are options all over the Strip, Downtown or Off-Strip, but you should probably stick to the Vegas Strip if you want the really nice meals.
Some think that a nice meal is made of good food. But we think the food is good at the buffets too. So it takes a lot more for to make us want to drop extra dough. We need things like fountain shows at the Bellagio, dim lighting, sommeliers and fancy dishes we can't even pronounce.
Some of these Las Vegas luxury dining places require fancy pants, meaning have dress codes, so make sure you know before you go. You don't want to show up looking worse than the waiters. Or the bums sitting outside. Also, it might be a really good idea to know how much you can spend before you reach your credit limit before you go too.