Tao Las Vegas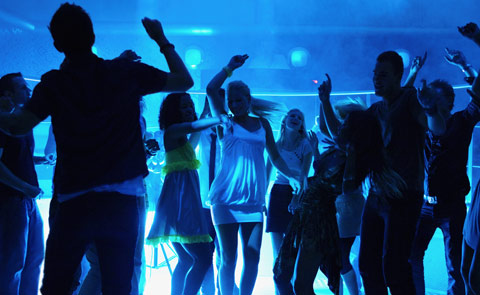 Tipsy? ...or smashed? Stay at one of our favorite nearby hotels!
Gee whillikers, mermaids in bathtubs and an outdoor balcony make Tao Las Vegas a nightclub dream-come-true!
---
A Quick Look
Type: Nightclub
Dress: Keep it Classy
Price:

Casino Boy's Rating:
---
---

The Skinny
Not all Las Vegas nightclubs are created equal and Tao Las Vegas happens to be one of the better ones. The suave Asian decor combined with the random half-naked ladies swimming in bath tubs and the club's penchant for celebrity guests make Tao at the Venetian stand apart from the regular Las Vegas clubs. It's a normal Vegas club though so prepare yourself to pay an arm and a leg to get in, stand in epically long lines and fight for room on the dance floor.
Reviews
Most Recent Reviews
Write a review
Our user reviews are from real registered users.
Quick Facts
Tao at the Venetian has a beautiful Asian theme with a 20 foot Buddha statue and fun zen decor. Why they include bathing mermaids, we're not sure...but we're not complaining!
Tao Nightclub Vegas is right next to Tao Bistro and Tao Beach, a restaurant and a daytime pool party that are both just as popular as the nightclub.
Tao Las Vegas has a 40 foot outdoor patio with views of the Las Vegas Strip - a perfect escape from the hoards of intoxicated party-goers when you need a bit of fresh air, which you will.
Info
Location:
The Venetian Las Vegas
3355 Las Vegas Blvd S
Las Vegas, NV 89109
View Map
Phone:
702.388.8588
Website:
https://www.taolasvegas.com/
Hours of Operation:
Thurs. Fri. & Sat. 10pm-5am
Features:
The Tao Las Vegas nightclub is ultra-swanky and features live DJs and loads of paid celebrity appearances. On the roof is Tao Beach, a dayclub with the same high prices, but this time with water, DJs during the day and plenty of snooty cabanas and daybeds. With two dance floors in the Tao Nightclub Vegas, an outdoor patio and next-door neighbors Tao Beach and Tao Bistro you can pretty much spend all day partying at the Venetian.
Why We Go:
When it comes to Las Vegas nightclubs we look for hot music, wild crowds, a flowing bar and an over-the-top extravagant theme. Tao Nightclub Vegas has all this and more. Enjoy different DJs each night spinning a variety of music genres, some of the hottest patrons in Vegas, multiple full bars and exotic Asian decor at every turn. Yeah we know, an Asian-themed club in a Venice-themed hotel is a little strange but hey, this is Vegas and anything goes.
The Balcony: No matter how packed the nightclub gets it seems like there is always a spot or two open on the huge outdoor balcony at Tao Nightclub Vegas. Take a break from the dancing, check out the bright lights of the Strip, and maybe you'll even find the zen that the Asian decor seems to suggest because trust us, you won't find any relaxation among the sweaty throngs of dancers inside Tao.
The Clientele: Tao Las Vegas Club is known for its celebrity guests, both in paid appearances and just out in Vegas for a good time. Not only does this make it so that you could be rubbing elbows with celebs, but it makes everyone in the club dress extra nice just in case they meet the rich and famous, so even on a night with no celebs in the crowd you can bet on some good-looking dancers on the floor.
The Hype: Honestly, who hasn't heard of Tao Las Vegas? If you go for one reason alone it should be that this Vegas nightclub is a must-see when in Sin City. What will your friends say when you get back and say you didn't even take a peek at one of the most famous clubs in Las Vegas? If you can't describe Tao because of your level of intoxication on the other hand, that just means you're doing something right.
Inside Knowledge:
The bathrooms at Tao are...unique. There are a few things you need to know before arriving. First of all, the bathrooms are marked YIN for female and YANG for male and do not have any helpful pictures or icons - don't mess that one up! Secondly, the doors in the stalls are super high tech and when they are locked, the glass clouds over giving you privacy, but when the stalls are unlocked the glass doors are totally clear. Don't close the lock all the way? Your potty break just turned into a high school nightmare.
Do's and Don'ts:
Do Class it Up: Not only will you want to look your best in case there are any hot celebrities at the table next to you, but also remember that Tao Las Vegas has a high standard and without the proper outfits you might not even be let in. All Vegas clubs have a high standard of dress but Tao specifically veers toward the more classy side. Guys - iron your button downs, Girls - go for those sexy cocktail dresses.
Do Plan Ahead: Tao Nightclub Las Vegas features some of the hottest DJs in Las Vegas and on those nights the club reaches capacity really early. If you want to see famous DJs like Dash Berlin and Tiesto, get your tickets and/or bottle service early and make sure to be in line before 10pm when the club opens. Even with tickets or your name on the guest list it can be tough to get in to such a popular club, and trust us - it will ruin your night if you miss part of the show because you're standing in line.
Don't Get Lost: Tao is known for its crazy layout which is both a pro and a con to the clubbing experience. Remember there are two floors, a lounge, a restaurant and Tao Beach and try to get a feel for the place before you get too buzzed to figure it out. Don't end up wandering around one floor while your crew is trying to find you on the other floor. That's just not the way to spend a Vegas night out.
Don't Bug the Mermaids: One of the coolest, most unique things to see at the Tao Nightclub Vegas are the bathing beauties you'll find randomly situated around the place. These lovely ladies swim in bathtubs with nothing but strategically placed flowers and stickers and they are quite the sight to see. But don't forget that they are on the job and no matter how dashing you are, they don't want your come-ons. Also, if common decency isn't enough of a motivation to treat them well, the bouncers definitely should be.
Is it Worth It?
Bathing women, hot music, zen Asian decor and rubbing elbows with celebs? Tao is definitely worth at least one night out in Vegas.
Tao Las Vegas Amenities
Accepts Reservations
Bachelor/Bachelorette Parties
Bottle Service
City Views
Dance Floor
Famous DJ
Full Bar
Premier Location
Rooftop
Parking Structure
User Average Review
Overall:
Ambience:
Music:
Crowd:
Price:
Based on reviews
Rating Distribution
100.0% recommended it
Tao Las Vegas Reviews
Nightclub Hotel
Casino Boy's favorite nearby hotels ...in case you need a place to crash.

Hotel Name
Details

Region:

Strip

Address:

3555 Las Vegas Blvd. South Las Vegas, NV 89109

Region:

Strip

Address:

3570 Las Vegas Blvd. South, Las Vegas Las Vegas, NV 89109

Region:

Strip

Address:

3400 Las Vegas Blvd Las Vegas, NV 89109

Region:

Strip

Address:

3535 Las Vegas Blvd. South Las Vegas, NV 89109