TI - Treasure Island Vegas
Ahoy, matey! This pirate's den has been invaded by a squadron of sultry Sirens.
---
A Quick Look
Location: The Strip
Hotel Class:

Room Price:

Hotel Size:2,885 rooms
Casino Size:95,000 sq. ft.
Gaming:Yes
Nightlife:

Pool:

Buffet:

Best Show:
---
Book now for great deals!!

Other Hotels like Treasure Island
Treasure Island Deal Finder
* Room Rates shown above reflect the average nightly rate for a 2 night stay with the calendar date as the check-in date, our visitors should verify actual rates, promotions and deals directly with the hotel as we make no guarantees regarding rates, but only provide them as a convenience.
Book Now
The Skinny
They downplay the only cool thing about this place: the pirate theme. The TI offers mid-level luxury. It's not as swanky as the Bellagio, or even the Mirage, but still nice enough that they get nervous when they see us coming with our sticky hands.
Reviews
Most Recent Reviews
Our user reviews are from real registered users.
Quick Facts
Near Attractions
Check-in at 3pm
2000+ Rooms
Check-out at 11am
High-Speed Internet
On-Site Restaurant
Near Restaurants
Parking
Check-In Age - 21+
Info
Location:
3300 Las Vegas Blvd S
Las Vegas, Nevada 89109
View Map
Website:
https://www.treasureisland.com
Room Quality:
The tower is similar to The Mirage in size and layout, meaning slightly smaller-than-average rooms. The room decor is neutral browns with the now common off-white bedding. Dark wood dressers and furnishings and a decent-sized flat-panel TV on the wall. The bathrooms are above average with marble floors and hair dryers. While you shouldn't do it, the hair dryers are easier to sneak home with you than the new floors. There is also an iPod dock alarm clock in the room, so you can wake up to your prized recording of "Flash Turnipseed." Standard amenities are a single sink and soaking bath-shower combos. The closets are large and have safes. One downside is the serious lack of pirate theming. We want a keg of grog! All rooms are equipped for high-speed Internet access for a ridiculous fee, and if you're willing to pay you need help with your addiction. The in-room safes are wonderful for people who have big stacks of cash to store. The location is good, within walking distance of both the Center Strip and the North Strip.
Service Quality:
Check-in is usually handled very professionally at TI - Treasure Island Hotel and Casino Las Vegas, and the lines go quickly during rush hour. Room service is good, too, but you could easily spend $40 on breakfast for two, when $1.98 will get two complete breakfasts at some dingy joints, and you get way more grease, too!
What You Get Bottles of in the Bathroom:
Conditioner, shampoo and some lotion. The hair stuff is orange-scented and comes in cute little bottles that will make a great Christmas gift for a relative. It appears they usually have the grand prize, the sewing kit complete with buttons, but not always and you have to check the drawers for it. We probably should stay here again soon, because our pants keep falling down.
Clientele:
Young to middle-aged, upper-middle class. Surprisingly, you find very few pirates about, which makes for a safe, but less interesting, stay. A lot of Californians stay at the TI Hotel and Casino Las Vegas for their weekends. and, as you'd expect, the pirate theme draws plenty of families to this resort (maybe because parents want their kids to be kidnapped). Rumor is that they want the kids to stop coming, though, charging big dough for every third or fourth person in a room.
How's the Pool?
Small, odd-shaped and not so great. In fact, the TI - Treasure Island Hotel and Casino Las Vegas pool is too small and crowded for the size of the property. The pool is heated, but closed during winter.
Resort Fee:
A steep $25 resort fee per accommodation, per day. This covers Internet access in your guestroom, local phone calls, limited faxing, daily newspapers, fitness center access, and other things you probably won't even use.
Is it Worth It?
The overall value of this place is ideal for a medium-sized budget, but the only pirate stuff that remains nowadays is for sale in the gift shop.
Hotel Amenities
Air-conditioning
ATM/Banking
Bar/Lounge
Ballroom(s)
Business Center
Business Services
Car Service
Conference room(s)
Concierge Service
Doorperson
Dry Cleaning
Event Catering
Express Checkout
Fitness Center
Free Guest Parking
Free Newspaper
Multilingual Staff
Parking Garage
Restaurants
Room Service
Sauna
Security Guard
Spa
Shoe Shine
Wedding Services
Table Games:
Lots of everything, like Let It Ride, craps, blackjack, roulette, oddball card games and the casino's favorite, the Big Six wheel. The dealt games use the highly unpleasant automated shufflers that the casinos did not put in place for the customers' benefit. Play at TI - Treasure Island Hotel and Casino Las Vegas if you like the atmosphere and don't mind losing.
Bet Minimums:
The cheapest craps game is $10 during weekdays, same with blackjack, but not always. Often, the games require at least $15 to get in on any action. Watch out for their single deck blackjack, because it pays a horrifying 6:5 on blackjacks. Craps is the standard 3x4x5x. All of the games have electronic minimum and maximum signs that they can change in an instant, depending on what the prime rate and federal reserve are doing.
Machines:
Slots from a penny on up to $100. There are a very limited number of full-pay video poker machines that we know of. Hey, someone's got to pay all those actors dressed like pirates/Sirens in the battles out front.
Cocktails?
Very good. They know how to mix a stiff drink. The service is not the fastest, but the drinks are some of the best you can get for free.
Who Gets Comps?
It's a slightly-below average return compared with off-strip hotels. It rewards play at all levels. Of course, it may take about three weeks at the nickels to get that gourmet dinner comp you have your eye on. If you do rack up a bunch of slot club points, you will probably get mailed offers for free and discounted rooms. Comps at the tables are for $50 bettors and higher. Rooms will be given to you at the $100 and up level.
Number of TVs:
11 big screens total, one of which is the great big mama and the other 10 are her cute little babies.
Number of Seats:
Eighty screens with mini-TVs for those of you who love watching horses being forced to run around a track against their will. Forty seats are for sports with twelve more seats for keno in the room.
Number of Betting Windows:
About 12 with electronic boards.
Free Drinks?
You bet! Seriously, you bet and you get drink tickets. You don't bet and you get bupkus.
Snack Bar?
No reasonable cost ones, so bring provisions. Or eat at the Canter's Deli if you're rich.
Other Notes:
The TI - Treasure Island Hotel and Casino Las Vegas sports book room is about average in every way for the Strip. Which means it's way nicer than your living room, but not among the top books in town.
Number of Tables:
Eight tables in this little room, which, to its credit is actually a little room, not a roped off area.
Comfort of Chairs:
Chairs are average. It seems these may be the only thing in the room they didn't spend a little extra on. The tables have maroon felt.
Closed Room or Open to Casino?
Pretty closed off. There are walls and a doorway, and it's pretty quiet in here. TVs are all over the walls.
Game Spreads and Limits:
It's mostly Texas Hold 'Em at Ti - Treasure Island Hotel and Casino Las Vegas, in both the limit and no-limit varieties. Limit starts at $2-$4 sometimes, and the NL starts at $1-$3 with a $500 max buy-in. Omaha may get dealt if demand is there, starting at $4-$8. They also claim they will deal any game at any time.
Beginner Games or Classes:
No beginner classes but plenty of beginners and players who should stop thinking they aren't beginners. Some very soft games at all levels can be had.
How Crowded is the Room?
Pretty crowded. There is enough there to attract the hotel guests, and enough people who have heard about the wild, loose games to fill the joint. Expect some delay at TI - Treasure Island Hotel and Casino Las Vegas on weekends.
Comps?
A generous $2 per hour with your card.
How Good Are the Players?
As we said before, soft as the down on a duckling. Sure, there are some good players, but for the most part, this is a very weak room with a lot of callers to see the flop and some who will hang on with Ace high.
What Else Do I Need to Know?
This is better than a me-too room. The room and tables are nice. The soft players are a bonus, but the lack of actual variety hurts. There are four nice tournaments a day at TI Hotel and Casino Las Vegas with a fairly cheap buy-in and somewhat-deep stacks.
TI - Treasure Island Hotel and Casino Guest Rooms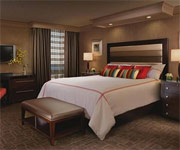 Deluxe Room
Choose between one king bed or two queens in this 400 square foot basic room that Treasure Island calls deluxe anyway. Premium bedding with triple sheeting comes in handy when one or two layers of sheeting just isn't enough. Wired and wireless Internet access comes with your resort fee, as does a refrigerator, desk, and laptop-compatible safe. Ensuite bathroom comes with shower/tub combination with a deep soaking tub. The Strip View Room is the same thing, but (as implied) with a specific view of the Strip.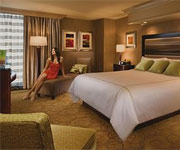 Petite Suite
One king bed graces this 630 square foot mini-suite with a view of the city, mountains, or pool. A separate sitting area, desk, and 32-inch LCD TV with digital channels, first-run movies, and pay videos will keep you busy. Same complimentary Internet and standard room fare that is actually not completely complimentary. Ensuite bathroom includes shower/tub combination with jetted bathtub. Bath amenities include double sink, hair dryer, and designer toiletries. A second bathroom, perfect for larger parties and too many girls trying to get ready for a night out at the same time.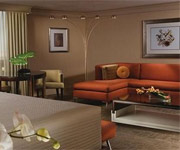 Tower Suite
For those who want a little extra breathing room, this 930 square foot suite does the trick. One king bed, with TI's premium bedding and triple sheeting. Views of the city, mountains, and/or pool. 32-inch LCD TV and other amenities the same as other suites. The ensuite bathrooms come with shower/tub combination and jetted bathtub, along with a double sink, hair dryer and designer toiletries.
User Average Review
Overall:
Service:
Cleanliness:
Location:
Room Quality:
Based on 2 reviews
Rating Distribution
50.0% recommended it
TI - Treasure Island Hotel and Casino Reviews