Las Vegas Stratosphere
What the...? You guys booted my pal Bob Stupak for this?
---
A Quick Look
Location: The Strip
Hotel Class:

Room Price:

Hotel Size:2,427 rooms
Casino Size:100,000 sq. ft.
Gaming:Yes
Nightlife:

Pool:

Buffet:

Best Show:
---
Book now for great deals!!

Other Hotels like Stratosphere Vegas
Stratosphere Vegas Deal Finder
* Room Rates shown above reflect the average nightly rate for a 2 night stay with the calendar date as the check-in date, our visitors should verify actual rates, promotions and deals directly with the hotel as we make no guarantees regarding rates, but only provide them as a convenience.
Book Now
The Skinny
Everything at the Las Vegas Stratosphere is okay, and that's about it. The Stratosphere Las Vegas Hotel and Casino fits in with the sort-of-rundown vibe of the far North Strip. The rooms are comfortable and clean, of course the more recently updated ones are better. The casino has decent games (plus some kookie games leftover from the Stupak era). The tower is a pretty cool attraction. We'd recommend this place more if it weren't in no-man's land for pedestrians and sightseers and people who want the small thrill of the Stratosphere Las Vegas roller coasters.
Reviews
Most Recent Reviews
Our user reviews are from real registered users.
Quick Facts
Check-in at 3pm
Check-out at 11am
2000+ Rooms
High-Speed Internet
On-Site Restaurant
Near Restaurants
Parking
Check-In Age - 21+
Info
Location:
2000 Las Vegas Blvd. South
Las Vegas, Nevada 89104
View Map
Website:
www.stratospherehotel.com
Room Quality:
Good. The Stratosphere Las Vegas Hotel rooms are average-sized, clean and fully functional. Mostly, the decor is creams and browns, with comfortable beds and deep tubs. The front (and smallest) tower is the Regency Tower (not to be confused with the Stratosphere Tower). It is short and has slightly larger, older rooms than the main towers. In the towers the bathrooms are small, with the sink outside in the bedroom. If you want to go upscale, get a "Select" room on the upper floors. They have bathrobes and turn-down service. You know, because it's so hard turning down the comforter yourself. And don't worry, none of the rooms are close enough to be disturbed by the Stratosphere Las Vegas roller coasters.
Service Quality:
Fair. The Stratosphere Casino, Hotel and Tower Las Vegas has a moderate hotel, and they have room service. Check-in can be a long and trying wait, and in fact it often is.
What You Get Bottles of in the Bathroom:
The Stratosphere Casino, Hotel and Tower Las Vegas tries to make up for it's location by luring you in with some quality stuff in the bathrooms. You get shampoo, conditioner, lotion and bath gel. They used to have bottles of mouthwash, but apparently they decided their clientele smells fresh enough without their help.
Clientele:
A lot of middle Americans stay at the Stratosphere Las Vegas Hotel, especially people from the Midwest. It's a middle-class crowd that is pretty serious about value. What they don't realize beforehand is that they spend just as much on the hotel room plus a cab to get to anywhere on the Strip as they would actually staying somewhere on the Strip. Hmmm...
How's the Pool?
The pool deck is on the eighth floor, on top of the casino. It's about average for the Strip and below the best further south. What you get is an irregular-shaped large pool on a huge concrete deck. There are a few palm trees and some fake rocks, but it's mostly just you, water, loungers and kids up on the casino roof. There is a small pool on the 25th floor. It is for adults only, and is called a topless-optional pool. Casino Boy is THERE!
Resort Fee:
The resort fee to stay at the Stratosphere Las Vegas Hotel is $7.50/night. Yeah, we don't really even know what that almost $8 goes to, but it's required. So pay up! Or check out other Las Vegas hotels and promo codes if the resort fee is that big of a deal to you true Cheapos.
Is it Worth It?
If you want somewhere to stay that's far off the Strip, then this is your place! The rooms are cheap and the quality is fine, but don't expect to be anywhere close to any other popular Vegas destinations.
Hotel Amenities
Wedding Services
Spa
Security Guard
Shoe Shine
Free Guest Parking
Jacuzzi
Fitness Center
ATM/Banking
Concierge Service
Multilingual Staff
Parking Garage
Restaurants
Bar/Lounge
Air-conditioning
Business Services
Conference room(s)
Event Catering
Room Service
Doorperson
Table Games:
Blackjack, craps, roulette, Let It Ride, Pai Gow, and a few other carnival game tables. They deal pretty good games, but you have to watch out for mutations of them, such as Crapless Craps. These variations are skillfully designed to look good to the player, while actually being worse. They offer daily craps lessons, so you can learn to play with confidence here.
Bet Minimums:
Mostly $5 at blackjack and other card games ($10 at Pai Gow). Craps has 10x odds. We advise you skip the crapless game since it has a bigger house advantage. Roulette is $1 chips with $5 minimum, and they have single and double-zero wheels.
Machines:
Slots from a penny on up. They have a few very generous video poker machines scattered about the premises and a good range of full-pay VP at the quarter level. Supposedly, the Strat slots have higher paybacks than the other Strip casinos, so if you're a hardcore slot jockey, it might be a good place to log your hours. There are dollar slots in the high limit area, so that gives you an idea of the players.
Cocktails?
Fair. It's a weird-shaped casino because it feels really long, so it's easy to get irregular cocktail service. We have noticed it takes a while from the time you order a drink until it is actually brought to you.
Who Gets Comps?
Generous for free room offers. $10 and up for a few hours at the tables will get you a buffet, and it will also put you on their mailing list. However, all comps come through the club, not from pit bosses, and that's bad news. The slot club is fair for cash back, but it is excellent for comping tower passes, meals and rooms. Make sure to get the card and use it.
Number of TVs:
About 30 TVs with one of them big.
Number of Seats:
65 average chairs for sports with ten more behind a long desk. 20 chairs for racing fans are at desks with TVs. These chairs are adjustable and nicer. They'll make you feel like you're at the office, if your office has booze and lots of TVs. Ours did, until the boss found out and fired us.
Number of Betting Windows:
Six, with slate boards for marking odds and scores.
Free Drinks?
Not that we could see, but there's a well-stocked bar right behind the sports book.
Snack Bar?
Stratosphere Las Vegas Casino Hotel doesn't have a snack bar. Sorry. Please don't starve to death. If you end up winning big, maybe you can just chow down in the Top of the World Restaurant. You can probably still order a hot dog or sandwich if you ask nicely enough.
Other Notes:
This is a small sports book but it is moderately comfortable, and suitably dark so you can immerse yourself in the action.
Number of Tables:
Eight tables reside in the poker room, which is now actually a room.
Comfort of Chairs:
They got some comfortable chairs and nice tables. Our rear ends thank you, Stratosphere Casino, Hotel and Tower Las Vegas.
Closed Room or Open to Casino?
It's a room now, but still not particularly glamorous. At least they got everything out of the hall and moved it away from the casino floor.
Game Spreads and Limits:
It's all Hold Em, capitalizing on the mooks who see the game on TV. In fact, they spread both structured games starting at a whopping $2-$4, and a $1-$2 no-limit game.
Beginner Games or Classes:
They say they have lessons 24/7 from their friendly dealers. So, show up at 3am and demand they teach you.
How Crowded is the Room?
Not crowded. There is rarely a wait, except maybe on a busy weekend. Maybe get there a little early for one of the tournaments.
Comps?
You get one buck an hour, so get a card so they can add your comps to it.
How Good Are the Players?
Fair to worse. This is a pretty good room for a strong tournament player to win in. The cash games are amateurish; loose enough to be dangerous in the short term and profitable in the long term.
What Else Do I Need to Know?
A few well-structured daily tournaments are offered. Contact the room for details. Overall, this room is about average.
Stratosphere Las Vegas Guest Rooms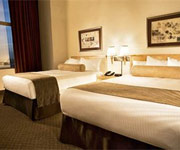 Deluxe Room
The most basic room offers 350 square feet to roam around in. This may make for a short distance from the door to the bed when you're stumbling in at night. Get either a king or two queen beds and relax while watching the 42-inch plasma TV and the pay movies. Set up your laptop and get some work done on the desk and take advantage of wireless Internet access, available at a charge of course. Smoking and non-smoking rooms are available, light up if you want.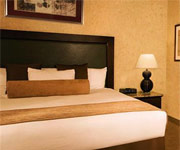 Grand Suite
These suites each have a bedroom with one king bed, and a separate living room with a sofa bed and a dining area. Bring the whole gang and you can still stick them on the couch, just like at home. Both rooms have 42-inch plasma TVs. Practice your bartending skills at the wet bar and store all your delish leftovers from room service in your own refrigerator. The bathroom has two sinks, we know how you don't like to share. But there's only a shower/tub combination, so you can't have everything to yourself.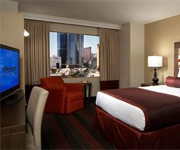 Select Room
The Stratosphere Casino, Hotel and Tower Las Vegas may seem appealing to people looking for a view. In these rooms, you get panoramic views of The Strip or surrounding valley. Each comes with one king or two queen beds with resort mattresses, which we assume is a fancy word for comfortable mattresses. Bring your iPod and let all your neighbors hear your favorite jams with the MP3 clock radio.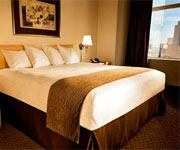 Premier Room
Located on the 14th floor and up with mountain views, these rooms each have one king or two queen beds. Hopefully you're not scared of heights, or mountains. All the rest of the features are pretty basic. You get a TV, bathroom, and the option of a smoking or non-smoking room.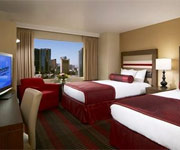 Strip View Room
These rooms are located in the Premier Tower. They're still pretty small rooms but include views of The Vegas Strip. Each room comes with one king or two queen beds, a TV, and of course a bathroom. Smoking and non-smoking rooms are available.
User Average Review
Overall:
Service:
Cleanliness:
Location:
Room Quality:
Based on 5 reviews
Rating Distribution
88.0% recommended it
Stratosphere Las Vegas Reviews