Stay Skinny Las Vegas: Your guide to not busting out of your brand new bikini
---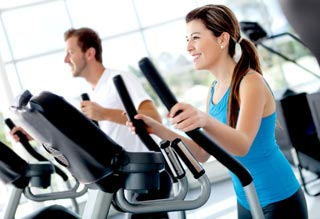 Good morning, Cheapos! Who went to Vegas this weekend? And by that we mean who went to Vegas and gained the 5 lbs you slaved working off the entire month before?
Yeah, we get it, we give you all these great food challenges, tell you about all the great places to go out and eat and drink and have a great time and expect you to stay skinny. We'll go ahead and make it up to you right now with just a few helpful words on how to enjoy Vegas and still be able to fit into those skinny jeans you packed. Yes boys, we are talking to you, too!
Here are a couple of useful tips, compliments of Casino Boy ...
Tip #1: Stay in a Hotel with a good gym
Wynn: They have one of the best gyms on the Vegas Strip. If you're staying here, don't miss a chance to hit the treadmill while catching up on all the lead up to Kimye's wedding on Keeping up with the Kardashians, or while watching whatever your guilty pleasure TV show may be. Take out your reality TV-induced anger and jealousy on your elliptical and you'll be working your way to a better feeling you. Well, at least one that doesn't fully expose the 6 daiquiris you got before the drunk munchies hit last night. Each cardio machine comes with a water bottle and towel, so that cute guy lifting weights next to you won't see you at your worst before he gets to see you at your best later. Yes, people still pick up girls in gyms! (We know, it's gross.)
MGM Grand: There's a $25 resort fee when you stay here which you're going to have to pay anyways, so you might as well get your use of everything you're paying for. Included in this fee is the use of the health club and the fitness center. After a full work out, take a well-deserved break and relax in the steam room or sauna! Oh, you have a dinner date? Well, there is nothing better than fitting in a good work out then getting all glammed up for your fun night out. On top of that, there is a beautiful pool to fit in some more relaxing workouts or just a chance to float and show off that healthy body of yours!
Palazzo Hotel/Venetian Hotel: They share their gym and the Canyon Ranch Spa, but if you're looking for a fun activity that doesn't involve a boring treadmill, they've got an indoor rock-climbing wall! All the treadmills have TVs installed right in there! How's that for fancy? If you need that extra motivation, they also have yoga and spinning classes that provides a much more fun environment than a normal gym.
Tip #2: Visit some Vegas attractions ...
... And walk there, fatties! (Sorry, we're going with the tough love route.) You don't need to take a cab from Caesars Palace to the Bellagio. Some of these attractions require a little more walking than others, though; here are a few ideas for you:
Tip #3: Dine and Dash. Like, in the sense that you eat, but also run! We definitely do not recommend running out on your bill.
OK, here are some of our favorite Vegas restaurants known for their healthier options small portions.
For fancy fixings try Sage at the Aria or Picasso at the Bellagio. They're a bit pricier but have lots of healthy options and smaller portions. And by small we mean the appropriate size, not a super sized portion that so many of us are used to.
Eat Sushi. It's healthier than fried food and hot dogs, even though hot dogs are delicious.
If you must eat at a Buffet, the Spice Market Buffet has the freshest food and there are lots of options. Duh, it's a buffet, but lots of health(ier) options!
Drinks: Whiskey and vodka. The less ingredients the better. SERIOUSLY. If you were drinking Jack and Cokes all night last night, trust us when we tell you that it wasn't the Jack that's made you bloated in the morning.
Tip #4: Spend a lot of time in bed. And we're not talking about sleeping. Burning calories is the best dessert to any meal! (That was innuendo, if you couldn't tell.)
Trust us, these work! How do you think Casino Boy stays so thin and adorable looking? Certainly not his high metabolism alone! Let us know in the comments section below what your favorite way to stay fit in Vegas is ...