Las Vegas Nightclubs
HAZE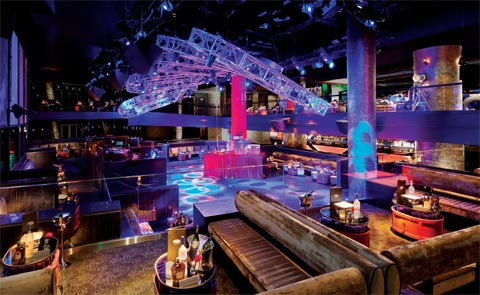 Everyone's Favorite Las Vegas Nightclubs
XS: Of all the nightclubs in Vegas, XS probably cost the most. This $10 million, 40,000 square feet venue attracts all of the most beautiful people in Vegas. Don't worry, they let in ugly people too as long as you pay the cover. Even though it's large the floor gets packed almost every night. They modeled this nightclub at the Encore after St Tropiez in the French Riviera, a party island. There are pool parties when it's warm enough to get almost naked at a nightclub, and then take off even more clothes to strip down to your bathing suit for a swim, and there is always blackjack going on at the tables in the pool area.
Surrender: Surrender to Las Vegas nightlife at this trendy club. Lots of headliners and famous people get gigs here on the regular, like Steve Aoki and Lil' Jon. Surrender is basically a smaller version of XS, not all of the Las Vegas nightclubs can drop $10 mill on building a venue. They still have a fancy pool with glowing lights, VIP and bottle services, and plenty of girls looking to join your table and drink for free all night. They might not have spent as much building this club as others did, but they are definitely looking to make as much as everyone else still, so don't think that just because they're a bit smaller that you'll get a better deal on drinks.
The Bank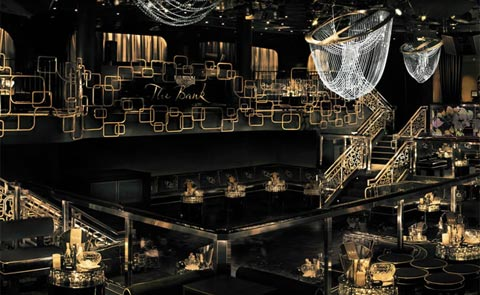 Clubs with Views
Views of the Strip: Tao has a 40 foot outdoor patio that overlooks the Vegas Strip. There are Asian themed decor and pools full of half-naked mermaids swimming, as well as the great jam-packed atmosphere. We can use jam-packed to talk about both the DJ and the dance floor, because both are equally packed with jamming. They've also got a restaurant and daytime pool party that is just as popular as the nightclub. Pure goes one step further and has a rooftop deck with views of the Las Vegas Strip and it's own DJ and dancefloor. This nightclub in Caesars Palace is all white, but people still get down and dirty here every night of the week.
Views of...Other Things: Tryst at the Wynn is a popular nightclub known for it's waterfall out back. It can be seen from the dance floor and while you're trying to charm a lady at your VIP table. It will be really romantic for both of you. If you're looking for something more natural than a man made waterfall though, Moon has a retractable roof above the dance floor. They've also got an outdoor patio with a view of the Las Vegas Strip, but you can't dance out there, so we didn't even bother checking it out.
Las Vegas nightclubs are notorious for being hot and sweaty in the best possible ways. People pile in, pay ridiculous cover charges, then again ridiculous amounts for drinks and tables, and hopefully land a hottie to dance with until morning. Some nightclubs in Vegas are pretty standard, and some are just plain must-sees. Whether you remember it the next morning or not is the real question.
$ - Drinks under $5 $$ - $6- $10 $$$ - $11- 15 + cover $$$$- Over 15 + cover
When the Las Vegas clubs start up for the night, some people start to get drunker than they did the night before in the sports book. Why go to Vegas unless you're going to go to a rowdy club and get sweaty with tons of strangers on the dance floor? Well, there might be other reasons, but if you're young and like to party, you're probably all over this scene. Las Vegas clubs get poppin' from open and usually stay busy until they're kicking out the last of the staggering clubbers.
Nightclubs in Vegas range from quiet and off the beaten path to wild, extravagant parties. Most people opt for the second choice. It's Vegas, so you might as well put on your fanciest digs and join the party. You might make some new friends, even if you don't remember their names in the morning, or spend all of your money on drinks at the bar. We're pretty sure what they mean by that phrase "What happens in Vegas stays in Vegas" pertains to getting drunk in the club. You spend lots of money and you have none when you leave, and you might be too drunk to even remember the whole experience. As long as you know you still had fun.
The best and most popular nightclubs in Vegas are generally found on the Las Vegas Strip. People usually mingle here day in and all night long, so these clubs get the most action, as you'll see from the long lines of people waiting to get in. You have to either get there early, get on the guest list, or tip someone really well if you don't want to wait in line all night. All the Las Vegas nightclubs have waits though, and make sure you know before you go that unless you're a pretty girl, you'll be waiting with everyone else. Don't worry, we don't bite.