Palazzo Hotel Las Vegas
See! You knew you'd see me screaming from the top of a clocktower someday!
---
A Quick Look
Location: The Strip
Hotel Class:

Room Price:

Hotel Size:3,000 rooms
Casino Size:105,000 sq. ft.
Gaming:Yes
Nightlife: No
Pool:

Buffet:
---
Book now for great deals!!

Other Hotels like Palazzo Las Vegas
Palazzo Las Vegas Deal Finder
* Room Rates shown above reflect the average nightly rate for a 2 night stay with the calendar date as the check-in date, our visitors should verify actual rates, promotions and deals directly with the hotel as we make no guarantees regarding rates, but only provide them as a convenience.
Book Now
The Skinny
Palazzo at the Venetian Las Vegas is awfully pretty in a boring way. Maybe like the Monte Carlo down the street, but on a bigger budget. The rooms are large and luxurious, the equal of the Venetian. But this place seriously lacks an identity and serves more of like an annex than as its own property. Casino Boy is confused...
Reviews
Most Recent Reviews
Our user reviews are from real registered users.
Quick Facts
Check-in at 3pm
Check-out at 11am
3000+ Rooms
Near Attractions
On-Site Restaurant
High-Speed Internet
Near Restaurants
Parking
Check-In Age - 21+
Info
Location:
3325 Las Vegas Blvd. South
Las Vegas, Nevada 89109
View Map
Website:
www.palazzo.com
Room Quality:
The smallest rooms in the Palazzo at the Venetian Las Vegas are 720 square feet and they are laid out a lot like the Venetian suites. That's generally a good thing. The sleeping area has a king or two queens and a flat screen. Move down to the sunken sitting area nearer the window where a sectional sofa, table and desk are all yours for lounging. Another flat screen is for watching. The bathroom has more marble than most Italian quarries. Dual sinks, a big tub and separate shower are for those of us who are into that whole bathing fad. There's another, smaller TV in here will keep you up to date, even as you shave or put on makeup. The decor is slightly more modern than the Venetian, but nothing else suggests that this place is better or targeted for a different crowd.
Service Quality:
Very good, and the Palazzo at the Venetian Las Vegas wins a bunch of awards for it. If you're like us, you pretty much like to check in and be left alone, though. So, the value of this depends on how much pampering you want. Room service, while expensive, is extensive, and anyway, doesn't it seem like everything in Vegas is expensive? Use promo codes at Las Vegas hotels so that you can save as much cash as possible!
What You Get Bottles of in the Bathroom:
If you need it to smell good, they've got it. Shampoo, conditioner, lotion, the vanity accoutrement and, yes, the motherlode: the sewing kit. You'll have no excuse for entering the casino with your pants falling down.
Clientele:
Very much the same as the Venetian. In fact, it sort of cannibalizes the Venetian for customers. Or maybe there were just more people wanting to stay there than they could accommodate. In any case, the Palazzo at the Venetian Las Vegas is well-to-do, so don't expect valet to park your Hyundai up front.
How's the Pool?
As uninspired as the Venetian's next door, the Palazzo Hotel at the Venetian Las Vegas pool deck has several small pools and hot tubs on a large concrete deck with palms around it. It'll do, but is pretty disappointing for a resort this fancy.
Resort Fee:
Palazzo Hotel at the Venetian Las Vegas charges $25 plus tax a night which gets you wireless internet in the rooms, a access for two people at the fitness facility within the Canyon Ranch Spa Club, boarding pass printing,local and toll-free calls, daily newspaper, one coffee or tea at Café Presse, one two-for-one drink coupon for well drinks, domestic beer or wine at any casino bar except the The Bourbon Room. Hey, at least there's free drinks.
Is it Worth It?
If you can afford to stay here, you will not be disappointed booking a room, but don't expect to be able to pay the bill with what you may win.
Hotel Amenities
Air-conditioning
Airport Transportation
ATM/Banking
Ballroom(s)
Bar/Lounge
Business Center
Concierge Service
Doorperson
Fitness Center
Free Guest Parking
Multilingual Staff
Jacuzzi
Car Service
Restaurants
Room Service
Shoe Shine
Security Guard
Wedding Services
Spa
Conference room(s)
Table Games:
The pit is laid out very simply in the middle of the casino. All the usual suspects are here: blackjack, roulette, craps, lots of Pai Gow, some Let it Ride, some baccarat and a few oddball games for the suckers. It's a clean area, but also strangely charmless. Craps has the Strip standard 3x4x5x odds, and the single deck blackjack has the dreaded 6:5 disease.
Bet Minimums:
Look for $10 at most table games on the weekdays. They go up lickety-split on the weekends, when it can easily be $25 a pop at the low-roller tables and easily $200 mins at a few. Roulette is $2 chips and $10 mins.
Machines:
From the penny-playing beasts up to $500 and probably beyond in the high-limit rooms. The video poker is lackluster. The slot areas are spacious so you aren't bumping elbows with the nickel jockey next to you.
Cocktails?
Cocktails are strong and served in nice glasses, but about average for speed of service. The waitresses get high marks for looks, so at least you got something to think about while you're waiting for your drink.
Who Gets Comps?
Reportedly, the comps here are quite awful. The Palazzo plans to provide zero comps to the low roller and average player. Only the high rollers will receive anything. The rest of us, we don't get even get a food credit.
Number of TVs:
Palazzo luxury Las Vegas Hotel and Casino has about 32 screens, all of them small. Eight are behind the windows, and 10 are on another wall. The stadium has a giant screen. So, apparently, after you bet you need to eat and drink to really enjoy the game. What about those of us on the Atkins?
Number of Seats:
None near the betting windows. All the seats are in the "bar and grill". There are seats for about 175, and they are all comfortable, with 75 in a theater arrangement before the giant screen in the Lagasse Stadium. For big games, they require a minimum overpriced food and beverage purchase to sit there. Some are chairs, some are day-beds and some are love seats, which may be awkward when it's just you and a buddy and there's only one love seat left. Beyond the theater seating are another 100 seats served by two more bars.
Number of Betting Windows:
10 windows to serve you in two different areas.
Free Drinks?
Sure, if you bet 50 bucks on a game. So, you can get pretty blotto for about $300 if you want.
Snack Bar?
The Stadium Grill is a high-flying sports bar by Emeril Legasse. It has burgers, soup, snooty tomatoes, quesadillas and barbecue shrimp. This food is for the folks who want bar food, but want it fancy.
Other Notes:
This re-purposed nightclub area has pros and cons. The room is huge and sprawling, has outdoor seating and lots of comfortable lounge areas. But, it's downstairs from hotel check-in in an isolated spot, and there is only one giant screen. It's ridiculously overpriced and doesn't have a communal vibe so much as a "let's hang and drink" vibe. For the gambler who wants to wager sports without even being in the sports book, Palazzo offers wireless handheld devices that allow you to bet on anything while you are anywhere in the casino.
Palazzo Hotel Las Vegas Guest Rooms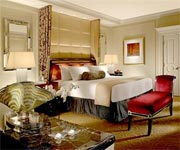 Luxury Suite
This 720 square foot suite has a bedroom with one king bed and of course who could sleep without a pillow top mattress, wool throw, and sheets of Egyptian cotton? Some of the rooms don't come with a view, but when you upgrade you can get a view of The Strip or The Palazzo's pool. Lounge in bed all day watching your 42-inch LCD TV and control the Roman shades and curtains with a remote control. We like when we don't have to get out of bed to get the things we want done. There's also a 32-inch LCD TV with a DVD player in the living room to watch if you prefer lounging on couches and a dining table seat for 3 if you prefer eating at a table to eating in bed. Moving on to the bathroom, don't worry, there's a TV in there too. It's only 20 inches, but seriously, how much bigger of a TV do you need in the bathroom? Hopefully you won't be spending that much time in there. This 130 square foot bathroom has a Roman tub, a separate glass-enclosed shower, a water closet (that's fancy talk for toilet) with a telephone.
Upgrade to get personal concierge assistance and you'll receive private champagne check-in, personal concierge assistance, packing and unpacking service, which you have to specifically ask for, and complimentary access to the business center and the Canyon Ranch SpaClub fitness facility. You'll have complimentary access to the Prestige Lounge on the 23rd floor where you can get free continental breakfast, hot and cold hors d'oeuvres, and cocktails. You pay the upgraded fee instead of the resort fees with this option.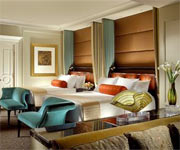 Bella Suite
Bella means beautiful, meaning you can only stay here if you're pretty. Just kidding, they let uglies with enough money stay here too. You get two queen bed and one sleeper sofa in this suite. There is a separate sitting area to sit at your desk and listen to your CD player. You know, because we live in the 21st century and you probably brought your CD case on vacation with you instead of your iPod. The 42-inch LCD television has cable channels, a DVD player, and pay movies. You have full use of the multi-line phone for all the conference calls you'll inevitably be holding, and the fax machine and in-room safe. There is a fully stocked minibar of course, because no Vegas suite would be complete without one. There is a separate bathtub and shower with handheld shower head. We aren't going to comment on that. There are plush bathrobes to slip into as well and you can upgrade to a room with a view of the Las Vegas Strip for a little extra.
Siena Suite
This suite includes a king bed and one sleeper sofa, both with premium bedding of course. There is a separate sitting area with all of the sitting room essentials, things that you can't have unless you want to sit somewhere like a desk, TV with a DVD player, multi-line phone, fax machine, in-room safe and minibar. In the bathroom is a shower with handheld shower head and separate jetted bathtub, as well as of course the TV, bathrobes, phone, and makeup/shaving mirror.
With an upgrade to the Siena Suit with Personal Consierge Assistance you get a completely upgraded room, starting with the double-doored entry which opens to a marble foyer and a half-bathroom. The dining room offers seating for 4, and the living room has an L-shaped sofa bed, coffee table, ottoman, and 32-inch LCD TV with DVD player. Wireless Internet access, newspapers, and local calls are complimentary. The upgrade to the 130 square foot bathroom includes a 20-inch LCD TV, bathrobes, a Roman tub, a separate glass-enclosed shower, and a seperate toilet with a telephone, as well as a private champagne check-in, personal concierge assistance, packing and unpacking service, and complimentary access to the business center and the Canyon Ranch SpaClub fitness facility. In the 23rd floor Prestige Lounge, get all the continental breakfast, hot and cold hors d'oeuvres, and cocktails you can handle, because it's free! You'll also get complimentary admission to Azure, the hotel's luxury pool, Friday through Sunday, so hopefully you booked for the weekend.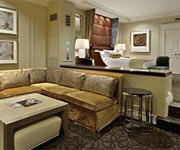 Fortuna Suite
Located on the 12th floor and up with views of the city and the Las Vegas Strip, these 720 square foot suites each have a bedroom with two queen beds and a 42" LCD TV. The living room has a couch, coffee table, ottoman, and 32" LCD TV with a DVD player. Wireless Internet access is included in the resort fee. The 130 square foot bathroom includes a 20" LCD TV, a Roman tub and separate shower, and of course the separate room for you to do all your business in. You can lay in bed and open and close the Roman shades and curtains with a remote so you never have to leave that heavenly pillow top mattress.
User Average Review
Overall:
Service:
Cleanliness:
Location:
Room Quality:
Based on 3 reviews
Rating Distribution
100.0% recommended it
Palazzo Hotel Las Vegas Reviews