Encore Hotel Las Vegas
Phawuzz! They must call it Encore because we've seen it before, only not so red!
---
A Quick Look
Location: The Strip
Hotel Class:

Room Price:

Hotel Size:2,034 rooms
Casino Size:111,000 sq. ft.
Gaming:Yes
Nightlife:

Pool:

Buffet:
---
Book now for great deals!!

Other Hotels like Encore Hotel Vegas
Encore Hotel Vegas Deal Finder
* Room Rates shown above reflect the average nightly rate for a 2 night stay with the calendar date as the check-in date, our visitors should verify actual rates, promotions and deals directly with the hotel as we make no guarantees regarding rates, but only provide them as a convenience.
Book Now
The Skinny
Encore Hotel at Wynn Las Vegas is another Steve Wynn tribute to stuffy luxury. From the outside, it looks almost exactly like its neighbor, The Wynn. The inside is as opulent, maybe even more so and very, very red. It seems less ashamed to be a casino than Wynn, which is a good thing.
Reviews
There are currently no reviews!
Be the first to write a review!
Write a review
Our user reviews are from real registered users.
Quick Facts
Check-in at 3pm
Check-out at 12pm
Near Attractions
High-Speed Internet
On-Site Restaurant
Near Restaurants
Parking
Check-In Age - 21+
Info
Location:
3121 Las Vegas Blvd
Las Vegas, Nevada 89109
View Map
Website:
www.wynnlasvegas.com/Encore
Room Quality:
Everything is a suite at the Encore Hotel at Wynn Las Vegas. It better be for these prices, which propose to be the highest on the Strip. The rooms are at least 700 square feet, or what we like to call "our downstairs". There is a sleeping area and a living room, some with a partition and a huge, swiveling flat TV. The living room has a sofa, desk with chairs, with an office-style phone. The windows are floor to ceiling, and you can pay extra to stay in a room with a really nice view. Colors are generally neutral, mostly light browns with very dark upholstery. The bathroom has another flat-screen TV in it. The bathrooms also have lighted vanities, two sinks and separate tubs and showers. We love that because once we soak in a bath it's too dang filthy to ever use again. There are phones in the bathroom, too, so if you're in the tub, you can get on the horn and call your friend in the shower on his cell. It's a great way to plan your night out at XS Nightclub, and makes a perfect conversation starter later!
Service Quality:
Of course, the Encore Hotel at Wynn Las Vegas employees are unfailingly nice, even to the likes of us.
What You Get Bottles of in the Bathroom:
More of Steve Wynn's own fancy, pretty-smelling concoctions. There is shampoo, lotion, conditioner and other pretty stuff to keep your inner ears, nose and face clean.
Clientele:
Encore Hotel and Casino Las Vegas seems to be targeting an older clientele who likes to pay a lot for their drinks, but not necessarily in a noisy nightclub. Expect people in their 40s on up and a lot of German and Italian cars in the valet. We do not mean Trabants and Fiats.
How's the Pool?
It's beautiful! Encore Las Vegas Hotel wouldn't give you anything less though.
Resort Fee:
The Encore Hotel at Wynn Las Vegas charges $25 a night and gets you fitness center access for two people each day, local and long distance phone calls, and in-room internet access. We expected more from the Encore than that!
Is it Worth It?
Encore Hotel at Wynn Las Vegas is pricey. You'll get a quiet and luxurious room and it will be nowhere near cheap. You can actually stay your whole trip in a different hotel for the price of one night here.
Hotel Amenities
Air-conditioning
ATM/Banking
Ballroom(s)
Business Center
Bar/Lounge
Business Services
Concierge Service
Conference room(s)
Doorperson
Dry Cleaning
Event Catering
Fitness Center
Restaurants
Room Service
Multilingual Staff
Table Games:
The Encore Las Vegas Hotel and Casino is fancy, for sure. Marble, red, a butterfly theme and more red along with the red drapes that Wynn seems to love. The gaming areas are red and in small alcoves and rooms, which break up the space. Table games, often red, include blackjack, craps, roulette (single zero at high mins), baccarat, Let it Ride and sucker games like a Big 6 Wheel and Casino War. No matter how swanky you make a casino, you can't get around the inherent tackiness of slot machines and video poker.
Bet Minimums:
They want $10 minimum and look for $25 or more on busy weekends. Craps has standard 3x4x5x odds. The Very High Limit salon often has tables with $1000 minimums and a security running around trying to keep us out.
Machines:
They have the penny machines that are so beloved, but they really feel so out of place in all this opulence. The slots then go up to $5000 in the high-roller areas. But Encore doesn't have a lot of slots, and there is elbow room when you play them.
Cocktails?
Good cocktails served pretty promptly, even to the low-roller. The cocktail waitresses are quite nice to look at, and want you to tip heavily and ask them to marry you.
Who Gets Comps?
The Red Card tracks your slot play and your table action. If you're a low-roller, don't expect much. The casino will send discounts to moderate players, though.
Number of TVs:
Zero. Yes, zero.
Number of Seats:
Zero. That works out to an infinite number of TVs per seat, which is a great ration for zero people to enjoy.
Number of Betting Windows:
One windows with two screens showing odds behind them.
Free Drinks?
No. This is just a kiosk next to the slot club and in the middle of a bunch of slots.
Snack Bar?
Nothing nearby and no "snack" places in the building.
Other Notes:
This place is just an outpost of the Wynn sports book next door. You're supposed to bet here if you're on the go. If you have the time to sit down and watch a sporting event, head over to Wynn Las Vegas.
Encore Hotel Las Vegas Guest Rooms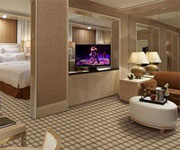 Suites
All of the suites at Encore Hotel at Wynn Las Vegas pretty much offer the same features. You get only the fanciest and most comfortable king bed. There is a separate sitting area for sitting and such, and a flat screen TV with cable/satellite channels and pay movies. Internet access is included in your resort fee. If you're staying at Encore at the Wynn you probably also brought some fancy things, and you can store them in your safe, or in the minibar. Our most valuable things usually go in the minibar at least. In the bathroom you get all the fancy soaps as well as a TV and phone and separate bathtub and shower. The suites are all similar, but there are suite options in the tower, parlor, salon or a resort suite to choose from.
User Average Review
Overall:
Service:
Cleanliness:
Location:
Room Quality:
Based on 0 reviews
Rating Distribution
0.0% recommended it
Encore Hotel Las Vegas Reviews
There are currently no reviews! Be the first to write a review!
Write a review