Halloween in Las Vegas: 5 Parties to Howl at the Moon For
---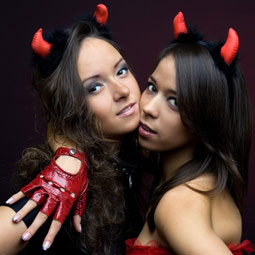 Don't go trick-or-treating with your little brother this weekend, Cheapos... Halloween in Las Vegas is the only way to spend your Day of the Dead!
Cash prizes, wild parties and sexy people using Halloween as an excuse to bear it all are reasons why you'll find Casino Boy dressed up and celebrating Halloween in Las Vegas 2012! Or, you can help your little brother and his friends get into their Angry Birds costumes... not! Here are 5 Halloween parties in Las Vegas 2012 where you can howl at the babes moon!
Fetish and Fantasy Halloween Ball 2012: This 17-year-old

Las

Vegas Halloween party might be one of the craziest Halloween parties on the planet! This year's Fetish and Fantasy Halloween Ball will be held at The Joint at the Hard Rock Hotel and Casino and will corral thousands of Halloween party-goers from around the world. Expect skin... lots of skin, leather and latex! Don't even bother trying to get into this party if you're not dressed up because you won't be allowed in. Dress in your sexiest scariest Halloween costume and make your way down to the Hard Rock Hotel for this one. The only thing you have to be afraid of is rubbing bodies with a scantily clad vampire... and that doesn't even sound half bad. Doors open Saturday, October 27th at 9:30pm.
Night of the Killer Costumes 2012: Rain nightclub at the Palms Hotel made headlines this week with the announcement that they would be closing their doors after this weekend's Halloween bash. It goes without saying then that this weekend's Halloween bash at Rain nightclub, Night of the Killer Costumes, will be a banger! What happens in Vegas stays in Vegas, but not even we know what to expect at a nightclub's last Halloween party... well, at least we don't remember. Get rowdy at this party on Saturday, October 27th at 10pm.
Haunted House Music with Kevin Brown: The name of this one says it all. Ghostbar at the Palms is inviting DJ Kevin Brown for a spooktacular night of Halloween-themed house music. If you've never heard of DJ Kevin Brown before, you're about to have a loud awakening. This young DJ has gotten people jumping in Chicago, Mexico and now Las Vegas. You don't even need to be a fan of house music to have fun at this Palms nightclub Halloween party in Las Vegas! At least not if you do enjoy scoping out beautiful half-naked Halloweeners. Plus, the best costume at the party gets a $1000 grand prize and the first loser gets $500. This party is on Sunday, October 28th at 8pm.
Rum n Bones Halloween 2012: Yo-ho-ho and a bottle of rum, Cheapos! Tabu Ultra Lounge at MGM Grand is the scene of this party for Halloween in Las Vegas 2012. The event is sponsored by everyone's favorite spiced rum, Captain Morgan, so you can bet that plenty of shots will be flowing from the bar all weekend! Look out for Casino Boy dressed as Captain Jack Sparrow's lesser known cousin, Rear Admiral Jimmy Pelican. Rum n Bones is a 4-night party starting on October 26th at 10pm through October 29th.
deadmau5 at XS Halloween: XS Nightclub at Encore is where you need to be on the day of Halloween in Las Vegas. Hit up this poppin' club on Wednesday, October 31st at 9pm to get rowdy with one of the best electronic acts out right now: deadmau5. Heck, it might hinder your game with the ladies, but why not come dressed up with the iconic deadmau5 mask? You're going to want to bring your A-game for this one as it goes on through the night and into the morning with the end set for 4:30am.
Halloween in Las Vegas gives "Sin City" an entirely new meaning. Okay, maybe not "new" but definitely exaggerated. As always, follow Casino Boy on Twitter, Facebook and Google+ for everything cheap Las Vegas. Including the jokes!
Let us know in the comments section which parties you're most excited for! Or maybe we missed the boat... we blame Rear Admiral Jimmy Pelican.