7 Costumes for a Wild Halloween in Las Vegas
---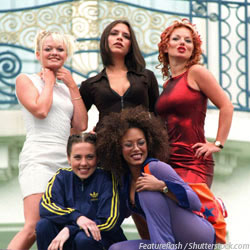 What better way to avoid responsibility for your Sin City actions than to dress up as someone else for Halloween in Las Vegas? Casino Boy isn't saying you should use Halloween as an excuse to act a fool (yes he is), but you can't stay in Las Vegas for Halloween and not make at least a small effort on a good costume. Plus, there is plenty of money to be had in Las Vegas for donning the best Halloween costume.
Casino Boy wants to help you figure out the biggest question of all: who will you dress up as for Halloween in Las Vegas. Point the finger of blame for your Sin City romp at someone more famous than you with these 7 Las Vegas Halloween costume ideas.
Big Bird: Casino Boy's favorite Sesame Street character has seen a revival in pop culture recently after the first presidential debate between Governor Mitt Romney and President Barack Obama. Big Bird is a sweet choice for a Las Vegas Halloween costume and you can further customize it to make it even funnier. For example, add some fake blood to the costume to simulate Big Bird's death from public television. Or have a friend dress up as Mitt Romney. The possible one-liners with a Big Bird-Mitt Romney costumed duo are endless, and that brings us to our next idea...
Greasy Politician: In case you've missed all the positive presidential campaigning over the last year, we thought we'd let you know that it is in fact election season. You can bet that there will be plenty of Romneys and Obamas on the Las Vegas Strip this year, but why limit costume ideas to just those two politicians? Capture the essence of a greasy American politician with a nice suit, greased back hair and especially empty promises. This is a Las Vegas Halloween costume idea that requires a lot of convincing lying acting, so be ready to be consumed by the character.
Prince Harry: This English royalty had quite the time in Las Vegas this summer and is a perfect costume idea for Halloween, especially in Sin City. While you could just hit the Strip in nothing but your birthday suit, Casino Boy would recommend against that level of commitment. Prince Harry was photographed nude playing strip billiards with some fine Vegas ladies, so get the point across with a crown, a cue stick and an English accent. Of course, no one will really get it unless you're as close to nude as possible...
Super Heroes: The summer of 2012 was ripe with super hero blockbusters and you can bet your bottom dollar (if you haven't already lost it) that the Las Vegas Strip will be full of Thors, Iron Men, Batmen and Captain Americas. Dressing up as a super hero won't make you stand out, but it is a safe bet for a topical 2012 Las Vegas Halloween costume.
Spice Girls: There are plenty of stars to mimic this Halloween thanks to the 2012 Summer Olympics in London, but our favorite has to be the Spice Girls who performed during the games' closing ceremony. Get the ladies together and dress up as Posh, Sporty and the rest. Or get the dudes together and dress up as Posh, Sport and the rest. Anything goes in Las Vegas, especially guys dressed in Spice Girls drag.
Snow White: Kristen Stewart had a real good time on the set of Snow White and the Huntsman this year, so why can't you? Dress up as Snow White and have your boy toy dress up as director Rupert Sanders which requires nothing more than a button-down shirt and jacket. We'd recommend completing the love-triangle by having a third wheel friend dress up as vampiric Robert Pattinson. He can pretend to sulk behind you and your lover as you all get wild on the Las Vegas Strip for Halloween.
Casino Boy: Alright, so you probably won't find this costume at the local horror shop. But it's an easy costume and one we'd love to see. Wear a boyish smile and your best child-like outfit. We'd recommend a t-shirt, jean shorts, high socks and of course a pair of Chuck Taylor's. When someone asks who you are, tell them about Cheapo Vegas and all our great Las Vegas deals!
Halloween in Las Vegas this year is sure to be a blast that you probably won't remember. So have some peace of mind and dress up as someone else who you can blame for the inevitable mistakes good times you'll have this October!
What are your favorite 2012 Halloween costumes? Let us know in the comment section below and be sure to follow us on Twitter and like our Facebook page. We probably won't follow you back, but at least we'll know that you care!