XS Las Vegas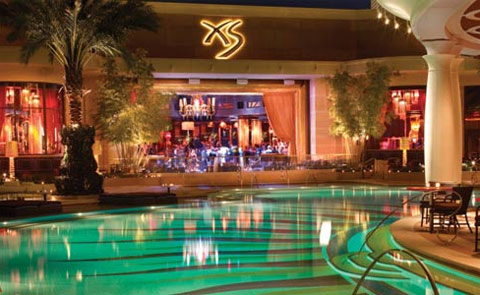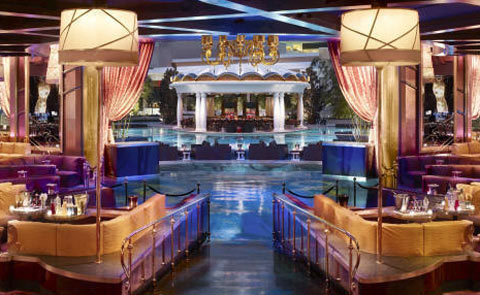 Tipsy? ...or smashed? Stay at one of our favorite nearby hotels!
Gee willy, it's not called XS for nothing! I've never seen so much excess in my life.
---
A Quick Look
Type: Nightclub
Dress: No hats, oversized jeans, baggy clothing, or athletic wear.
Price:

Casino Boy's Rating:
---
---

The Skinny
XS. Get it? Isn't that clever? XS is a nightclub by Victor Drai, who created the nice little club that is at Bill's Gambling Hall. And that was maybe the first ultra-lounge in town. The room is beautiful and it overlooks the pool and the Island bar. There is table service indoors or outdoors. Expect to wait in a long line unless you're as gorgeous as we are.
Reviews
There are currently no reviews!
Be the first to write a review!
Write a review
Quick Facts
XS Nightclub Las Vegas cost approximately $10 million to create - just take a look at the multitude of 24 karat gold inside and you will see why.
Victor Drai, known for the most popular after hours party "Drai's," is the hot shot front man of XS at Encore Las Vegas.
There is over 40,000 square feet at XS Nightclub Las Vegas. Don't be fooled, you still won't find space for a dance off out on the floor.
XS at Encore Las Vegas is meant to mirror St. Tropez, a notorious beachside party destination in in the French Riviera.
Info
Location:
Encore Hotel Las Vegas
3131 Las Vegas Blvd S.
Las Vegas, NV 89109
View Map
Phone:
702.770.0097
Website:
https://xslasvegas.com/
Hours of Operation:
Fri.-Mon. 10:00pm-4am
Features:
XS Nightclub Las Vegas is known for extravagance, starting with the entry way. Right from the very beginning expect to see a sparkling tile staircase that leads up to giant gold-plated statues of naked women. If that bling isn't enough to get your heart racing, the enormous chandelier should do the trick. Between the giant swinging light fixture and the thousands of individual lights you'll be able to see who you're dancing with - even after a beer or two.
Why We Go:
When it comes to clubbing in Vegas we like to adopt a "go big or go home" mentality and let's face it, when it comes to big XS Las Vegas always takes the cake. And since we obviously can't afford bottle service anywhere, size matters.
Wide Open Spaces: Not only is the 13,000 square foot indoor part of XS Nightclub Las Vegas bigger than our homes, but there is also a 27,000 square foot pool area with its own separate bottle service tables. With no big dividers between the two areas, finding your friends despite your best drunk stagger is easier than ever.
Pool Party: On Sunday nights (when it's warm enough - don't expect this in the dead of winter) the XS Nightclub Las Vegas pool area is not just a lounge scene, it's also a nightclub pool party. Show up in your pool gear or nightclub dress and take a dunk in the water to shake off that post-dancing exhaustion.
Celeb Experience: XS Nightclub at Encore Las Vegas is known for its celebrity clientele. Whether they are paid appearances or just regulars who love this Las Vegas club, we can never quite tell. But hey if Lil Jon shows up do we care how he got there?
Inside Knowledge:
Bring $10,000 (plus tip) if you want the signature cocktail, the Ono. Don't worry, though, it comes with free cufflinks and a woman's necklace. Thank God, we always lose those when we have a $50,000 buzz going.
Do's and Don'ts:
Do Get an Outside Cabana: If you are going to spring for bottle service, the tables inside are close to the dancing and have more of a good lookout if you want to scope out hotties to invite in, but you'll pay for that luxury. Get an outside cabana for less dough and you might even enjoy the intimate setting too.
Do Take Advantage of Outside: Come on, don't pee your pants on the dance floor. The bathroom outside almost always has a shorter line than the one inside. The same goes for the bar so if you have the opposite problem, head to the same part of the club.
Don't Gamble at the Center Bar: XS Las Vegas is innovative in that they have blackjack tables in the pool area. Just make sure you gamble before you get your drink on, and never go to the center bar table - the betting minimum is going to be the highest there.
Don't Go on Saturdays: It's always going to cost you to get into a good club but on Saturdays it'll cost you more. Guys' entry fees are automatically hiked up from $30 to $50 and girls are less likely to charm their way in for free.
Is it Worth It?
XS is one of those places you won't believe until you've seen it in person. Add that to the fact that there's free seating outside in the lounge and yes, the entry fee is definitely worth it.
XS Las Vegas Amenities
Accepts Reservations
Bachelor/Bachelorette Parties
Bottle Service
Coat Check
Dance Floor
Famous DJ
Full Bar
Outdoor Seating
Parking Structure
Premier Location
Private Parties
Smoking Allowed
User Average Review
Overall:
Ambience:
Music:
Crowd:
Price:
Based on reviews
Rating Distribution
0.0% recommended it
XS Las Vegas Reviews
There are currently no reviews! Be the first to write a review!
Write a review
Nightclub Hotel
Casino Boy's favorite nearby hotels ...in case you need a place to crash.

Hotel Name
Details

Region:

Strip

Address:

3400 Las Vegas Blvd Las Vegas, NV 89109

Region:

Strip

Address:

3121 Las Vegas Blvd Las Vegas, NV 89109

Region:

Strip

Address:

3325 Las Vegas Blvd. South Las Vegas, NV 89109

Region:

Strip

Address:

3355 Las Vegas Blvd S Las Vegas, NV 89109

Region:

Strip

Address:

3131 Las Vegas Blvd. South Las Vegas, NV 89109