Ghostbar at Palms Casino Resort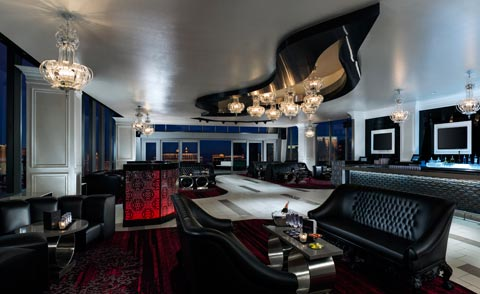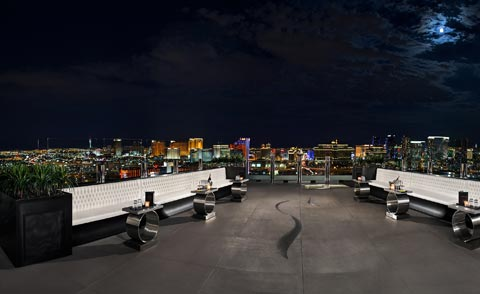 Tipsy? ...or smashed? Stay at one of our favorite nearby hotels!
Wooooo that ghost above the bar sure is spooky!
---
A Quick Look
Type: Lounge
Dress: Stylish nightlife attire required.
Price:

Casino Boy's Rating:
---
---

The Skinny
Ghostbar Las Vegas is a trendy lounge on the 55th floor of the Palms Hotel with an incredible view of the Las Vegas Strip. Known for an invisible floor balcony where guests can literally stand over the street and watch cars drive underneath them. High-elevation lounge, Ghostbar Las Vegas, has become popular for guests looking for an incredible view in a trendy high-class lounge to enjoy a couple drinks.
Quick Facts
The Ghostbar Las Vegas has a sky deck with close to 360-degree views of the Las Vegas Strip.
Ghostbar Vegas bar is 8,000-square-feet of seductive swank and sophistication in a unique indoor/outdoor venue.
A 30-foot ghost lingers on the ceiling above the bar at Ghostbar Las Vegas and changes color as the DJ spins.
Info
Location:
Palms Casino Resort
4321 W Flamingo Rd
Las Vegas, NV 89103
View Map
Phone:
702.942.6832
Website:
https://www.palms.com/nightlife/las-vegas-ghostbar/
Hours of Operation:
Daily 8pm - 4am
Features:
Ghostbar Vegas nightlife is the ultimate in swanky lounges. Incredible views of the Las Vegas Strip, a sophisticated decor, and beautiful clientele make Ghostbar at the Palms Las Vegas a popular Off-Strip destination.
Why We Go:
We go to Ghostbar Las Vegas because our friends are afraid of heights and we like to scare the hell out of them by making them stand on the plexiglass balcony. After a few drinks, their reactions are that much more terrifying.
Celebrity Clientele: Ghostbar Vegas bar is frequented by hot celebrities in Vegas. It's a posh lounge that attracts only the top clientele. You might even see us there if we deign to make an appearance.
Specialty Cocktails: Ghostbar Las Vegas has a lot of great drink specialties including the Ghostini (a combination of Midori, Absolut, and sour). Yummy!
Ghostbar Day Club: Every Saturday, Ghostbar Vegas nightlife turns into GBDC with high-end beer bongs (yes!), champagne, and great DJs. For a full-blown party scene in a beautiful location, Ghostbar is perfect for you.
Inside Knowledge:
There may not be a dance floor at Ghostbar Vegas nightlife but feel free to make your own little dance floor wherever you want.
Do's and Don'ts:
Do Get Table Service: If you actually want to sit at Ghostbar Vegas nightlife drop some cash floor for a table.
Do Get Photo Ready: The Vegas paparazzi are at Ghostbar Vegas nightly, ready to capture you at your most inopportune moment. Yes, we mean dancing on the table, it's just not attractive.
Don't Freak out on the Invisible Floor: Fear is not sexy at Ghostbar Vegas Bar, or anywhere else for that matter.
Don't Show up Without Being on a Guest List: The line to get into Ghostbar Las Vegas can be pretty intense.
Is it Worth It?
It's definitely worth it for the view, but if you're looking to get wasted, you had better go elsewhere.
Ghostbar at Palms Casino Resort Amenities
Bachelor/Bachelorette Parties
Bottle Service
City Views
Coat Check
Easy Parking
Full Bar
Outdoor Seating
Premier Location
Parking Structure
Rooftop
Wheelchair Access
User Average Review
Overall:
Ambience:
Music:
Crowd:
Price:
Based on reviews
Rating Distribution
100.0% recommended it
Ghostbar at Palms Casino Resort Reviews
Nightclub Hotel
Casino Boy's favorite nearby hotels ...in case you need a place to crash.

Hotel Name
Details

2 Promos Region:

Strip

Address:

2600 West Harmon Avenue Las Vegas, NV 89158

Region:

Off-Strip

Address:

4321 W. Flamingo Rd. Las Vegas, NV 89103

Region:

Off-Strip

Address:

3700 W Flamingo Rd Las Vegas, NV 89103

Region:

Off-Strip

Address:

4000 W. Flamingo Rd. Las Vegas, NV 89103

Region:

Off-Strip

Address:

3330 W Tropicana Ave Las Vegas, NV 89103