Get Spooked for Halloween in Las Vegas
---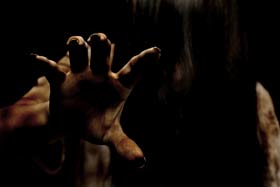 It's almost that time of year, Cheapos! The Day of the Dead is fast approaching and what better way to fear enjoy it than a Halloween in Las Vegas? Sin City offers many spooks and scares, and we're not even talking about the ones in the Las Vegas clubs. Many of the city's best attractions transform into ghoulish nightmares that Casino Boy loves going to regardless of the nightmares he'll have for the next few nights. Some of the best attractions in Las Vegas are classic Halloween haunts.
Even better, there's one particularly notable haunted spot that's brand spankin' new! So if you've done Halloween in Las Vegas before, don't think that it's all the same. This season promises to have bloodier fresher thrills than ever before!
Here are four haunted places you can't miss for a scary Halloween in Las Vegas. Do try not to wet yourself!
Trilogy of Terror: Three haunted attractions are part of the Freak Pass for $29 at Trilogy of Terror. The pass gets you access to Circus of Horrors, Castle Vampyre and Gates of Hell. If Gates of Hell sounds extra gory, that's because it is. It's rated-R and if you're under 17, you won't even be allowed in (unless accompanied by an adult, but that's not the point)! You can get passes to each attraction individually, but c'mon! Surviving all three is a test of your bravery and we'd hate to see you whimper out. Especially with all those girls in line...
Eli Roth's Goretorium: The Goretorium is the Las Vegas Strip's only year round haunted attraction and it's brand new! If you haven't been to Las Vegas in the past month, then you have yet to experience Eli Roth's Goretorium. You might recognize Roth's name from movies like Hostel and Inglorious Bastards. Walk through the Goretorium and experience fright you haven't known since you were a little kid. Our favorite part is the 60's go-go lounge at the end of the tour where you can have a drink and feed zombies. Just watch your fingers!
Haunted Reef: It's the time of year when the Shark Reef at the Mandalay Bay becomes...The Haunted Reef (dun, dun, dun)! The Haunted Reef is a perfect spooky attraction at the Mandalay Bay for families enjoying Halloween in Las Vegas. It doesn't have the same gore level as the other attractions, but the Halloween spirit is very much alive! Plus, sharks are scary anyway. Kids under 12 who dress up get in for free and adults also have the chance to get in without paying. All it takes is a little blood donation at the United Blood Services booth because, well... the zombie food is getting dry...braaiins!
Fright Dome: The Adventuredome at Circus Circus is one of Casino Boy's favorite Vegas attractions and even more so during Halloween. Another great attraction for Halloween in Las Vegas with the family, Fright Dome is the spookiest amusement park you've ever been to. The park at Circus Circus covers five acres and features bloody actors and ghoulish rides that will scare you out of your pants. Well, not literally out of your pants. That'd be really unfortunate since they'd be hard to find again in all the fog. Maybe wear a belt!
Halloween in Las Vegas can be a terror blast! Scares range from super terrifying to light and fun; there's something for everyone in Sin City on the Day of the Dead. Check out our Las Vegas promo codes before you book your trip to Vegas for the best cheapo deals on the net! Also follow Casino Boy on Twitter and like our Facebook page.