Silverton Casino
Woo-doggie! Who done let all these NASCAR fans into my lodge?
---
A Quick Look
Location: Off-Strip
Hotel Class:

Room Price:

Hotel Size:300 rooms
Casino Size:30,000 sq. ft.
Gaming:Yes
Nightlife: No
Pool:

Buffet:
---
Book now for great deals!!

Other Hotels like Silverton Casino
Silverton Casino Deal Finder
* Room Rates shown above reflect the average nightly rate for a 2 night stay with the calendar date as the check-in date, our visitors should verify actual rates, promotions and deals directly with the hotel as we make no guarantees regarding rates, but only provide them as a convenience.
Book Now
The Skinny
Like many other way way off-Strip joints in town, the Silverton Casino Lodge Las Vegas offers a fair deal on rooms, decent food and low-price gaming to attract the locals. There is a huge Bass Pro Shop next door to draw in the crowds. The theme here appears to be woodsy lodge, but with slots!
Reviews
Most Recent Reviews
Our user reviews are from real registered users.
Quick Facts
Check-in at 3pm
300+ Rooms
Check-out at 12pm
High-Speed Internet
On-Site Restaurant
Parking
Check-In Age - 21+
Info
Location:
3333 Blue Diamond Road
Las Vegas, Nevada 89139
View Map
Website:
www.silvertoncasino.com
Room Quality:
Silverton Casino Lodge Las Vegas offers some pretty standard stuff. They aren't trying to dazzle you with sunken living rooms like those high-falutin' folks on the Vegas Strip do. Instead, we're talking average-sized, clean rooms. The quality level is better than a Holiday Inn, with a small dash of mountain lodge trimmings. The suites are lodge crazy with dead animal heads on the wall and stuff like that. King rooms have a love seat, lots of brown. Rooms have safes and mini-bars with ridiculously overpriced snacks to tempt you at all hours. Bathrooms are unremarkable and a bit small, with a tub/shower, sink and toilet all just off the room entrance. This hotel is not really themed "Old West" but more like "lodge," with the emphasis on lite rock from the 70s and 80s. Stick around long enough and you're sure to hear "Sailing" by Christopher Cross. The rooms offer high-speed Internet access for a fee.
Service Quality:
Good service and the people are friendly at the Silverton Hotel Las Vegas. Even though it's only 300 rooms, the hotel has room service. Because it's a small place, check-in is easy, so is getting your room cleaned when you want it cleaned.
What You Get Bottles of in the Bathroom:
Soap, shampoo, bath gel and lotion from Body and Bath Works are meant to make you forget that you're sleeping in a gussied up motel building. Jokes on you! Casino Boy doesn't want to pull one over on you though. Use any of our promo codes to save on Las Vegas hotels if you're not feeling the vibe here.
Clientele:
Mostly it's middle-aged to older folks. Occasionally you'll see younger people, but this is no place to be looking for the stylish young 'uns. The people here tend to keep quiet and take a lot of pills at mealtimes.
How's the Pool?
Silverton Hotel Las Vegas has a small irregular shape surrounded by a wide expanse of concrete, not crowded at all. Heck, there are times when you have it all to yourself. This is not a massive, themed pool area with water slides. It's just a pool surrounded by concrete and some chairs. They also have a hot tub.
Resort Fee:
Silverton Hotel and Casino Las Vegas charges $11.18 a night, which includes local phone calls, use of fitness center, airport and shuttle service, and use of the in-room safe.
Is it Worth It?
If you're looking to stay off the Vegas Strip, this is a pretty good place to spend a night or waste a few hours. At the casino of course!
Hotel Amenities
Bar/Lounge
Restaurants
Free Guest Parking
Fitness Center
Express Checkout
Multilingual Staff
Security Guard
Airport Transportation
Air-conditioning
Dry Cleaning
ATM/Banking
Table Games:
The Silverton Casino Las Vegas tables include blackjack, craps, roulette, Pai Gow, 3-card poker and mini-baccarat. This place is small and you'll find the tables can fill quickly after a concert or if the RV lot is full. The craps is 10x odds, which is plenty fine for those of us who enjoy rolling the bones.
Bet Minimums:
$3 blackjack and craps. Craps has the aforementioned 10x odds, and the roulette is as low as a couple bucks a spin and fifty cent chips.
Machines:
Over 1000 machines that include a wide variety of nickels and a ton of video poker varieties. The Silverton Casino Las Vegas really caters to the nickel and quarter players, and you will find just about every variation of video slots in those denominations that your god has chosen to create.
Cocktails?
Pretty good. Silverton Casino Las Vegas could do better with the cocktail service since it's so small, but we guess they aren't trying to cater to young drunks like us who want a lot of drinks in a hurry because we got some yelling and drooling to do.
Who Gets Comps?
Well, they claim the Discovery Club is the most generous slot club in town, but we're a little skeptical. Mainly because everyone claims that. Comps are indeed fair, for even small amounts of play, though. Cash rebates are harder to come by. They have several levels of club membership from "Copper" to "Platinum".
Number of TVs:
They have nine televisions here, and none of them are big. They are mostly used for posting lines and scores.
Number of Seats:
Zero chairs. The good news that every single one of the imaginary chairs is leather and has massage and a little lady who pops out and takes your drink order.
Number of Betting Windows:
Three windows. They also have an automated wagering station.
Free Drinks?
It's attached to a bar, the Shady Grove.
Snack Bar?
Nope, but just ask for a big cup full of cocktail olives and cherries if you're really hungry.
Other Notes:
This is another small outpost for the Leroy's sports book people, so it has the same line as all Leroy's other books in town. It's a small space and not very inviting for spending time with friends. Also, don't go through the arch that says Leroy's Sports Book - it's for employees only.
Silverton Casino Guest Rooms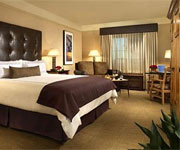 Standard
Choose between one king or a whopping two queen bedroom. There's a refrigerator with lots of drinks and a snack tray, but don't start guzzling them down just yet. These are pretty pricey delicacies. Enjoy all your features, like the CD player, TV, free local calls, and the laptop-compatible safe.
User Average Review
Overall:
Service:
Cleanliness:
Location:
Room Quality:
Based on 1 review
Rating Distribution
100.0% recommended it
Silverton Casino Reviews