Plaza Las Vegas
Hey - someone got a facelift! And no, I'm not talking about the blonde in the lobby! Well, okay, her too.
---
A Quick Look
Location: Downtown
Hotel Class:

Room Price:

Hotel Size:1,037 rooms
Casino Size:87,000 sq. ft.
Gaming:Yes
Nightlife:

Pool:

Buffet:
---
Book now for great deals!!

Other Hotels like Plaza Las Vegas
Plaza Las Vegas Deal Finder
* Room Rates shown above reflect the average nightly rate for a 2 night stay with the calendar date as the check-in date, our visitors should verify actual rates, promotions and deals directly with the hotel as we make no guarantees regarding rates, but only provide them as a convenience.
Book Now
The Skinny
The Plaza Hotel and Casino Las Vegas is back! Known here as "The Plaza", this iconic Downtown Vegas hotel has completed over $35 million in renovations and successfully maintained its classic Downtown Vegas charm while blending a new Las Vegas look and feel. The Plaza now boasts over 1,000 brand new guestrooms and suites at great (and still cheap by most accounts given the value) room rates, a brand new huge casino floor, three new restaurants and dueling pianos at the Swingers Club. Yup, the mother of Old Downtown is back in a BIG way!
Reviews
Most Recent Reviews
Our user reviews are from real registered users.
Quick Facts
Check-out at 11am
Check-in at 4pm
1000+ Rooms
Near Attractions
High-Speed Internet
On-Site Restaurant
Near Restaurants
Parking
Check-In Age - 21+
Info
Location:
1 South Main St.
Las Vegas, Nevada 89101
View Map
Website:
www.plazahotelcasino.com
Room Quality:
The Plaza recently completed a much needed renovation on over 1,000 hotel rooms. The reviews have been mixed, but they're certainly an improvement on the old, dingy rooms of yesteryear. Because of the funny shape of the main tower, some rooms are huge, others not so much. The bathrooms are still smaller than average, so if stretching out in the john is high on your list of requirements, steer clear. Expect to pay an extra $9 if you want a room with view. Is that what a view is worth these days? We could climb a mountain for free, but that sounds like a lot of work, so yeah, maybe $9 isn't that bad.
Service Quality:
Fair. You're likely to not have much interaction outside of checking in and checking out. There is no staff wandering about to help you out, or bother you depending on how you see it, and very few convenience services available. If people waiting on you all day and night is more your style, check out the other Las Vegas hotels and use a promo code to save money while you're at it!
What You Get Bottles of in the Bathroom:
Soap and a bottle of shampoo/conditioner are all you get. And you'd better like it, Mister (or Miss).
Clientele:
An older, lower-middle class crowd who feels more comfortable in the Plaza Hotel Casino Vegas' unpretentious surroundings than they do on the Strip.
How's the Pool?
The Plaza Hotel Las Vegas pool is old and ratty, but decent for downtown. Why couldn't they have put some of that renovation money towards this? It's nowhere near as nice as a place like the Mandalay Bay, but the big rectangular pool serves its purpose, getting you wet! There are also some dilapidated tennis courts up there that hint at how grand the hotel once was. Ah, the glory days.
Resort Fee:
The Plaza Las Vegas Hotel JUST announced that they would now be charging a $10 resort fee beginning July 24. To that, Casino Boy says "BOO!" sir. "BOOOOOOoooo.....!"
Is it Worth It?
Plaza Hotel and Casino Las Vegas is a respectable hotel with Vegas charm that has also recently been renovated. You don't get much better than that, especially at these prices.
Hotel Amenities
Air-conditioning
ATM/Banking
Car Service
Concierge Service
Conference room(s)
Dry Cleaning
Fitness Center
Express Checkout
Multilingual Staff
Restaurants
Room Service
Security Guard
Parking Garage
Wedding Services
Free Guest Parking
Table Games:
The usual - craps, roulette, 3-card poker, blackjack and mini-baccarat.
Bet Minimums:
$5 blackjack tables. Go big or go home, right?
Machines:
800 brand new slot machines. No word yet on how lucky these bad boys are. Guess it depends on your definition of luck.
Cocktails?
Cocktail service for the ballers, us minions can buy our drinks at the bar. Plaza Hotel Casino Vegas really has their priorities, at least the bartenders make us theirs. It makes us feel a little more special when they snatch up our money.
Who Gets Comps?
New members of the Players Club receive $5 free slot play when they sign up. Not a bad idea considering this club is free to join. Hooray for free money!
Number of TVs:
About 30 TVs overall are split up for sports and racing, with the sports on one wall facing away from the windows.
Number of Seats:
100 unreserved seats for the racing fan. Bring your own cushion. Actually, the 54 that have individual TVs, which only show racing, are pretty comfy. The sports seats are comfy if you can get one. If not, you may sit at the uncomfy bar stools at the back of the sports area. How are you supposed to feel lucky when you can't even luck out getting a good seat?!
Number of Betting Windows:
Plaza Hotel and Casino Las Vegas has about 10 betting windows total. Sports boards are all electronic. Yep, the Plaza is all about the new age stuff now.
Free Drinks?
Plaza Hotel Casino Vegas gives out drinks, but they're not free, so bring your moolah.
Snack Bar?
Yep, there's the Plaza Snack Bar. Do you want a gourmet dinner with an extensive wine list? Too bad, that isn't here. You get your standard deli-casies; sandwiches, hot dogs, even breakfast.
Other Notes:
This is a good sports and race book for downtown. It is operated by Lucky's, which also operates a few casinos in Northern Nevada, and claims to offer the most bets of any book in town. So, if you're itching to put some money on a curling match in Ottawa, this is the most likely spot. (Note: Cantor Gaming will take over in early-2012.)
Number of Tables:
Four poker tables are all they have space for these days. Or maybe they only had four tables left that weren't too worn out.
Comfort of Chairs:
Let's just say you're not going to be tempted to cart one of these off to put in your living room. They are as average as it gets. Actually, let's make it below average since there are so many good chairs in town now.
Closed Room or Open to Casino?
Open to the casino and its funny smell. On some nights it's quiet, especially during the week. But if the casino is busy, this is one of the noisiest parts of it.
Game Spreads and Limits:
It's all hold'em, and not good hold'em. $2-$4 and maybe a no-limit game starting at $0.50-$1 or $1-$2 if enough of the wild youngsters stop in.
Beginner Games or Classes:
Nope. Beginners go elsewhere, because the Plaza Hotel Casino Vegas doesn't offer lessons in of any sort.
How Crowded is the Room?
The one cash game table they get going fills up, but rarely spills onto a second table. Our last trip, when two seats opened, they were relentless in announcing it over the PA system.
Comps?
Free drinks while playing. Play for a few hours a day and they'll give you the room rate. Otherwise, you get $5 worth of comps for every four hours of play.
How Good Are the Players?
Well, the players are pretty bad, loose and passive. Chew them up. They don't even look like they're having any fun.
What Else Do I Need to Know?
Weak! This is a poor poker room overall. Not poor, downright lousy. It's noisy as all get out, it has nothing special to offer and it's small. Boo!
Plaza Las Vegas Guest Rooms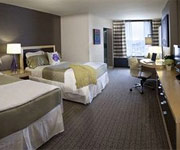 Deluxe Room (With or Without View)
Plaza Hotel Las Vegas offers deluxe rooms with the options of one king bed or two queen beds and another option of a room with a view or without a view. The contemporary decor, including a 32-inch flat-screen TV with premium cable channels and pay-per-view options, will make you feel right at home. That is, if your home has contemporary decor and 2 queen beds in one room. The rooms with views look out on either the Fremont Street Experience or the Vegas Strip.
User Average Review
Overall:
Service:
Cleanliness:
Location:
Room Quality:
Based on 2 reviews
Rating Distribution
100.0% recommended it
Plaza Las Vegas Reviews