Five CHEAP Things To Do This Weekend in Las Vegas
---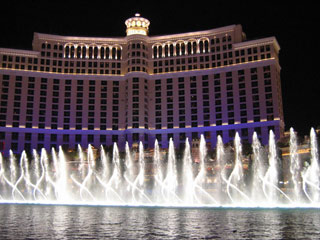 Looking for something fun AND cheap to do this weekend in Las Vegas? Well, "fun" and "cheap" are what Casino Boy does best. (Seriously, you should meet his ex-girlfriends.) CB's got five things you can do this weekend - and any weekend, really - if you're hoping to have fun on a budget in Las Vegas.
(Before we begin, we just wanted to mention once more that we LOVE to hear from fellow Cheapos! Tell us what you like to do on the cheap for weekend fun in Las Vegas below, or get at us on Facebook, Twitter and Google+ to share the knowledge with other Vegas Cheapos!)
1.) The Fremont Street Experience
Downtown Las Vegas is popular with the Cheapo crowd, and with good reason. The slots are (seriously) looser, the drinks aren't as pricey and the crowd is a lot less tourist-y. Plus, Downtown Vegas is where you'll find the Fremont Street Experience, which is home to the best free light show in town and some of the most curious interesting people watching, well, anywhere.
Check out their website for information on FREE concerts and upcoming events, and be sure to check out the famous zip-line that, well, ZIPS above the street throughout the day and night. There's always something happening on Fremont Street - just make sure to bring your camera. Trust us on that one.
2.) Go for a Hike
No, we're not calling you fat. But believe it or not (and you should), there's some seriously awesome Las Vegas hikes to experience just a short drive from Downtown and The Strip. (i.e. Civilization)
OK, so if you've ever even glanced at a map then you know that the Grand Canyon isn't THAT close to Las Vegas. But you know what is? Red Rock Canyon, which is home to all kinds of scenic trails and natural beauty. Visit their website for a complete list of trails to choose from. We recommend the Calico Basin Red Spring and the Ice Box Canyon trails, as both are short enough to traverse in one afternoon. Plus, that beer's gonna' taste a whole lot colder when you get back from a Vegas hike. (We probably don't have to tell you this, but, make sure to bring tons of water if you hit the trails - it's seriously hot out, guys and gals.)
3.) Enjoy the Freebies
(Editor's Note: If you're a Vegas veteran, feel free to skip this paragraph as we're about to push all those free attractions you've seen/read about a hundred times ... Though if you've been to Vegas more than once and you STILL haven't seen the Bellagio Fountains show, we don't know what to tell you, dude.)
Especially if you're a Las Vegas first timer, you'll want to check out all the famous and FREE Las Vegas fun that the city is known for. You can see the awesomely bad Sirens of TI show each night outside of Treasure Island at 5:30, 7, 8:30, 10 and 11:30pm. Then there's the ever-changing Botanical Gardens at the Bellagio. (AND you can pretend you're rich for an hour while you're there.) Further down the Strip, there's the Fall of Atlantis Fountain Show at the Caesars Palace Forum Shops, (Water! Statues! Feel the excitement!) and across the street you can kick it with some real pink ladies at the Flamingo Habitat at the - wait for it - Flamingo Hotel. And just a few doors down, you can see Big Elvis at Harrah's play the hits most afternoons. (It's exactly what you think it is.) And of course, you can always just grab a drink at the Cabo Wabo and watch tourists get eaten alive (not literally) by card snappers and swindlers on the Planet Hollywood steps.
(Alright, that last one is more sad than entertaining. But seriously, THOSE GUYS get to stay on The Strip but we can't buy a cold water for $1 anymore? Cahh mahhhn, Vegas!)
4.) Go See a Game
The Las Vegas 51s are the closest you'll get to a live big league game in Las Vegas. This Triple-A Blue Jays affiliate plays at Cashman Field on the north side of the Boulevard, and we're of the opinion that nothing beats a ballgame and a beer in the summer. Plus, given that the Blue Jays have one of the better farm systems in The Bigs, there's a decent chance that you'll get a first look at some up-and-coming stars on their way to The Show. Plus, I mean, beer and baseball. Seriously, people ...
5.) Pinball Hall of Fame
A true gem if there ever was one, the Pinball Hall of Fame is free to get into (they're a non-profit; yes, those exist in Las Vegas) and is home to dozens of vintage pinball machines that will have you reminiscing about the "Happy Days" of the '50's and '60's.
True Cheapo fun at its best, most machines at the Pinball Hall of Fame can be played for just a quarter, and if you're a fan of air hockey and '80's arcade games, they've got those, too. (And if you're not, well, there's the proverbial door, my friend.)
Enjoy the cheap fun in Vegas, Cheapos, and be sure to throw out your own two cents in the comments section below. (Hypothetically speaking, of course; we know Cheapos don't actually throw any money away. Unless they're at the Sapphire ...)