El Cortez Vegas
Hoo Boy! Montezuma will get his revenge here...with a giant jackpot!
---
A Quick Look
Location: Downtown
Hotel Class:

Room Price:

Hotel Size:308 rooms
Casino Size:60,000 sq. ft.
Gaming:Yes
Nightlife:

Pool:

Buffet:
---
Book now for great deals!!

Other Hotels like El Cortez Hotel Vegas
El Cortez Hotel Vegas Deal Finder
* Room Rates shown above reflect the average nightly rate for a 2 night stay with the calendar date as the check-in date, our visitors should verify actual rates, promotions and deals directly with the hotel as we make no guarantees regarding rates, but only provide them as a convenience.
Book Now
The Skinny
Built in the 40s and still looking "Old Vegas," El Cortez Vegas is one of the last bastions of the classic look and feel of the town. The casino is old school classy with low ceilings, nice lighting, plenty of shiny surfaces and just the right mix of old-timers, low-rollers, youngsters and those folks you only find in Vegas.
Reviews
Most Recent Reviews
Our user reviews are from real registered users.
Quick Facts
Check-in at 3pm
300+ Rooms
Near Attractions
High-Speed Internet
On-Site Restaurant
Check-out at 12pm
Near Restaurants
Parking
Check-In Age - 21+
Info
Location:
600 Fremont St.
Las Vegas, Nevada 89109
View Map
Website:
www.elcortezhotelcasino.com
Room Quality:
The El Cortez Hotel and Casino Las Vegas tower rooms are spacious, clean and comfortable, but the bathrooms are a bit cramped. Actually, these are some nice rooms. They are as nice as almost any downtown, except the bathrooms. And if you want a really cheap room, snag a "vintage" room, they are single queens above the casino, or a Pavilion room which have outdoor entrances and are above the parking garage, but offer more space than Vintages, are fresh and can have two queens. The elegant Vintage suites are perhaps the best deal in town with a giant room with a sofa and sitting area for mere peanuts. The hotel is a few hundred feet outside of the Fremont Street Experience in a safe, quickly gentrifying area. If a regular room at the El Co isn't nice enough for you, you can try the South Beach-flavored Cabana Suites in a separate building across the street. They have way more style than substance, but nice bathrooms and iPod docks. They are intended for a younger, hipper audience. And they better be hip, because if they aren't, the lime green, black and white color theme is just plain ugly. Like it's trying too hard.
Service Quality:
Fair. They are usually friendly, and they treat you like an adult. If you have special needs or prefer being babied, stay away from this place. Check in is quick, although not as pleasant since they got rid of the portrait of Jackie Gaughan and his late wife. On-site services are limited to a barber shop.
What You Get Bottles of in the Bathroom:
Shampoo, conditioner and the ubiquitous soap. If you're feeling decadent, indulge yourself with the personal-size bottle of hand lotion. El Cortez Casino Hotel Las Vegas barely gives you enough to keep you feeling fresh.
Clientele:
Regular folks. Because the building looks unglamorous, and there's no Canadian acrobat show, the El Co draws a crowd that is serious about gambling, not looking at fancy volcanoes and fountains.
How's the Pool?
What pool? El Cortez Hotel and Casino Las Vegas has been creating some scuttlebutt about a pool in the plans, but for now you'll just have to splash around on the concrete.
Resort Fee:
No resort fee at El Cortez Casino Hotel Las Vegas. This is the only time "No" is a good thing.
Is it Worth It?
Yep. It's just cheap enough so that you can still waste plenty of money gamblin'.
Hotel Amenities
Air-conditioning
Airport Transportation
ATM/Banking
Bar/Lounge
Conference room(s)
Event Catering
Express Checkout
Free Guest Parking
Parking Garage
Restaurants
Room Service
Security Guard
Table Games:
The classics are here. Blackjack, craps, roulette, mini-baccarat. The pit is smaller than it once was, but has a lot of roulette and enough blackjack. Two craps tables are present with one usually going.
Bet Minimums:
$5 Pai Gow, mini baccarat, and $3 blackjack that still pays 3:2. Craps is usually $3, and the 10x odds are still a great deal. Quarter roulette can be spinning on four wheels and it is available for the brave soul willing to throw away a couple bucks on a high-risk wager.
Machines:
From a nickel on up. El Cortez Casino Hotel Las Vegas has good nickel and quarter video poker, plenty of full pay, and thanks to renovations, there is actually room to move around now.
Cocktails?
El Cortez Vegas Hotel and Casino has somewhere between fair and good cocktails, but it's lousy in the early morning hours. Table players get better cocktail treatment, and since much of the clientele is so tight with a buck, these waitresses remember to come back to anyone tipping.
Who Gets Comps?
For people playing ten bucks or higher there might be something. Dinner in the coffee shop is the easiest comp. Jackie's Club Cortez is decent, about equal to the good off-strip programs. Food and room comps are pretty easy, especially mailings for free rooms. Be sure to sign up, at least to get the sign-up freebies.
Number of TVs:
12 for race and 10 for sports, every one of them those newfangled flat screens that are sweeping casinos off their feet.
Number of Seats:
About 40 for race bettors and 20 for sports. Your shoes have more padding than the chairs, so you might as well stand.
Number of Betting Windows:
About six, with an electronic board for sports scores and slate for race results.
Free Drinks?
You bet. El Cortez Casino Hotel Las Vegas gives you a free drink coupon for every $10 you bet, actually.
Snack Bar?
No. The Subway is actually pretty far away. El Cortez Casino Hotel Las Vegas just gives you a good chance to build up an appetite for all those excellent Las Vegas restaurants that aren't in this hotel.
Other Notes:
Enjoy the old-style atmosphere while you marvel at how much more pleasant the newer sports books are for watching games. The beauty is you can bet here where the vig is lower, then watch someplace fancier, and nobody will know any better.
Number of Tables:
Three. Usually for Hold 'Em, although one is supposedly for seven-card.
Comfort of Chairs:
These chairs at El Cortez Downtown Las Vegas are about as comfortable as a Yugo, but with more headroom.
Closed Room or Open to Casino?
Not only is it open, there is no room. It's tucked into an alcove on the casino floor, next to slots and tables. It's pretty noisy!
Game Spreads and Limits:
Hold-em 1-3-6. Games are going most of the time.
Beginner Games or Classes:
There are no beginner games, but there are a large number of loose or bad players in the games that will give pots to a solid, tight beginner. The 1-3-6 spread game is conducive to loose-passive play.
How Crowded is the Room?
The tables almost always have an open seat for Stud when it's open, but the Hold 'Em fills on the weekends. Weekdays you can probably get in pretty quickly.
Comps?
Free drinks while playing. There is no casino rate for rooms, but they're cheap already. They will comp you $5 in the coffee shop if you play a few hours.
How Good Are the Players?
Below average. Well, there are some locals at El Cortez Downtown Las Vegas (including former El Co owner Jackie Gaughan) that may clean up, but the reason most of these people are here is because they aren't good enough for other rooms. Games are usually pretty slow and the betting is low. You'll see lots of people bet to see the flop, but they won't be there for the river.
What Else Do I Need to Know?
This is by no means the ideal room to play poker, but if you don't intimidate easily you will find some easy pots to be had. The rake is 10% but capped at $2.50, and that's low.
El Cortez Hotel Las Vegas Guest Rooms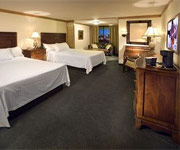 Tower
The tower rooms are the most standard, with a king bed or 2 doubles, and all rooms are non-smoking. You get a television with cable channels and wireless Internet for roughly $14/night. Stay out all night and then draw the blackout drapes/curtains to sleep all day. But set your clock radio alarm so you don't sleep into the next nigh. A refrigerator and iron/ironing board is available upon request.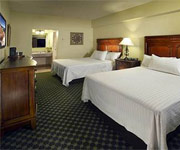 Pavillion
These rooms all come with two queen beds. Two queens sleeping in the same room? We don't know about that, but hopefully it will work out. These are located in Pavilion building above parking garage, so you might be sleeping right on top of your car! All rooms have quick access to the elevators. You also get a telephone with voice mail, cable/satellite TV with pay movies, a coffee/tea maker and a compact refrigerator and iron/ironing board is available upon request.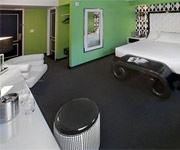 Cabana Junior/Deluxe Suite
One king bed in the Junior Suite, or a Queen bed in the Deluxe Suite. These rooms have custom furniture, fancy! Wireless Internet access is available for a surcharge. The 42-inch flat-screen comes with cable TV with pay movies. When people call and you're out on the town, they can leave a voice mail on your telephone. Wake up every morning with your MP3 docking station and stereo. These all have compact refrigerators, a coffeemaker, an iron/ironing bar and a snack bar with snacks that all cost extra of course though.
User Average Review
Overall:
Service:
Cleanliness:
Location:
Room Quality:
Based on 2 reviews
Rating Distribution
50.0% recommended it
El Cortez Hotel Las Vegas Reviews