Le Reve
Woah! This show will Le Reve you up! This isn't like any dream I've ever had, but I'll take it!
---
A Quick Look
Show Type: Production
Rated:

G

Dates: Ongoing
Price:
---
Book Now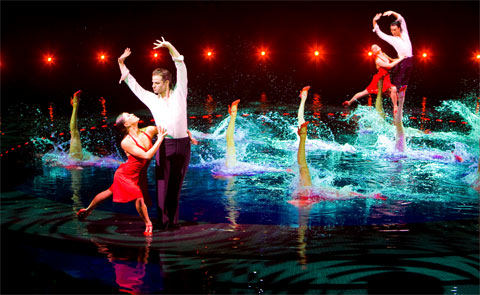 Not what you're looking for? Check out more Production shows!
The Skinny
Franco Dragone created that Celine Dion Banshee wail production and now brings his Cirque-honed skills to Wynn for Le Reve. Aquatic, just like Cirque du Soleil's "O," Le Reve is a collection of dream sequences, they say, starring a guy named Wayne (whom we assume is from Canada like all Waynes) who is led through his dreams by Morpheus. Expect more of the French-Canadian circus razzle-dazzle. Some dream sequences are startling, some are boring. The theater is round, meaning there are no bad seats, and half the pleasure is just watching the intricacies of the production.
Quick Facts
Le Reve - The Dream Vegas show is an ongoing show on the Las Vegas Strip at the Wynn.
Le Reve at the Wynn is pretty pricey, but it's still kid friendly. Look for some Le Reve discount tickets so you can bring everyone along and still have money to feed the family later.
Le Reve Wynn Las Vegas show combines water, fire, and acrobatics. Do your dreams all have this much going on?
Info
Show Dates:
Ongoing
Performance Times:

Mon-Tue & Fri-Sun 7:30 pm & 9:30 pm
Running Time:
75 minutes
Location:
Wynn Las Vegas
Wynn Las Vegas
3131 Las Vegas Blvd S
Las Vegas, Nevada 89109
View Map
Age Restriction:
Ages 5 and Up.
Features:
Le Reve at the Wynn isn't located in your average theatre with a boring old stage. Instead, there's a 27 foot deep pool center stage and even the most distant seat is only 42 feet away. The stage and lighting is state of the art and will definitely blow your mind, right out of the water!
What To Know:
Le Reve - The Dream Vegas show is full of muscles and skills, but not in the way many Vegas shows are. You'll see plenty of skin, but nothing that you wouldn't want you kids to see. If anything, you should want your kids to see Le Reve - The Dream Vegas show so they can aspire to be just like them and make you tons of money so you can retire early.
Muscle Mania: If you think that Chippendales might be more worth your time and money, don't worry. Le Reve Wynn Las Vegas has about 50 topless, gorgeous and muscular men who actually do a lot more to impress you than be naked.
Dreamland: Le Reve translates from French as "The Dream" and that's just what this performance is. All of the acts work together as part of one person's dream, so everything flows seamlessly, rather than just a jumble or moves that don't relate to one another. Some of the acts are so astounding you can't believe that people can actually do them. They better be if you're paying over $100 just to see a dream. You could do that every night for free, after all.
Great Seats: The round theatre of Le Reve Wynn Las Vegas gives everyone a good seat in the house, no matter how cheap they are and how little they spent on their tickets. Everyone, especially those near the front, feel like they are part of all the action.
Inside Knowledge:
Yes, Le Reve - The Dream Vegas show does involve a lot of water, and if you sit in row A or B, you are in the Splash Zone. Be prepared for all of the glory of...getting splashed on. If you're looking to make this into a more romantic event though, you might want to consider the Champagne Seating in row L, where you get Champagne, chocolate, and a more room to spread out that will make this night romantic and unforgettable.
Do's and Don'ts:
Do Bring the Kids: Le Reve at the Wynn is family friendly. There is zero nudity, yeah bummer, right? Not quite. The show is still great. Wait until the kids go to bed before you break out any skin.
Do Sit Anywhere: There isn't a bad seat in the house. The circular building Le Reve - The Dream Vegas show takes place in makes even the poor folks feel like they are up on stage, until they start comparing bodies with all the real actors. Depending on what kind of experience you want out of this should determine your seats. Whether you sit in the Splash Zone or the Champagne Seating, you're sure to have a great view.
Don't Leave it To Chance: Reservations and tickets in advance are strongly recommended, so don't think you can wait until you get to the box office that night to buy your tickets. Le Reve - The Dream Vegas show is one of the most popular Vegas shows, so the tickets go fast, even at these high prices.
Don't Go into Dreamland Yourself: Yes, the thought of someone else sleeping peacefully might be appealing as you watch this show and think about all the sleep that last night's adventures caused you to miss out on, but don't doze off, or you'll miss one hell of a show. Plus you, or someone else, paid a lot of money to see Le Reve Wynn Las Vegas.
Is it Worth It?
Yes. It's pretty expensive, but it's better than losing $100 on the casino floor and having nothing to show for it.
User Average Review
Overall:
Acting:
Ambience:
Production:
Story:
Based on reviews
Rating Distribution
100.0% recommended it
Le Reve Reviews
Show Hotel
-->
More Production Shows You May Like