Weekend Tips from Casino Boy - 4/27
---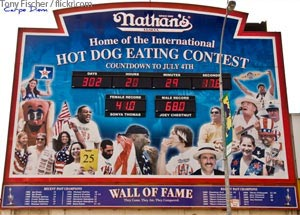 Cheapos, there's a whole mess of good times going on this weekend, the last weekend of April. Good times and cheap times go hand in hand, after all - here's a look at some of Casino Boy's favorite cheap weekend events beginning tonight in Las Vegas ...
Nathan's Famous Hot Dog Contest
We all grew up dreaming of eating hot dogs for a living. (Oh, that was just us?) Watch as Vegas' most, um, talented (?) eaters try to make dream a reality at the Nathan's Famous Hot Dog Contest in Las Vegas. This FREE Las Vegas event begins at 1pm on the Brooklyn Bridge at New York New York Las Vegas. (You were expecting somewhere else?)
Silverton Las Vegas' Foodie Fest
Speaking of food, the Silverton Foodie Fest in Las Vegas will be held in the Silverton Hotel Vegas parking lot, and is set to include over 30 food trucks, 15 food vendors and a Vegas farmers market. Admission prices range from $7- $10, and the event runs from 12pm- 11pm on Saturday and 12pm- 9pm on Sunday. That noise you just heard was Casino Boy's stomach growling ...
Atmosphere Poolside at the Hard Rock Hotel and Casino
Annnnd for something completely different, tickets are still available for indie-rap group Atmosphere's show at the Hard Rock Hotel & Casino Las Vegas tonight. ($30) Given that there's a high of 81F today in Vegas , hanging by the pool sounds like a pretty good idea, plus we can personally vouch that MC Slug + DJ ANT = Rad.
OK, this dude's hilarious but tickets are sold out for tonight and tomorrow's shows, and third party tickets are INSANE. Just catch him on TV, Cheapos.
Jerry Seinfeld at the Colosseum
Ditto.
Dia del Nino at the Springs Preserve
This one's for the kiddos. Dia del Nino (meaning Children's Day - finally, kids get their own day!) will feature a Candy Land theme complete with singing and dancing, clowns, magicians, arts and crafts and basically everything else kids like. Just $5 for adults, $3 for kids and FREE if the tiny tikes are under four years old. Check it out from 11am- 5pm. (Who says we're not a kid-friendly website?)
As always, stay safe this weekend Cheapos and enjoy yourself!
-Casino Boy