Nove Italiano at the Palms Casino Resort
You won't want to say "Ciao" before the dessert course!
---
A Quick Look
Cuisine:

Italian & Pizza

Hours: Tues-Thurs 5:30pm-10pm, Fri-Sat 5:30pm-11pm
Price:
---
---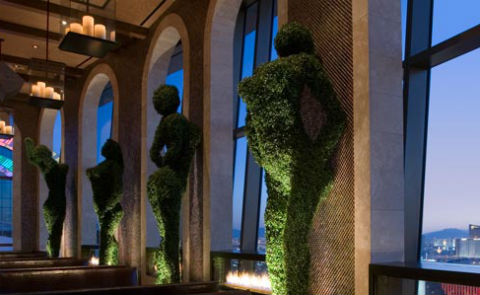 Like Italian & Pizza Cuisine?
Check out more of our Italian & Pizza restaurant faves!
The Skinny
Plenty of people liken the experience of engaging in fine dining to heaven, but at the Nove Italiano restaurant, situated high above the city of Las Vegas, that experience arrives every night for diners devoted to this trendy eatery in the clouds. Will you hear angels and cherubs sing when you tuck into a plate of homemade pasta or partake of the restaurant's signature Crudo, a selection of raw seafood cured in sea salt and citrus? You might. Located on the 51st floor of the Palms Casino and Hotel, specifically at the top of the Fantasy Tower, Nove Italiano cuisine is prepared under the watchful eye of Executive Chef di Cucina Geno Bernardo. during traditional dining hours: It's wise to make a reservation, just in case you pick a busy night.
Reviews
There are currently no reviews!
Be the first to write a review!
Write a review
Our user reviews are from real registered users.
Quick Facts
Nove Italiano is located atop the Palms Casino Resort at 4321 W Flamingo Road.
This luxury restaurant has been called one of the best-hidden secrets in the city by restaurant reviewers.
Top menu picks for those who won't go elsewhere for Tuscan cuisine are the 8-oz filet mignon, Caesar salad tossed tableside with a flourish and fresh seafood.
Palms personnel are so well-versed on menu selections and specials, even the elevator operator is prepared to make recommendations, so don't be shy about asking!
Restaurant Website:
https://www.palms.com/fine-dining/nove-italiano
Info
Location:
Palms Casino Resort
4321 W. Flamingo Rd.
Las Vegas, NV 89103
View Map
Phone:
702.942.6800
Hours of Operation:
Tues-Thurs 5:30pm-10pm, Fri-Sat 5:30pm-11pm
The Environment:
In the interest of transparency, it's important to say that no amount of lavish décor can compete with the view one experiences when glimpsing the city through floor-to-ceiling glass windows here at the top of the world. Because Nove is a large nest perched atop the Palms with a finite amount of room, architects designed the restaurant to create enclaves that make for intimate dining. In addition to the cozy central dining area decorated in the fashion of splendid palazzos, ancient temples and Italian country estates, you can reserve a spot in the garden room that features a dramatic fire box and 12-foot topiary trees shaped like women. Look up while in the central dining area to glimpse the inverted tray ceiling lavished with iridescent tiles that showcase a dramatic chandelier. Roman columns lined with tiles and crystals add Tuscan flavor as do the massive numbers of pillar candles spreading a glow throughout the space. Furnishings are just as luxe: discover crocodile upholstery on furnishings fit for the Medici family and a wide array of gold Rococo decorative accessories that are so beautifully arranged, you will swear you've been transported to Florence.
Why We Dine:
Foodies who would never think of ordering a take-out pizza from a pedestrian pie mill know that they can find authenticity and sublime dishes at Nove Italiano where you won't have to request your pasta cooked al dente, because that's the chef's prerogative! Every pasta noodle is crafted to order by Novo chefs who have mastered the art of fresh noodle making with the devotion of Botticelli creating his famous portrait of Spring. Sample rich Raviolo stuffed with truffle butter, pecorino and egg yolk and don't miss tasting tortellini prepared in a way you've likely never experienced: accompanied by black truffles, wilted arugula, prosciutto and cream sauce meant for the gods. Step out of your comfort zone by ordering the duck breast over roasted grapes and lentils or opt for paper-thin veal scaloppini bathed in lemon sauce. Honestly, it doesn't matter what you order because Chef Bernardo and his staff of culinary geniuses are incapable of turning out a bad meal.
Inside Knowledge:
If you're a seasoned restaurant review reader, you know that there can be a contradiction between eateries that serve great food but treat cocktails and desserts as an afterthought. Happily, that's not the case at Nove where both ends of your meal are guaranteed to be as perfect as the main course. The bar opens early—happy hour extends from 5 p.m. to 7:30 p.m. Grab a tall stool on a comfy, purple-upholstered stool at the bar which is embellished with gold tile worthy of a Roman emperor. Richly appointed benches covered in brocade textiles provide intimate areas for enjoying cocktails, so if you're on a romantic date, this décor is exactly what you need to set the mood. Indulge in your favorite cocktails mixed Nove style by bartenders who know their way around Italian liqueurs, and after your main course, save room for desserts that somehow manage to be both light and decadent. House specials include Strawberry Carpaccio—thinly sliced berries sprinkled with aged balsamic vinegar and toasted bread crumbs beneath vanilla gelato is manna from heaven--but if you require a chocolate fix, dark ganache, atop crusty bread with a drizzle of olive oil, could change forever the way you view Italian desserts.
We Recommend:
The Chicken Parmigiana, Veal Agnolotti and Shrimp Francaise are traditional favorites but you don't have to take the pasta route if meat cuts like the 24 oz. Bone-in Rib Eye, the 10 oz. Flat Iron drenched in pizzaioloa sauce, the 16 oz. Delmonico or Bone-in Pork Chop call your name. Our recommended entrees include salmon prepared with fava beans, heirloom cherry tomatoes and corn plus Branzino, a whole fish grilled with salsa verde and brought to your table with a flourish. Side dishes cooked up by Nove Italiano chefs are so outstanding, you could order nothing but sides and walk away blissful. Start with the Daily Bruschetta—an appetizer not replicated elsewhere because it's prepared on "the chef's whim," which means a surprise will arrive at your table if you order it. Dare to add Death by Potatoes after reading the menu disclaimer: Order at your own risk! Try Nana's Meatballs as a tribute to your granny or nibble on an appetizer portion of Octopus grilled with lemon and rosemary. Finally, be forewarned that the lobster bisque is so divine, diners have reported hearing harps play after one spoonful.
Is it Worth It?
What's not to love about this unique restaurant in the sky? The environment is classic and stunning and you could be in the Witness Protection Program and not be spotted within this idyllic and remote location that's worth the visit just for the city view below. The staff is bellissimo and all aspects of the menu are designed with gourmands in mind, yet the prices won't cause blood pressure spikes when the bill comes your way. In a city known for its splendid restaurant options, Nove Italiano literally and figuratively towers above competitors, so whether you choose this venue for an intimate dinner, to impress clients or just celebrate a big casino win, it's impossible to leave without vowing to return. Kinda like Rome.
Nove Italiano at the Palms Casino Resort Restaurant Amenities
Business Dining
Candle Light
Chef's Specials
Facilities for the Disabled
Fresh Food
Gift Certificates
Happy Hour
Healthy Options
Open for Holiday Dining
Homemade Desserts
Late Dining
Premier Location
Romantic Dining
Wheelchair Access
User Average Review
Overall:
Menu:
Ambience:
Location:
Service:
Based on reviews
Rating Distribution
0.0% recommended it
Nove Italiano at the Palms Casino Resort Reviews
There are currently no reviews! Be the first to write a review!
Write a review
Restaurant Hotel
Other Italian & Pizza Restaurants You May Like