Picasso Las Vegas
Oo la la, this Mediterranean restaurant is so fancy it makes us blush just knowing we're even in the same city.
---
A Quick Look
Location
Bellagio Las Vegas
3600 Las Vegas Blvd South
Las Vegas, US
Map this property
Cuisine:

European & Other Ethnic

Hours: Wed.-Mon. 6pm-9:30pm
Price:
---
---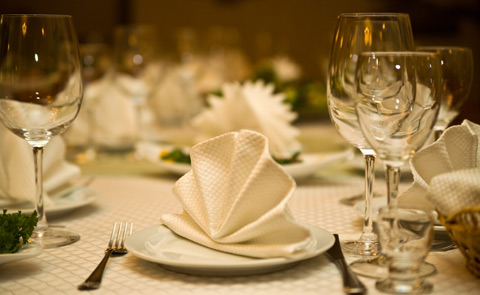 Like European & Other Ethnic Cuisine?
Check out more of our European & Other Ethnic restaurant faves!
The Skinny
Picasso at Bellagio is an eleven time recipient of the AAA Five Diamond Award, has the prestigious Michelin Two Star distinction, and is directed by executive chef Julian Serrano. The epically fancy cuisine at Picasso Las Vegas is meant to reflect the regions of France and Spain where Picasso spent most of his life. What does this mean for us? Delicious food that costs more than your flight to Las Vegas.
Reviews
There are currently no reviews!
Be the first to write a review!
Write a review
Our user reviews are from real registered users.
Quick Facts
Picasso was created by Julian Serrano who also directs Julian Serrano in Vegas. No that's not a typo, the restaurant is the chef's name. Not that he's egocentric or anything.
There are over 1,500 wine selections at Picasso Las Vegas, all from the most fancy European vineyards you can think of. If you're already laying down the big bucks for a meal here, don't skimp on the hoity toity booze.
Restaurant Website:
https://www.bellagio.com/restaurants/picasso.aspx
Restaurant Menu:
https://www.bellagio.com/restaurants/picasso.aspx
Info
Location:
Bellagio Las Vegas
3600 Las Vegas Blvd South
Las Vegas, NV 89109
View Map
Phone:
888.987.6667
Hours of Operation:
Wed.-Mon. 6pm-9:30pm
The Environment:
Picasso by Julian Serrano is not named for nothing - genuine Picasso paintings stick to the walls, while genuine Picasso-priced food sticks to your ribs. Ask for a seat near the window at Picasso at Bellagio for an exclusive view of the Bellagio fountains, or sit on the year-round outside balcony. Picasso Las Vegas is so nice they have misters in the summer and heaters in the winter so you can stay the perfect temperature no matter how uncomfortable your fancy outfits are.
Why We Dine:
Most of the meals at Picasso by Julian Serrano are served on a fix prixe basis. This joint is for folks who are really, really trying to impress someone. We hope you want to impress us sometime soon - we'd never say no to Picasso French cuisine on someone else's dime.
The Atmosphere: This is a rich place for rich people but even if you find yourself there on accident, don't be surprised if your royal little pinky starts to extend while you sip your wine. The decor is elegant and European and there are authentic Picasso paintings hung all over the walls. Pair that with the view of the Bellagio fountains and the Las Vegas Strip and the ambiance is true chic perfection.
The Wine Pairing: Everyone has heard that the right wine can make or break a fancy meal. The expert sommeliers at Picasso Las Vegas will make believers out of even the most doubtful of this truth. It costs extra but if you're already laying out the big bucks for a meal at Piccasso Las Vegas, why not go all the way? Oh, did we mention they have over 1,500 different European wine in the Picasso at Bellagio wine cellar?
The Service: A trip to Picasso at Bellagio Las Vegas will cost you a pretty penny, but you will be treated like royalty while you're there. Expect your waiters to pull your chairs out for you, escort you to the restroom, and even re-fold your napkin before you return.
Inside Knowledge:
This swanky place won't let you in if you don't look the part. Leave the shorts and Hawaiian shirts in the hotel room for a dinner at Picasso Las Vegas.
We Recommend:
The Foie Gras: This delectable treat is very classy, very sophisticated and very expensive. It is either extremely delicious, or extremely frightening and at Picasso Las Vegas they do it better than anyone. It practically melts in your mouth and the wine they pair with it will make you truly understand the delicate relationship between food and drink.
Reservations: Picasso Las Vegas is famous and is a destination restaurant. That means people from all over the world visit Vegas just to dine here. So if you're going to be in town on a weekend or a holiday, don't expect a table at Picasso at Bellagio without a reservation. And they don't take bribes - trust us, we know.
Is it Worth It?
If you're willing to drop Benjamins on a dinner, this is definitely the place to do it. Of course, if you're like us, there's a McDonald's down the street that's more our speed.
Picasso Las Vegas Restaurant Amenities
Famous Chef
Chef's Specials
Fresh Food
Homemade Desserts
Outdoor Seating
Outdoor Heating
Pre-Theater
Premier Location
Prix Fixe Menu
Romantic Dining
Waterfront
Water Fountain
Wine Specialist
Wine Bar
User Average Review
Overall:
Menu:
Ambience:
Location:
Service:
Based on reviews
Rating Distribution
0.0% recommended it
Picasso Las Vegas Reviews
There are currently no reviews! Be the first to write a review!
Write a review
Restaurant Hotel
Other European & Other Ethnic Restaurants You May Like