Le Cirque Las Vegas
Oh la la, the same as a romantic night in France, but you actually have to shave your armpits for this place!
---
A Quick Look
Cuisine:

European & Other Ethnic

Hours: Tues.-Sun. 5:30pm- 10pm
Price:
---
---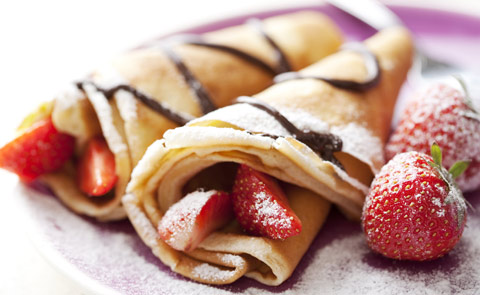 Like European & Other Ethnic Cuisine?
Check out more of our European & Other Ethnic restaurant faves!
The Skinny
Le Cirque at Bellagio Las Vegas is 9 years running in receiving the AAA Five Diamond rating, which makes the place feel safe charging an arm and a leg for their upscale and dignified French cuisine. The helpful staff at Le Cirque Las Vegas will suggest enough great wine to make you happy to pay the bill with a smile, even if it's costing you more than your airfare.
Reviews
Most Recent Reviews
Write a review
Our user reviews are from real registered users.
Quick Facts
Le Cirque Las Vegas is a popular fine dining restaurant at the Bellagio Hotel and Casino.
Sommeliers can help you match your meals with one, or more, of the 900 international wines.
Almost every seat at Le Cirque Las Vegas has a great view of the Bellagio Fountain.
Restaurant Website:
https://www.bellagio.com/restaurants/le-cirque.aspx
Info
Location:
Bellagio Las Vegas
3600 Las Vegas Blvd S
Las Vegas, NV 89109
View Map
Phone:
702.693.8100
Hours of Operation:
Tues.-Sun. 5:30pm- 10pm
Additional Info:
The dress code is business casual. Leave your shorts and athletic wear in your closet, where they belong.
The Environment:
The playful circus scene on the wall doesn't create the most romantic feeling, but paired with the comfortable armchairs at every table, views of the Bellagio fountain and outstanding service, Le Cirque Las Vegas creates an enchanting night. If you're looking to impress your new girlfriend by dropping hundreds each meal during your Vegas weekend, make sure you indulge her with some Le Cirque French cuisine. Setting the bar this high for the entire relationship might disappoint her in the long run, but she'll definitely accompany you back to Le Cirque Las Vegas the next weekend - if you're paying again.
Why We Dine:
If you're looking for a romantic night, but think you can only get that in Paris, you're as wrong as they come. Le Cirque Las Vegas is a romantic dining experience you won't want to miss, but don't expect your life savings to still be around afterwards.
Extensive Wine List: Truly experience a French evening with over 900 international wines at Le Cirque Las Vegas. This wine list accentuates the Le Cirque French cuisine with wines from some of France's best wine regions. You won't find any of those $8 bottles of wine you're accustomed to buying at the grocery store on this menu, but we're sure you'll still find something suitable.
Excellent Service: While the Le Cirque French cuisine prices are high, you get what you're paying for at this Michelin Star restaurant. Many French foodies love to dine here, but if you're an expert on nothing but fast food and beer, your server will be happy to provide you with excellent recommendations for your esteemed palate.
Tasting Menu: Le Cirque by Sirio Maccioni has many highly acclaimed dishes, but the tasting menu is easily the favorite option, and maybe the best deal at Le Cirque Vegas. Expect to pay around $125 more or less, for six courses. Better than ordering a regular entree, because if you don't like something, at least there is less of it to finish, and more dishes to take the taste away after.
Inside Knowledge:
Le Cirque by Sirio Maccioni is a cozy and intimate venue. In other words, if you expect to get any Le Cirque French cuisine tonight, reservations are strongly recommended.
We Recommend:
Tasty Grub: The Foie Gras and lobster salad are the house favorites at Le Cirque Las Vegas. These succulent dishes have made diners happy time after time. The Foie Gras has made many liver-eating first-timers into fans for life; it may be the best meal you never expected to enjoy.
A Seat With a View: Going for the Le Cirque French cuisine is only half the point. If you want the full dining experience, get a seat by the window to get a lakefront view of the beautiful Bellagio fountain show, perfect for enhancing the romantic evening. Be sure to ask for a view when you're making reservations: the best tables are snapped up quick by people in the know.
Is it Worth It?
It will leave a gaping hole in your wallet, but you won't regret it. Go with a date who'll foot the bill and this place might be one of your all-time favorites.
Le Cirque Las Vegas Restaurant Amenities
Famous Chef
Facilities for the Disabled
Gift Certificates
Open for Holiday Dining
Homemade Desserts
Premier Location
Romantic Dining
Small Atmosphere
Wheelchair Access
Valet Parking
Business Dining
Pre-Theater
Wine Bar
Wine Specialist
Waterfront
Full Bar
User Average Review
Overall:
Menu:
Ambience:
Location:
Service:
Based on review
Rating Distribution
0.0% recommended it
Le Cirque Las Vegas Reviews
Restaurant Hotel
Other European & Other Ethnic Restaurants You May Like