Michael Mina Las Vegas
Wowzers! A seafood restaurant in a garden, what will the Bellagio think of next?
---
A Quick Look
Cuisine:

Steak & Seafood

Hours: Thur-Tues 5:30pm- 10pm
Price:
---
---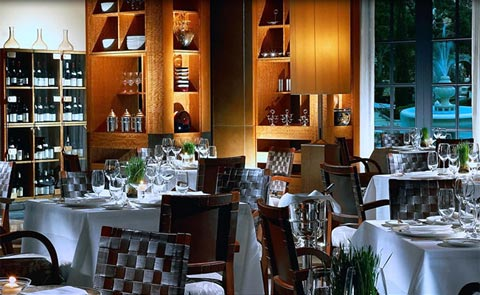 Like Steak & Seafood Cuisine?
Check out more of our Steak & Seafood restaurant faves!
The Skinny
Michael Mina Las Vegas is an upscale seafood restaurant on the Strip. A seafood restaurant off the coast with fresh ingredients seems a little fishy, but you'll once you see the prices you'll get how they afford to keep their food fresh. If you like the fish you get at Michael Mina Bellagio Las Vegas, you can also buy Mina's cookbook and make your entrees for your friends and family at home. You can try to make your dishes taste the same as an award winning chef's. Good luck.
Reviews
There are currently no reviews!
Be the first to write a review!
Write a review
Our user reviews are from real registered users.
Quick Facts
Michael Mina has a specialty menu of house-made cocktails as well as an extensive international wine list.
Michael Mina Las Vegas is one of nineteen Michael Mina restaurants across the country. This popular chef has been impressing diners with a variety of preferences for years now.
Restaurant Website:
https://michaelmina.net/
Info
Location:
Bellagio Las Vegas
3600 Las Vegas Blvd S
Las Vegas, NV 89109
View Map
Phone:
702.693.7223
Hours of Operation:
Thur-Tues 5:30pm- 10pm
Additional Info:
The dress code is business casual.
The Environment:
Michael Mina seafood restaurant is located in the heart of the Bellagio conservatory, where you can wait in the garden before dinner, or relax there after you eat. Michael Mina Bellagio Las Vegas is not your average fine dining seafood experience though. Award winning Michael Mina has created an environment to relax and unwind when you're ready to get away from the hustle and bustle that brought you to Vegas. This experience comes at a price, a hefty one, but the rewarding meal and knowledgeable waitstaff will provide you with an outstanding and memorable night in return.
Why We Dine:
Michael Mina Las Vegas is a fine dining seafood restaurant without the fishy smell but with all the fish flavor, and many other flavors at that. Michael Mina fine dining Las Vegas has a full menu with something for everyone; seafood fanatics, land-lovers and vegetarians.
Tasting Menus: There are two tasting menus, two of the five different menus they have, at Michael Mina Bellagio Las Vegas. The chef's tasting menu offers many of the chef's specialties. There is also a vegetarian tasting menu special to Michael Mina Vegas that is created specifically for all the animal lovers out there. The veggie menu has options that'll make you think vegetables are the chef's specialty.
Root Beer Float: Yeah, you can find a root beer float at a 5-star restaurant, and this root beer float has actually made Michael Mina Las Vegas even more famous than the seafood. This is not your average 50's diner delight though, it's made with IBC root beer sorbet and served with two chocolate chip cookies. The root beer float here is nothing short of 5-star quality, if you can afford the 5-star price.
A Bar Full of Options: With the options of a wine pairing, a whole menu dedicated to their specialty cocktails, and an extensive list of American and European wines to choose from, you can pick your poison at Michael Mina seafood restaurant, and it might feel just like poison when you see your bill at the end of the night.
Inside Knowledge:
Michael Mina has a list of hand crafted specialty gin cocktails that the Micahel Mina Las Vegas bartending staff personally created. From April 15-July 15, 2012, Michael Mina Las Vegas will be competing with other restaurants for the "Best Nolet's Fin Cocktail" award, which they encourage diners to vote for after trying these cocktails. "Of all the gin joints in all the towns in all the world," you should walk into this one.
We Recommend:
Lobster Pot Pie: Lobster Pot Pie comes on the tasting menu or a la carte at Michael Mina Las Vegas, and you have every reason to be shellfish with this dish. Get it? Huge chunks of buttery lobster in a flaky pot pie is another dish you wouldn't expect in a 5-star restaurant, but after trying it, assuming you have money in the bank, you won't regret it.
Making Reservations: Michael Mina is an award winning chef, with restaurants all over America, which makes Michael Mina Bellagio Las Vegas a popular upscale restaurant on the Vegas strip. Making reservations in advance will assure you a seat at the table, but generally the staff is very accommodating. We doubt Michael Mina Las Vegas would turn away anyone with money to burn.
Is it Worth It?
If you have cash to burn and love seafood, this place will be worth it to you. If either of the two prior statements is hesitant for you, find somewhere else to eat in Vegas.
Michael Mina Las Vegas Restaurant Amenities
Business Dining
Famous Chef
Chef's Specials
Full Bar
Gift Certificates
Fresh Food
Pre-Theater
Prix Fixe Menu
Valet Parking
Waterfront
Wine Specialist
Wine Bar
Wheelchair Access
User Average Review
Overall:
Menu:
Ambience:
Location:
Service:
Based on reviews
Rating Distribution
0.0% recommended it
Michael Mina Las Vegas Reviews
There are currently no reviews! Be the first to write a review!
Write a review
Restaurant Hotel
Other Steak & Seafood Restaurants You May Like