Jasmine Las Vegas
Well gee, a Chinese food restaurant that doesn't do take-out? Oh yeah, it is the Bellagio!
---
A Quick Look
Cuisine:

Asian

Hours: Everyday 5:30pm - 10 pm
Price:
---
---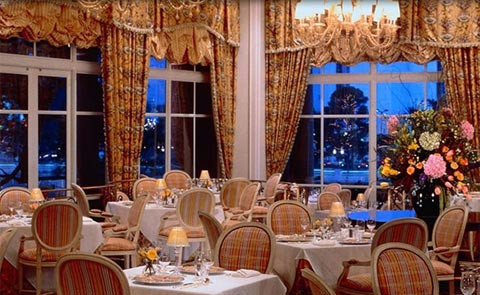 Like Asian Cuisine?
Check out more of our Asian restaurant faves!
The Skinny
Jasmine Las Vegas is an upscale Cantonese restaurant in the Bellagio Hotel. People come to pay for views of the fountain with a meal on the Las Vegas Strip. You might think "take-out food" when you hear "Chinese restaurant" but come on, this is the Bellagio after all. Expect high prices at Jasmine Cantonese Cuisine Las Vegas to match the classy dress code and exclusive scenery.
Reviews
There are currently no reviews!
Be the first to write a review!
Write a review
Our user reviews are from real registered users.
Quick Facts
Jasmine at the Bellagio is an upscale Cantonese restaurant with a view of the Bellagio Fountain.
Jasmine uses fresh ingredients and the live action cooking stations allow you to watch them prepare your dinner.
The Sunday brunch is filled with Jasmine specialties as well as traditional brunch favorites.
Restaurant Website:
https://www.bellagio.com/restaurants/jasmine.aspx
Restaurant Menu:
https://www.bellagio.com/files/restaurants/jasmine-menu.pdf
Info
Location:
Bellagio Las Vegas
3600 Las Vegas Blvd S
Las Vegas, NV 89109
View Map
Phone:
702.693.7223
Hours of Operation:
Everyday 5:30pm - 10 pm
Additional Info:
The dress code is business casual.
The Environment:
Jasmine at the Bellagio is fine Cantonese and Hunan cuisine made with fresh ingredients and served up in portions that won't make you bloated when you're cruising down the strip. You can come here for a romantic dinner, and while not all the food is unique to Vegas or this restaurant, the views of the fountain from Jasmine Las Vegas will make you happy you came, and once you see the bill for your Chinese dinner, you'll be happy you're leaving.
Why We Dine:
Jasmine at the Bellagio is basically an upscale Chinese restaurant. You pay extra for the great view of Lake Bellagio and the primo fresh ingredients, so if you're looking for is a quick bite or a good deal, you might want to consider going somewhere where the view is not included.
Fountains Sunday Brunch: Jasmine at the Bellagio has a Sunday brunch to end your weekend getaway, but you better not have splurged too much before this. It's not a typical Chinese restaurant during Sunday brunch, and also not your average brunch. You have your omelets, muffins and pastries, mimosas, and desserts, all mixed up with the Jasmine, Cantonese Cuisine Las Vegas menu. You might not have any money left to take home souvenirs from the airport gift shop on your way home after this meal, but at least you'll be full and happy on the way home, given there isn't too much turbulence.
Live-Action Cooking Stations: Eating at Jasmine Las Vegas restaurant is different than eating at your average Chinese restaurant because you can see them cooking your food, ensuring that you're getting the fresh ingredients you ordered - instead of that cat from the alley out back.
A Fountain View: The Jasmine at the Bellagio is located facing the famous Bellagio fountain. You can enjoy a tasty romantic meal at Jasmine Las Vegas with a romantic view to pair, but don't let your date know that the water shows every 30 minutes are more interesting than them. Make your reservations for a seat with a view in advance, they're in high demand.
Inside Knowledge:
Jasmine Las Vegas is a great choice if you're looking to make dinner an all night affair. With a waitstaff that won't bother you much before, during or after your meal, you can easily spend hours with a group of friends or get in that quality one-on-one time you wouldn't get at a drive through. Of course, if you like snappy service you might be a little disappointed.
We Recommend:
The Peking Duck: At Jasmine Cantonese Cuisine Las Vegas, there are several good menu options to choose from, but the Peking duck is always the best choice for authentic and delicious cuisine.
Making a Reservation: Reservations are required for parties of 10 or more at Jasmine Las Vegas restaurant. That being said, many diners come in large groups, the restaurant can fill up fast and the groups can stay for a while. If you don't want to be standing around while everyone else dines for hours, make a reservation by phone or online.
Is it Worth It?
If you're willing to spend a little more money, some of the other Bellagio restaurants with the same view may be more worth your while.
Jasmine Las Vegas Restaurant Amenities
Brunch
Gift Certificates
Open for Holiday Dining
Pre-Theater
Premier Location
Waterfront
Wine Bar
Wheelchair Access
Wine Specialist
Full Bar
User Average Review
Overall:
Menu:
Ambience:
Location:
Service:
Based on reviews
Rating Distribution
0.0% recommended it
Jasmine Las Vegas Reviews
There are currently no reviews! Be the first to write a review!
Write a review
Restaurant Hotel
Other Asian Restaurants You May Like