1 Oak Vegas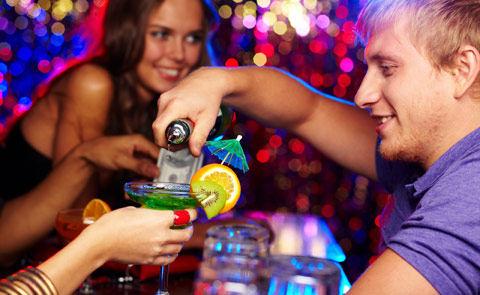 Tipsy? ...or smashed? Stay at one of our favorite nearby hotels!
I can't wait to show everyone my Roger Rabbit at 1 Oak Nightclub Las Vegas!
---
A Quick Look
Type: Nightclub
Dress: Trendy club attire.
Price:

Casino Boy's Rating:
---
---

The Skinny
1 Oak Nightclub Las Vegas took over the trendy JET location inside the Mirage Hotel and Casino. Extremely popular in NYC, this little nightclub is still catching on in Sin City. Common celebrity appearances and two different rooms, one with house music and one with hip-hop, make 1 Oak Las Vegas Nightclub a pretty popular destination on the Vegas Strip, but the crowd is still all over the place. Give it some time and this hot spot will be up there with the Vegas mega-clubs.
Reviews
There are currently no reviews!
Be the first to write a review!
Write a review
Our user reviews are from real registered users.
Quick Facts
1 Oak Vegas actually stands for 1 Of A Kind.
1 Oak Nightclub Las Vegas is moderately sized at 16,000-square-feet.
The artwork found in 1 Oak Nightclub Las Vegas is the work of renowned artist Roy Nachum.
Info
Location:
The Mirage Vegas
3400 S Las Vegas Blvd.
Las Vegas, NV 89109
View Map
Phone:
702.693.8300
Website:
https://mirage.com/nightlife/1oak.aspx
Hours of Operation:
Fri. & Sat. 10:30pm - 4am
Features:
1 Oak Nightclub is a sexy hot-spot on the Vegas Strip. Two large rooms feature different kinds of music and individual DJs. The club is set up with bars on the outside, tables with bottle service, then a large dance-floor with DJ in the middle. It's a great set up for a fun night of doing the worm in front of your buddies. You don't want anyone to miss that remarkable experience.
Why We Go:
1 Oak Nightclub Las Vegas is one of the few Vegas clubs where you can actually walk around the club. On most nights, there is space to roam. You won't find yourself smudged up against some sweaty guys, unless you like that sort of thing, as you try to walk to the bar.
2 Different Rooms: Sometimes we're in the mood for house music and sometimes when are in the mood to get down and dirty to some hip-hop. Thankfully 1 Oak Nightclub Las Vegas has two separate rooms with different DJs to keep us entertained.
Celebrity Appearances: We at Cheapo love to rub elbows with the celebs, unfortunately they aren't as pleased with the situation. 1 Oak Las Vegas Nightclub has regular celebrity appearances to give us more chances to make some famous friends. So far, it's not going well, but we're staying positive.
Middle Dance-floor: Half the fun of going out to a club in Vegas is watching your buddies make fools of themselves on the dance-floor. The dance-floor at 1 Oak Vegas is located right in the middle of all the action. Perfect for you to watch your friend bust out some awesome dance moves. Everyday we're shuffling.
Inside Knowledge:
If you're looking to rent out 1 Oak Las Vegas Nightclub, the two separate rooms can be blended together to accommodate large groups, just watch out for the creeping old guys. They're everywhere.
Do's and Don'ts:
Do Bring Some Extra Cash: The drinks at 1 Oak Las Vegas Nightclub are super pricey!
Do Prepare Yourself to be Hit On by Old Men: Not sure when the memo went out that made this club a hot-spot for the elderly, but there is usually a healthy helping of grandpas at 1 Oak Nightlife in Las Vegas.
Don't Kick off your Heels: The bouncers at 1 Oak Nightclub Las Vegas will get mad even if you are just getting comfy, and they aren't the nicest guys in town.
Don't Forget to Check out Both Rooms: Even if you are a die-hard techno fan or a top-40's enthusiast, check out the other room for some new music. You never know what will inspire you more on a particular night. We love the funky chicken vibes we get from techno music.
Is it Worth It?
If you like being hit on by a bunch of old men, then it's worth it.
1 Oak Vegas Amenities
Accepts Reservations
Bachelor/Bachelorette Parties
Bottle Service
Dance Floor
Full Bar
Gift Certificates
Live Entertainment
Private Parties
Stage
User Average Review
Overall:
Ambience:
Music:
Crowd:
Price:
Based on reviews
Rating Distribution
0.0% recommended it
1 Oak Vegas Reviews
There are currently no reviews! Be the first to write a review!
Write a review
Nightclub Hotel
Casino Boy's favorite nearby hotels ...in case you need a place to crash.

Hotel Name
Details

Region:

Strip

Address:

3555 Las Vegas Blvd. South Las Vegas, NV 89109

Region:

Strip

Address:

3570 Las Vegas Blvd. South, Las Vegas Las Vegas, NV 89109

Region:

Strip

Address:

3400 Las Vegas Blvd Las Vegas, NV 89109

Region:

Strip

Address:

3535 Las Vegas Blvd. South Las Vegas, NV 89109