Centrifuge Las Vegas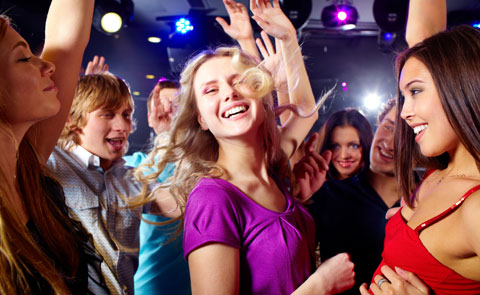 Tipsy? ...or smashed? Stay at one of our favorite nearby hotels!
Yikes. I think I just proposed to my buddy's mom. Man, these drinks are strong!
---
A Quick Look
Type: Bar
Dress: Casual
Price:

Casino Boy's Rating:
---
---

The Skinny
Centrifuge Las Vegas is located inside the MGM Grand Hotel and Casino, is a great place for a before or after drink on the Strip. Attractive and knowledgeable bartenders hop on the bar every 30 minutes and bust out some solid dance moves just for your viewing pleasure. The bar is circular so everyone has a nice view and the drinks are strong. After a few, your beer goggles will have you falling in love with every girl in the place. Yikes!
Reviews
There are currently no reviews!
Be the first to write a review!
Write a review
Our user reviews are from real registered users.
Quick Facts
Centrifuge Las Vegas is a sleek circular bar that looks like something out of Star Trek.
An open elevated design allows Centrifuge Bar Las Vegas patrons to people-watch without looking like total creeps.
Every 30 minutes, the bartenders at Centrifuge Las Vegas hop up on the bar and do a little dance routine. It's free entertainment at it's best.
Info
Location:
MGM Grand Vegas
3799 Las Vegas Boulevard South
Las Vegas, NV 89109
View Map
Phone:
877.880.0880
Website:
http://www.mgmgrand.com/nightlife/centrifuge-bar.aspx
Hours of Operation:
Sun. - Thurs. 4pm - 2am, Fri. & Sat. Noon - 2am
Features:
Centrifuge Bar Las Vegas is known for strong drinks and dancing staff. No, they aren't going to strip, but they are hot enough that it doesn't matter. Indulge in a little Centrifuge Las Vegas eye candy on your next big Sin City trip.
Why We Go:
Centrifuge Vegas Bar is the ultimate place to begin - or end - a wild Vegas night out. Strong drinks, dancing bartenders and good people-watching make it a favorite with us Cheapos.
Strong Drinks: The drinks at Centrifuge Bar Las Vegas are no joke. These puppies will knock you on your butt if you're not careful.
Sexy Waitress Outfits: They don't call it Sin City for nothing. The waitresses at Centrifuge Las Vegas will get your heart pumping in no time, but keep your grubby little hands off. They are for looking (and flirting) only.
Top 40 Hits: It's always a plus if we can sing along to the music at a bar. If you are sick of the house music scene at the big Vegas clubs, rock out to some pop tunes at Centrifuge at MGM Grand Las Vegas.
Inside Knowledge:
The round bar at Centrifuge at MGM Grand Las Vegas can make it hard for bartenders to see you. If you aren't greeted within ten minutes, don't get your panties in a bunch; simply walk to the other side of the bar.
Do's and Don'ts:
Do A Little Gambling: A lot of drinks will be comped at Centrifuge Las Vegas if you are spending all your dough on the slots.

Do Drink Slowly: Sure, we all want to get a little blitzed for a night out in Vegas, but the drinks at Centrifuge Las Vegas are so strong you'll be falling off your chair after a couple. No need to chug these bad boys for a buzz. Take your time so you don't have to call it a night before 9pm.
Don't Attempt To Dance On The Bar With The Staff: No one wants to see a hot mess trying to shake it with the pros at Centrifuge Bar Las Vegas. On second thought, maybe we do, but only to point, laugh, and post the video on Youtube.
Don't Be Afraid To Light Up: Smoking is allowed at Centrifuge Bar Las Vegas, although this does not give you free reign to blow horrid cigar smoke in your neighbor's face.
Is it Worth It?
If you like getting drunk it's worth it. The drinks at Centrifuge Vegas will kick your butt.
Centrifuge Las Vegas Amenities
Easy Parking
Full Bar
Happy Hour
Parking Structure
Smoking Allowed
Wheelchair Access
Bottle Service
Live Entertainment
Premier Location
Small Atmosphere
Valet Parking
User Average Review
Overall:
Ambience:
Music:
Crowd:
Price:
Based on reviews
Rating Distribution
0.0% recommended it
Centrifuge Las Vegas Reviews
There are currently no reviews! Be the first to write a review!
Write a review
Nightclub Hotel
Casino Boy's favorite nearby hotels ...in case you need a place to crash.

Hotel Name
Details

Region:

Strip

Address:

3735 Las Vegas Blvd S Las Vegas, NV 89109

Region:

Strip

Address:

3799 Las Vegas Blvd. South Las Vegas, NV 89109

Region:

Strip

Address:

3131 Las Vegas Blvd. South Las Vegas, NV 89109

1 Promo Region:

Strip

Address:

3730 Las Vegas Blvd S Las Vegas, NV 89158

1 Promo Region:

Strip

Address:

3850 Las Vegas Blvd. South Las Vegas, NV 89109