Golden Nugget Vegas
Howdy! I am afraid to stick my dirty boots on anything in this place because it's so dang fancy.
---
A Quick Look
Location: Downtown
Hotel Class:

Room Price:

Hotel Size:1,805 rooms
Casino Size:38,000 sq. ft.
Gaming:Yes
Nightlife:

Pool:

Buffet:
---
Book now for great deals!!

Other Hotels like Golden Nugget Vegas
Golden Nugget Vegas Deal Finder
* Room Rates shown above reflect the average nightly rate for a 2 night stay with the calendar date as the check-in date, our visitors should verify actual rates, promotions and deals directly with the hotel as we make no guarantees regarding rates, but only provide them as a convenience.
Book Now
The Skinny
The "class" of downtown, or at least that's what Golden Nugget Hotel and Casino Las Vegas makes a big deal about. It is the most upscale and has the nicest rooms, especially the new Rush Tower rooms. It's also the most like the Strip of the Downtown Vegas places in pricing and gaming. Still, it's nice to see the big shark tank and, while pricier, it still tends to be a better value than the fancy joints on Las Vegas Boulevard.
Reviews
Most Recent Reviews
Our user reviews are from real registered users.
Quick Facts
Near Attractions
Check-in at 3pm
1000+ Rooms
Check-out at 11am
High-Speed Internet
On-Site Restaurant
Near Restaurants
Parking
Check-In Age - 21+
Info
Location:
129 E Fremont St
Las Vegas, Nevada 89101
View Map
Website:
https://www.goldennugget.com
Room Quality:
The Golden Nugget Hotel Las Vegas have far and away the nicest rooms in Downtown Las Vegas. The Rush Tower is the newest and has over-sized rooms with slightly swankier amenities like big ol' flat screens and nicer beds. And of course, you pay for it. Other rooms are average-sized and first-class, with lots of marble, beautiful carpets, nice bedspreads and elegant accoutrements like flat-screened TVs and robes. They also have irons and hairdryers. Good thing, because when they only have an iron, you know how we dry our hair. More than most properties, this one actually achieves understated classiness. The views are okay, but mostly look over North Las Vegas, the mountains, or the faraway Strip. The Gold Tower is the nicer one, with better furnishings and slightly bigger rooms. Of course, they try to get you to pay more for it. The North leads directly into the casino. The Carson Street Tower is plenty nice, but a longer walk from the casino and the rooms are smaller. It is right across the street from the parking garage, though. If you want to roll large, get a Gold Club room in the North Tower. They are larger, have even nicer amenities, like big sectional sofas, and special services like VIP check-in and turn-down at night.
Service Quality:
Outstanding. The on-site spa is top-notch, with his and hers facilities and masseuses who really are masseuses, and not glorified prostitutes. Fine room service, in-room check-out, elevator security. The check-in process has always been quick when we stayed at the Golden Nugget Downtown Las Vegas Hotel.
What You Get Bottles of in the Bathroom:
It's not the most stuff, but there's no doubt it's all good. Shampoo, conditioner and lotion are what we remember. Upgrade to the concierge floor and get a free razor and shaving cream.
Clientele:
Mostly people in their thirties and older. Unlike fancy Strip resorts, there are fewer spoiled babies at this property. But the Golden Nugget Hotel and Casino Las Vegas is the best place Downtown to see a lot of black chips on the felt.
How's the Pool?
Easily the coolest pool downtown. They call it The Tank, and it's got a big water slide and an aquarium with sharks in it. The slide goes through it. The regular pool at the Golden Nugget Hotel Las Vegas isn't that great for just plain swimming, but it's fantastic for sunning, sliding and looking at. The infinity pool is the one for swimming.
Resort Fee:
They claim to have no resort fee, but they really just renamed it a "Downtown Destination Fee." $5 Downtown Destination Fee plus tax gets you absolutely nothing but a coupon book. Oh, and you get to enjoy Downtown.
Is it Worth It?
If you don't mind spending Strip hotel prices for a non-Strip hotel, then the Golden Nugget is a fine choice.
Hotel Amenities
Air-conditioning
ATM/Banking
Bar/Lounge
Ballroom(s)
Business Center
Business Services
Car Service
Concierge Service
Conference room(s)
Dry Cleaning
Event Catering
Express Checkout
Fitness Center
Free Guest Parking
Multilingual Staff
Parking Garage
Restaurants
Room Service
Sauna
Security Guard
Spa
Wedding Services
Table Games:
Blackjack, craps, roulette, Pai-Gow, baccarat, Let It Ride, 3-card poker and more. If you've got the stomach for it, stop by the high-limit salon and play some serious big money games. One annoying thing about the Golden Nugget Hotel and Casino Las Vegas is the amount of brass everywhere. A little of that could have gone a long way.
Bet Minimums:
Just about all games start at $5. Craps can be as low as $5 with 3x4x5x odds when it's slow. Try to avoid the lame 6:5 blackjack.
Machines:
From a nickel to $100 a pull or play. There is little to no full pay video poker. Otherwise, the Golden Nugget Hotel and Casino Las Vegas is like a Strip joint: you seem to pay for the decor with tighter slots. There is a large selection, with a seemingly endless variety of those slanted low-slung machines. It's not technically a table game or a slot, but the swank-u-luxe keno parlor must be mentioned. What a cushy place for up to nine old ladies to rest their fannies.
Cocktails?
Excellent cocktail service. If you are playing big money, you can have whatever drinks you want, made out of whatever you specify. If you're camped at a nickel slot, however, you're going to get well drinks made from the cheapest booze (just like every casino). If you get too drunk at the Golden Nugget Hotel Las Vegas, you'll feel out of place, because most people maintain their decorum.
Who Gets Comps?
Well, the slot club is fair but not what it used to be. Cash back is great for the slots, and just fair for VP. At the tables, expect to play $50 a hand to get noticed for food. $150 and up will probably get you a room and food.
Number of TVs:
56, with 27 of them in cubes that can be turned into three super-sized screens.
Number of Seats:
About 50 seats with 20 in booths and the other 30 at desks, 20 of which have individual TVs. There are also four booths in the back if you want to wager gangster style.
Number of Betting Windows:
Six, with electronic signboards.
Free Drinks?
Ask for a drink ticket after placing your big bet. Don't ask after placing your small one.
Snack Bar?
Yes, The Grille is a pricey snack bar adjacent to the sports book at Golden Nugget Downtown Las Vegas Hotel.
Other Notes:
This very nice, small book closes early, so cash your tickets before ten. The room feels a bit crowded, and sports are sort of shoved to the side at Golden Nugget Hotel Las Vegas.
Number of Tables:
12 tables, and they can get pretty hopping.
Comfort of Chairs:
Swanky with wrap-around backs. It's funny, people tend to play poker for really long stretches, but few casinos ever seem to provide really excellent chairs like they do here. I guess the casinos figure people vote with their wallets, not their asses. Well, one thing's for sure, ours can make a lot of noise when they're unhappy.
Closed Room or Open to Casino?
The poker room at Golden Nugget Las Vegas is pretty noisy and crowded. It's not enclosed, rather open to a snack bar and slot machines.
Game Spreads and Limits:
Only Hold 'Em, $2-$4, $3-$6, and a $1-$2 no-limit game with a $200 minimum buy-in. They have a couple tournaments every day.
Beginner Games or Classes:
Monday-Friday at 10am they offer lessons for the uninitiated. At least we think they're uninitiated. We're too busy sleeping off our drunkenness at that hour to go and check it out.
How Crowded is the Room?
It can get very full. Weekdays are no problem, but weekends get crowded, especially at night. Of course, that is also when the suckers come out to bite.
Comps?
Just about nothing. It's pretty crummy, although they say they'll give you a $10 dining credit after four hours.
How Good Are the Players?
The people who frequent the Golden Nugget tend to have more money to throw around than we do. They're probably pretty inexperienced at playing poker, but want to give it a whirl. If you were a shark, wouldn't this be the equivalent of a bloody leg in the water? Either be careful or make sure you're good if you plan to try this room out.
What Else Do I Need to Know?
This is a nice-looking poker room, but it's cramped and loud, and the game selection leaves a lot to be desired. There are better poker rooms in Vegas to check out if you care enough.
Golden Nugget Hotel and Casino Guest Rooms
Carson Tower Deluxe
Located in its namesake Carson Tower near the awesome Tank, choose between one king bed or two queens in this 364 square foot room. A separate sitting area as well as a complimentary bathrobe pair perfectly for a pay movie or cable TV. Wireless Internet is available for a surcharge. A marble bathroom comes with a separate vanity area.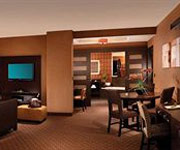 Gold Tower Deluxe
A more luxurious 378 square foot guestroom near the casino. One king or two queen beds, with pillow top mattresses, down duvets and pillows, plus Egyptian-cotton linens. A 42-inch plasma TV in a separate sitting area allows for movie watching or wireless Internet usage. The marble bathroom features an over-sized tub, rainfall shower head, and yet another plasma TV.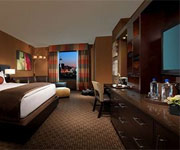 Rush Tower King
Nice views of the mountains, city, or pool are immediately noticeable from this 439 square foot guestroom. Located in the modern Rush Tower with one king bed supplied with pillow top mattresses and duvet downs. A 42-inch plasma TV and comfy bathrobe pair well together, as do the wireless Internet access and laptop-fitting safe. These accommodations are also strictly non-smoking.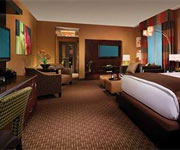 Rush Tower Junior Corner Suite
This 611 square foot junior suite in the Rush Tower is near the casino and features dynamic views of the Strip, mountains, or pool. An open floor plan includes one king bed, two 42-inch plasma TV with DVD players, a safe, and wireless Internet access. The luxurious bathroom comes with an over-sized soaking tub with rainfall shower head, marble vanity, makeup/shaving mirror, phone and bathrobes. These accommodations are all smoke-free.
One Bedroom Parlor Suite
A spacious 756 square foot suite, this one king bedroom is located in the Gold Tower near the casino. The separate parlor includes a wet bar and dining area. Also included in this suite is two flat-panel TVs with cable/satellite channels and pay movies. Wireless Internet is available for a surcharge. The bathroom features a separate marble vanity area complete with lighted makeup/shaving mirror.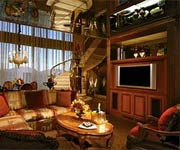 One Bedroom Spa Suite
A truly lavish 1,500 square foot two-level suite that is bigger than our own house. Located in the Gold Tower near the casino, floor-to-ceiling windows provide spectacular views of Downtown Vegas, desert landscapes, the pool and the aquarium. The bedroom upstairs offers one king bed with a pillow top mattress and a plasma TV. Downstairs, an expansive living room includes a dining bar, wet bar, and a deluxe entertainment system with another wide screen TV, DVD player and Bose Wave stereo. The bathroom features a separate shower and jetted tub, as well as a separate vanity area with lighted mirror. This suite even comes with its own shoe shine. How's that for class?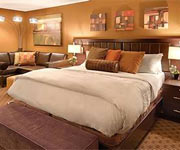 Gold Club - VIP Accommodation
An ultra-modern but compact 380 square foot guestroom in the 16th and 17th floor of the Gold Tower. Located close to the casino. Featuring one king bed with a pillow top mattress and down duvet. Complete with a 42-inch plasma TV, DVD, docking mp3 station and media library. A marble bathroom features an over-sized tub and rainfall shower head, with a plasma TV in the bathroom area as well. VIP guests in these rooms get special access to complimentary perks like fresh fruit, bottled water and Starbucks coffee. In addition, enjoy VIP check-in, VIP lounge access and VIP line passes for everything that requires a line at the Golden Nugget.
User Average Review
Overall:
Service:
Cleanliness:
Location:
Room Quality:
Based on 3 reviews
Rating Distribution
100.0% recommended it
Golden Nugget Hotel and Casino Reviews