Red Sushi Las Vegas
Red Sushi? Golden Nugget? Quite the color frenzy!
---
A Quick Look
Cuisine:

Asian

Hours: Daily 4pm-11pm
Price:
---
---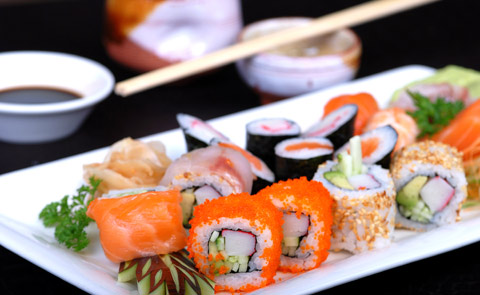 Like Asian Cuisine?
Check out more of our Asian restaurant faves!
The Skinny
Red Sushi Las Vegas wants you to color your night red. Sounds like a violent (and awesome) Kung Fu movie, but it's not. Just a simple little sushi place, trying to be as chic and trendy as possible.
Reviews
There are currently no reviews!
Be the first to write a review!
Write a review
Our user reviews are from real registered users.
Quick Facts
Red Sushi Las Vegas is a Japanese restaurant in the Golden Nugget Hotel.
Red Sushi in Vegas has hand-crafted signature sushi and sashimi, sake and Japanese beer.
Red Sushi at the Golden Nugget Vegas is open to the casino here. The trendy atmosphere of this restaurant pairs nicely with all the penny slots and fanny packs. No sarcasm intended...
Restaurant Website:
http://www.goldennugget.com/lasvegas/eat_redsushi.asp
Restaurant Menu:
http://www.goldennugget.com/lasvegas/pdf/menu_red%20sushi.pdf
Info
Location:
Golden Nugget Vegas
129 E Fremont St
Las Vegas, NV 89101
View Map
Phone:
702.385.7111
Hours of Operation:
Daily 4pm-11pm
The Environment:
Red Sushi Golden Nugget tries really hard to be chic, and they pull it off pretty well for the most part. We've seen better, but we've seen much worse.
Why We Dine:
We generally come to Red Sushi in Vegas for the 3 S's: sushi, sake and sashimi.
Sushi: Yep, as any good Japanese and Sushi Bar would, they have plenty of sushi items available. Red Sushi in Vegas even puts it in their title.
Sake: Red Sushi Las Vegas has an extensive list of cold sake, and one hot sake. They've also got a pretty decent beer and wine list, but of course you'll be drinking sake if you're trying to keep up with the trendiness of this place.
Sashimi: You can get it sashimi style. We'd recommend the tuna sashimi, then you should "sashimi" your way on over to a pretty lady for the night. (Yeah, that didn't quite work, but - we tried.)
Inside Knowledge:
We're pretty sure Red Sushi in Vegas doesn't know that it's located Downtown. They charge what most Sushi places on the Strip would charge, and that's just not how it's supposed to work in our eyes. Not a cheapo find, to say the least.
We Recommend:
Getting Fishy Somewhere Else: The fact that they're probably trying to be trendier than they really are means that they're trying to jack up the prices in this fish joint, but when it comes down to it, you're probably not looking to spend the same money on a Downtown restaurant that you would in one on the Strip. The problem is, this one is nowhere near the Strip.
Finding a Coupon: If you just have to come to Red Sushi Golden Nugget, get a coupon, or you'll be pretty disappointed in yourself by the end of the night.
Is it Worth It?
Nope. Generally, it's just not.
Red Sushi Las Vegas Restaurant Amenities
Full Bar
Wheelchair Access
Healthy Options
Fresh Food
User Average Review
Overall:
Menu:
Ambience:
Location:
Service:
Based on reviews
Rating Distribution
0.0% recommended it
Red Sushi Las Vegas Reviews
There are currently no reviews! Be the first to write a review!
Write a review
Restaurant Hotel
Other Asian Restaurants You May Like